Vivah Panchami – Vivah Panchami 2023 Date Rituals And Celebration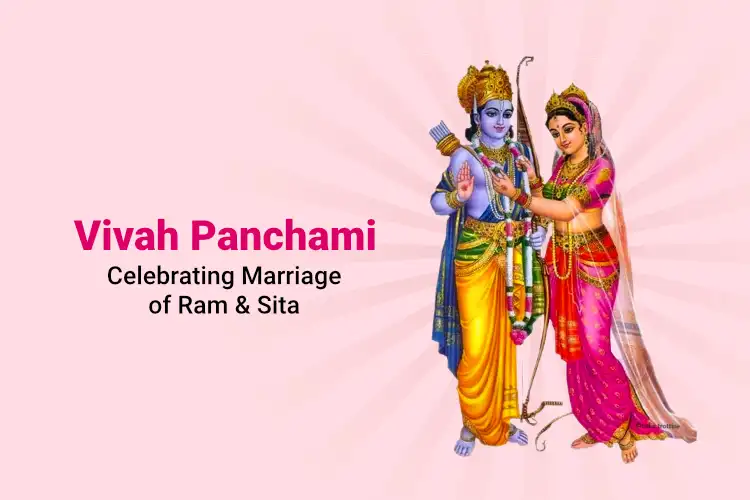 Vivah Panchami Significance – Ram Vivah Panchami Tithi
Vivah Panchami is the famous Hindu festival that celebrates Bhagwan Shri Rama and Mata Sita's wedding anniversary. As in the Hindu Panchanga, the fifth day of Shukla Paksha during the month of Margashirsha is celebrated as Vivah Panchami. Bhagwan Rama is believed to be the incarnation of Bhagwan Vishnu who married Sita.
The festival starts several days before, like any other Hindu wedding. All the ceremonies are done by devotees in complete joy, devotional service and commitment as if they are involved in a lovely wedding ceremony.
---
Ram Vivah Tithi
Vivah Panchami on Sunday, December 17, 2023
Panchami Tithi Begins – December 16, 2023 at 08:00 PM
Panchami Tithi ends – December 17, 2023 at 05:33 PM
Get more auspicious timings and dates with, Vedic Panchang.
---
Significance Of Ram Vivah Panchami
Vivah Panchami is important as it is seen as an auspicious and holy day, according to Hindu Mythology and ancient Scripture. A large number of pilgrims from many areas of India and elsewhere gather to celebrate the holy wedding feast of their favourite deity and become part of the great festivals.
Vivah Panchami festivities are held in India in almost all the Ram-Sita temples regions. Among the other areas of India, Ayodhya, the birthplace of Bhagwan Rama, and Janakpur, the birthplace of Goddess Sita, are the most significant festivities.
The temples are decorated with lamps and lights on this auspicious day. A rite for divine Wedding takes place in which statues or idols of deities, beautifully embellished with jewels and clothes like the bride and wedding ceremony with sacred Hindu rites of marriage and Vedic procedures take place.
This social event is popular as 'Ram Vivah Utsav.' People also hold the ritual with friends and relatives in their homes or in close communities. It is mentioned that the participation and witnessing of this festival give couples' married life harmony and happiness, which bring peace and prosperity to life. Celebrating the Vivah Panchami festival provides balance and eliminates obstacles; those confronted with marriage issues get blessed with a great spouse or a life partner. Talking about spouses, you can also know a lot about your marriage with a personalised Marriage Report.
---
Ram Sita Vivah Story
Maharishi Vishwamitra approached King Dasharath to ask him to allow Ram to guard his Yagna. King Dasharath unwillingly agreed with the wise Vishvamitra and permitted Prince Ram and Lakshman to go with the sage. Vishvamitra finished his Yagna successfully and returned with Ram and Laxman to Mithila. The ruler Janak of Mithila organised Princess Sita's Swayamvar.
The task of the Shiva Dhanusha Swayamvar was for everyone to raise and string a huge bow that lay on the ground. However, the participants couldn't raise this heavy and enormous bow. Sage Vishwamitra then asked Ram, who had already strung the bow, to split it into two. King Janak was elated and got Princess Sita married to Lord Ram.
Ram Sita's marriage is celebrated even today with great vigour, as her marriage is a sign of courage, commitment, duties and love.
---
Marriage Is Not To Be Performed On Vivah Panchami Day
While Vivah Panchmi has untold meaning in the Hindu world, it is surprising that marriages aren't arranged today. This is regarded very highly and followed judiciously in Mithilanchal and Nepal since it has over the years been the practice of not arranging marriages on this day.
People believe that since Mata Sita's marital life was extremely sorrowful, they should not get married on Panchami day. After 14 years of exile Lord Shri Rama sacrificed pregnant Mata Sita leaving her with no opportunity to become a queen, and hence marriages are not arranged on theVivah Panchami day. There is a misconception among the people today that the married life of a person becomes as painful as Mata Sita if a marriage ceremony takes place that day.
---
Ram Vivah Panchami Celebrations
Devotees bathe and wear clean and fresh clothes in the morning.
Bhagwan Rama and Mata Sita's Sthapana of idols is made.
Yellow Robes are offered to Bhagwan Ram and Red clothes are offered to Mata Sita.
Either the priest or the family members read from the sacred Baal-Kand script, the 'Vivah Prasang.'
The story of the marriage of Bhagwan Rama and Mata Sita is thought to bring happiness and blessings.
The Ramcharitmana recitation on this day grants a happy and prosperous family life.
Bhagwan Rama and Mata Sita's worship will help you get rid of all the differences among the family members.
Devotees sing holy mantras in the praises of the deities and sing devotional and religious songs (bhajans).
The Vivah Panchami takes place in different locations in an artistic production called 'Ramleela.'
After the priest completes the Vivah Panchami Puja, the celebrations come to an end with the offering of a final Aarti and Bhog Prasad.
---
Benefits of Vivah Panchami
If any obstacles arise during marital life, puja on the day of Vivah Panchami will help eradicate them all.
Each individual is blessed by the most wanted fruit of his/her life.
Any problem arising in a person's married life can be resolved through worship on this day.
Worshipping of the Joint Form of Lord Shri Ram and Mata Sita helps get both their blessings and get rid of all hurdles in an individual's marriage.
Moreover, during the wedding affair of the idols, reciting Bala Kanda's Path holds great importance.
Also, reciting the Ramcharitmanas leads to happy family life.
---
Conclusion
Married women celebrate Vivah Panchami to acquire marital bliss while unmarried women celebrate it to gain suitable life partners. In commemoration of the Ram Vivah Panchami, Lord Rama and Mata Sita devotees perform special puja to revere them, observe a day-long fast and organise their marriage ceremony with great enthusiasm. We wish you plenty of happiness, peace of mind on the occasion of Vivah Panchami!
Attract Good Luck With Your Personalised Horoscope On The Auspicious Day Of Vivah Panchami! – Talk To Expert Astrologer Now!
With Ganesha's Grace,
The GaneshaSpeaks.com Team
Astrologers trained by Shri Bejan Daruwalla.
---
---
Get 100% Cashback On First Consultation