Dattatreya Jayanti 2023: Hindu Trinity Incarnate Anniversary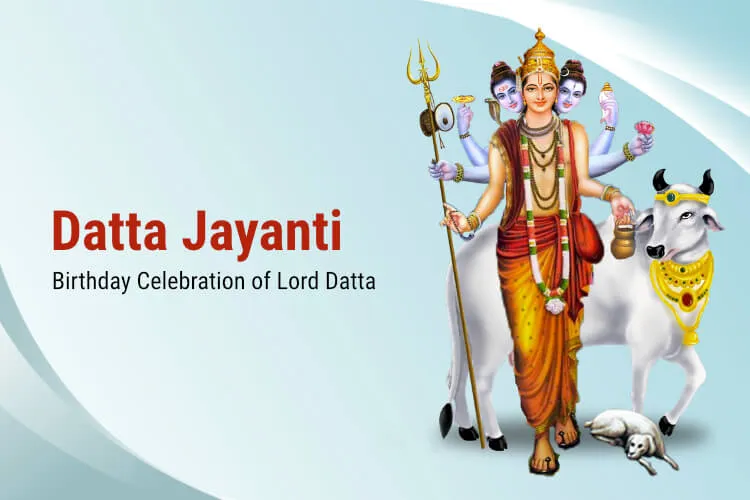 The important Hindu festival of Dattatreya Jayanti is celebrated on the Full Moon Night (Purnamasi) of the Margashirsha (Agrahayana) month. It is also known as Datta Jayanti. In 2023, Datta Jayanti will fall on Tuesday, Dec 26, 2023.
Shri Datta Jayanti was the day Lord Dattatreya was born across the country.
As per the scriptures, Lord Dattatreya symbolises the fusion of the three Gods of the Hindu male trinity (Trimurti), namely Brahma (the creator), Vishnu (the nurturer) and Mahesh (Lord Shiva, the destroyer). Though sometimes, Lord Dattatreya is also considered as an incarnation of Lord Vishnu.
Lord Dattatreya Jayanti Importance
There are several temples dedicated to Lord Dattatreya, especially in Southern India. He is also a prominent deity in the state of Maharashtra. In fact, the famous Datta Sampradaya rose to the cult of Dattatreya.
Lord Dattatreya has three heads and six arms. On Dattatreya Jayanti, his child form is worshipped. The day is celebrated with a lot of joy and fanfare in Lord Dattatreya Temples in the states of Karnataka, Andhra Pradesh, Maharashtra, and Gujarat.
It is believed that if one worships Lord Dattatreya with complete devotion and fasts on Dattatreya Jayanti day, all his/her wants and wishes will get fulfilled.
Will your dreams come true this year? Find out what lies ahead in the year 2023 with a 2023 Highlights Report prepared by the experts.
---
Dattatreya Jayanti 2023 Date and Timings
As mentioned, the Dattatreya Jayanti falls on
Tuesday, December 26, 2023.
Here are the Tithi timings for the same.
Purnima Tithi Begins – December 26, 2023 at 05:46 AM
Full moon date ends – December 27, 2023 at 06:02 AM
---
The Story of Dattatreya
As per the Hindu tradition, Dattatreya was the son of the sage Atri and his wife, Anasuya. Anasuya was a very chaste and virtuous wife. She had performed severe Tapas (austerities) to get a son equal to the trinity of Brahma, Vishnu and Shiva. The Goddess trinity Saraswati, Lakshmi, and Parvati, who are the consorts of the male trinity, became jealous of Ansuya and asked their husbands to test her virtuousness.
Accordingly, the three Gods came to Anasuya in the guise of sadhus (ascetics) and asked her for alms in a way that would test her virtue. Anasuya became tense but soon regained her calm. She uttered a mantra, sprinkled water on the three sages, turned them into babies, and then breastfed them.
When Atri returned to his ashram (hermitage), Anasuya told him what had happened, which he had already seen through his psychic powers. He hugged the three babies and transformed them into a single baby with three heads and six arms.
As the three Gods did not return, their wives became anxious, and they went to Anasuya. The three goddesses begged for her forgiveness and pleaded with her to send back their husbands. Anasuya accepted the request. Then the Trimurti appeared in their natural form, before Atri and Anasuya, and blessed them with a son, Dattatreya. You, too, can worship Lord Vishnu to invoke his blessings and bring happiness to your life. Book Vishnu Puja Now!
---
Datta Jayanti Puja Vidhi
As mentioned before, the temples of Lord Dattatreya are the centre of celebrations on this day. The devotees take a bath in holy rivers and a special Lord Dattatreya Puja if performed with incense, lamps, flowers, camphor.
The idols of Lord Dattatreya are worshipped at homes and temples to attain the path of righteousness. The temples are decorated, and people immerse themselves into bhajans and devotional songs dedicated to Lord Dattatreya. At some places, Avadhut Gita and Jivanmukta Gita are also read, which is said to have the sayings of the Lord himself.
We wish you all a Happy Datta Jayanti!
Attract Good Luck With Your Personalised Horoscope On The Auspicious Day Of Dattatreya Jayanti! – Talk To Expert Astrologer Now!
With Ganesha's Grace,
The GaneshaSpeaks.com Team
Astrologers trained by Shri Bejan Daruwalla.
---
---
Get 100% Cashback On First Consultation