Nakshatra – Pushya
About Nakshatra:
The Nakshatras in Vedic astrology are lunar constellations and directly manifest its expressions. The Moon changes signs (houses) about every 2.3 days. It takes 28 days to move through the zodiac sun signs, translating into two weeks of a waxing (bright half) Moon and two weeks of a waning (dark half) Moon. The Moon is related to our intuition, intelligence and our natural emotions. The 28 Nakshatras deal with these ever-changing feelings and emotions based on the Moon's position.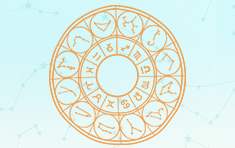 To Find Out Your Rashi Nakshatra, Enter your Birth Details in Online Nakshatra Finder / Calculator to Get Your FREE Nakshatra / Birth Star Report
Pushya Nakshatra Astrological Range
(Pushya — Ranges from Degrees 3:20 – 16:40 in the Cancer sign)
Pushya Nakshatra Characteristics
happy, respected, stable-minded, and endowed with good looks
Pushya Nakshatra Meaning: Nourisher, flower, the best
Pushya Nakshatra Lord: Saturn
Pushya Nakshatra Body – VarahaMihira: Mouth, face
Pushya Nakshatra Body- Parashara: Lips
Pushya Nakshatra Symbol: Teat of cow, arrow, flower
Pushya Nakshatra Deity: Brihaspati- teacher of the Devas
Shakti (power to/of…): Create spiritual energy
Pushya Nakshatra Caste: Kshatriya
Pushya Nakshatra Nature: The light (Lagu)
Pushya Nakshatra Gana: Deva Gana (Lord LIke)
Pushya Nakshatra Rashi/Zodiac: Cancer sign
Pushya Nakshatra Marriage: Not auspicious
Pushya Nakshatra Translation: To provide nourishment
Pushya Nakshatra Controlling/Ruling Planet: Saturn (Shani)
Ruling Deity of Saturn: Hanuman
Pushya Nakshatra Number: 8
Pushya Nakshatra Gender: Male
Pushya Nakshatra Names letters: Hoo, He, Ho, Dah
Pushya Nakshatra Lucky letters: H & D
Pushya Nakshatra Lucky Stone: Blue Saphire
Pushya Nakshatra Lucky Colour: Red
Pushya Nakshatra Lucky or Favourable Numbers: 8
Pushya Nakshatra Common Name: Sacred Fig
Pushya Nakshatra Astronomical Name: Delta Cancri
Pushya Nakshatra Botanical Name: Ficus religiosa
Pushya Nakshatra Guna: Tamasic
Pushya Nakshatra Dosha: Pitta
Pushya Nakshatra Element: Water
Pushya Nakshatra Bird: Sea Crow
Pushya Nakshatra Yoni/Animal Symbol: Aja (Goat)
Pushya Nakshatra Tree: Ashwatha Vriksha / Peepal
Pushya Nakshatra Male Characteristics
The native of the Pushya Nakshatra is emotionally weak. He finds it hard to make decisions. He has good behaviour but that is only for selfish interest. This native is clearly hypocritical, because he may be feeling negativity inside but will make an outward show of being positive. He expects to be respected by all, but himself respects nobody. Praise inflates his ego, while criticism deflates it. It has been observed that he rarely forms strong attachments. It is very easy for him to fall into bad company, so he should be doubly careful about selecting his friends.
Pushya Nakshatra Male: Profession and Related Areas 
The male native of the Pushya Nakshatra is likely to jump at any opportunity to do any work, irrespective of whether he is capable of handling it or not. This generally leads to failure and disappointment. If he pauses for a moment and things hard upon the work he would like to do and then take up that work, no power in the world can stop him from achieving greatness in his chosen field. He also has a strong will-power and overcomes difficult obstacles to reach his goals.
Pushya Nakshatra Male: Compatibility and Family Life 
The native of the Pushya Nakshatra, it has been observed, has to face a lot of problems in family life and will have to depend on friends and relatives even for his daily bread and butter. However, because he has seen poverty in his childhood, he develops a strong will to become rich when he grows up. He may have to stay away from his family for work, although he may be very attached to his spouse and kids.
Pushya Nakshatra Male: Health and Well-Being 
The health of the male native of the Pushya Nakshatra will face many health problems till the age of 15, but after that, he will lead a relatively disease-free life.
Pushya Nakshatra Female Characteristics
The female native of the Pushya Nakshatra is unlikely to ever experience peace. Though she has a very charming endearing character and peaceful nature and is very submissive to elders, she only gets ill-treatment in return. She is religious and follows all the rituals of the family she is married into.
Pushya Nakshatra Female: Profession and Related Areas 
The female native of the Pushya is likely to earn a lot from land, buildings and estate. If professional, she is likely to be employed in a very important post for the company.
Pushya Nakshatra Female: Compatibility and Family Life 
The female native of the Pushya Nakshatra is often suspected by her husband of infidelity. This happens because of misunderstandings due to her inability to express herself honestly to her husband and in-laws. She should first be honest inside and then she will see that that inner honesty will eventually start reflecting outside.
Pushya Nakshatra Health For Female: Health and Well-Being 
The health of this native will not be too good up to the age of 20. They may suffer from a lot of ailments, such as tuberculosis, jaundice, skin diseases, and gastric ulcers.
Pushya Nakshatra Astrology
The Pushya Nakshatra ranges from degrees 3:20 to 16:40 in the Cancer sun sign. Its natives are usually rich, happy, highly esteemed, stable-minded, and good-looking. The Nakshatra Lord is Saturn, and its symbol is the teat of cow. The Nakshatra deity is Brihaspati- teacher of the Devas.
Pushya Nakshatra Prediction 2020
The 1st half of the year 2020 may be a hectic phase, and you may not be able to spend quality time with your loved ones. As you will be somewhat restless and impatient, it may impact your married life. Thus, there may be an imbalance in your life. More focus in your work may disturb your life partner, which may take a toll on the intensity of your relationship. Fortunately, your well-wishers will support you, and you will be able to solve your problems. And you will be very thankful to your well-wishers. As the year moves on, things will get more positive. At the same time, there may be a few issues in your close relationships, which may cause some hardships. So, the year is likely to revolve around your relationships more. The basic fact is that if you can hold on to the status quo in relationships despite the situational provocations, you are likely to control the situation.
Pushya Nakshatra Padas
Pushya Nakshatra 1st Pada: The first pada falls of the Pusya Nakshatra falls in the Leo Navamsa ruled by the Sun. Here the focus is on achievement, riches, family and ancestral pride. There is strong support from Planets in Astrology.
Pushya Nakshatra 2nd Pada: The second pada of the Pusya Nakshatra falls in the Virgo Navamsa ruled by Mercury. Here the focus is on the achievements of the hard-working professional. Good material results are obtained.
Pushya Nakshatra 3rd Pada: The third pada of the Pusya Nakshatra falls in the Libra Navamsa ruled by Venus. The focus here is on home, luxury, and creature comforts. The favourable planets here are Mercury, Saturn, Venus and Moon.
Pushya Nakshatra 4th Pada: The fourth pada of the Pusya Nakshatra falls in the Scorpio Navamsa ruled by Mars, and it represents the occult aspects which attempt to connect with native with celestial powers. Negative traits such as intolerance and too much dependence on others are also manifested here.
List of Nakshatras

Ashwini

Bharani

Krittika

Rohini

Mrigshirsha

Ardra

Punarvasu

Pushya

Mrigshirsha

Ashlesha

Magha

Moola

Purvaphalguni

Uttaraphalguni

Hasta

Chitra

Swati

Vishakha

Anuradha

Jyeshtha

Purvashadha

Uttarashadha

Revati

Shravana

Dhanishtha

Shatbhisha

Abhijit

Poorvabhadrapada

Uttarabhadrapada

Day Guide
Comprises of events likely to happen, hourly guidance & precise timeframes

Life Meter
Know the percentages of different aspects of your physical and mental state

Compatibility
Check out how well will your wavelengths with others match