Nakshatra – Jyeshtha
Mirroring the glorious attributes of its ruling deity Indra, Jyeshtha Nakshatra is set apart by the overall qualities of material wealth, magnificence and accomplishment. Maintaining the defensive aspect of Indra, Jyeshta Nakshatra's general attributes of conservatism, thoughtfulness and emphasis on humanitarian deeds are its driving resource. Jyeshta comes full circle the second arrangement of Nakshatra starting with that of Magha.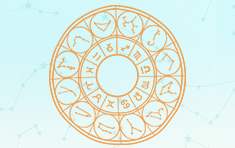 To Find Out Your Rashi Nakshatra, Enter your Birth Details in Online Nakshatra Finder / Calculator to Get Your FREE Nakshatra / Birth Star Report
Jyeshta Nakshatra Astrology
This Nakshatra is controlled by Mercury and is present from degrees 16:40 – 30 in Scorpio. According to Nakshatra Astrology 2021, the year's start will be amazingly advantageous for you according to your work purpose. The ruling deity is Vishnu, and Eldest sister, river Ganges symbolise the Nakshatra.
Jyeshta Nakshatra Male Characteristics
The male native of the Jyeshta Nakshatra is very pure-minded and sober. However, as he does not believe in flaunting his qualities, others may not notice his characteristics. Besides, he cannot keep secrets, no matter how privileged the information someone is giving him. Hence, it is better not to confide sensitive things to him. They take this open-mindedness to such extents that when they have something to tell someone, Jyeshta male natives cannot even sleep till they get it off their chests. These natives can be short-tempered and stubborn, because of which they often face problems in life. Also, he does not take anyone's advice but does only as his conscience bids him.
Jyeshta Nakshatra Male: Profession and Related Areas 
The male native of the Jyeshta Nakshatra leaves his home at a young age, either for education or work. He wishes to earn his living by his methods and standards. He is a challenging and sincere worker, and therefore progresses faster. However, job changes are also frequent. He mayl have to struggle a lot till the age of 50 and settle down only after that. The most troubling period will be between the ages of 18 and 26, during which he will have to face all kinds of problems. Therefore, he is also advised to remain cool and calm and tackle things maturely, and wait patiently for better times to come.
Jyeshta Nakshatra Male: Compatibility and Family Life 
The natives of this Nakshatra cannot expect any support from his siblings or mother. His immediate family members generally do not like him, mainly because they want to maintain their individuality and are independent thinkers. Even his spouse may dominate him, and will never allow any intoxication. On the whole, his conjugal life will be smooth and harmonious. He may suffer from minor health problems from time to time, but nothing major.
Jyeshta Nakshatra Male: Health and Well-Being 
The male native of the Jyeshta Nakshatra may experience health issues such as cold, stomach problems, asthmatic attacks, dysentery, frequent fevers and pains in hands and shoulders.
What does your zodiac sign tell about you? Find Now!
Jyeshta Nakshatra Female Characteristics
The female native of the Jyeshta Nakshatra is over-sensitive, can be very jealous, and loves very deeply. She is brilliant, thoughtful, and intuitive. She is also eager to know the opinions that others have about her. She runs her household activities in a very organised manner.
Jyeshta Nakshatra Female: Profession and Related Areas 
She has average academic qualifications. She is happy by herself at home, basking in the glory of her husband's success. Therefore, it has been observed that most female natives of this Nakshatra are not earning members of the family.
Jyeshta Nakshatra Female: Compatibility and Family Life  
She is usually unable to maintain harmony in the home for whatever reason. It has also been observed that she generally remains childless, and is often harassed by her in-laws. She is meticulous while interacting with neighbours and relatives because they are the persons who usually poison her life. She finds it very difficult to find mental peace in her life. 
Jyeshta Nakshatra Female: Health and Well-Being
The female natives of the Jyeshta Nakshatra do not enjoy perfect health. They are prone to uterus problems, prostate gland enlargement or pain in hands and shoulder.
Jyeshta Nakshatra Dates 2021
| | |
| --- | --- |
| January 11, 2021 | July 21, 2021 |
| February 7, 2021 | August 17, 2021 |
| March 6, 2021 | September 14, 2021 |
| April 3 & 30, 2021 | October 11, 2021 |
| May 27, 2021 | November 7, 2021 |
| June 24, 2021 | December 5, 2021 |
Jyeshta Nakshatra Padas
Jyeshta Nakshatra 1st Pada: The first pada of this Nakshatra falls in the Sagittarius Navamsa ruled by Jupiter. Financial interests will keep you occupied. You will wish to go for higher studies. Natives are very generous during this pada.
Jyeshta Nakshatra 2nd Pada: The second pada of Jyeshta Nakshatra falls in the Capricorn Navamsa ruled by Saturn. This is a responsible phase, and you will do what is right, not what is convenient. 
Jyeshta Nakshatra 3rd Pada: The third pada of this Jyeshta Nakshatra falls in the Aquarius Navamsa ruled by Saturn. Here, the natives are sensitive to others' needs and do everything in their capacity to help them. Be careful of getting trapped in strange sexual encounters.
Jyeshta Nakshatra 4th Pada: The fourth pada of this Jyeshta Nakshatra falls in the Pisces Navamsa ruled by Jupiter. It is easy for you to get carried away by emotions during this phase. The native loves children and is very interested in exploring the exotic sciences.
2021 Horoscope Prospects for Jyeshta Nakshatra
Jyeshta is recognisable in the night sky as the splendid red star Antares. This star dwells at the core of Scorpio and is ordinarily bigger than our own Sun. Jyeshta implies the "eldest" and is a star-related with superiority. Individuals born under this star have a limit regarding extraordinary achievement. However, they should initially figure out how to manage their internal clashes and use their capacity efficiently. The symbol of Jyeshta is an earring or disc that speaks to Lord Vishnu and Mercury's energy. This gives assurance of intellectual capabilities. Those brought into the world under Jyeshta will guard the defenceless or oppressed. The ruling lord – Lord Indra gives an astute and fearless nature. 
Favourable Month: January, April, August, September and December
Unfavourable Month: February, June, July and October
Neutral Month: March, May and November
The natives of Jyeshta Nakshatra can design their huge occasions in January, April, August, September and December. These are the productive months for the year 2021. The planetary movement in these periods will bring favourable luck and back you with their concrete help. There may be a couple of difficulties ahead in February, June, July and October. So, you should re-plan your arrangements for the period remembering the impacts of planetary movements on your Nakshatra. 
Without a further ado, let us dig into all the certain occasions in Career and Business, Love and Relationship, Finance, and Health. Make the most of the year 2021 for progress by having a total view on all the happenings in 2021.
Hindu Moon Astrology Forecast 2021 for all Areas of Life of Jyeshta Nakshatra
Stable growth, steep slide, or hit jackpot? What does the new year have in store for Jyeshta Nakshatra 2021? Let's find out what the celestial bodies have planned for you in 2021. Find out how this coming year will be for you regarding career and business, love and relationship, finance, and health.
Career and Business Horoscope 2021
As indicated by Jyeshta Nakshatra horoscope, the natives will have a mixed bag consistently. Sun is the ruling lord of your professional house. It will transit in Capricorn and Aquarius sign requesting a ton of difficult work from the natives. You will begin this year with a keen consciousness of what might be beneficial for you vocation. From April onwards, you will discover that there will be many chances for you to gain moral ground on the professional front. 
Love and Relationship Horoscope 2021
Love and marriage are expected to be favourable for the natives of Jyeshta Nakshatra in 2021. The single natives will appreciate euphoric moments with their partners. As the year 2021 advances, your partner will turn out to be exceptionally understanding. Single natives may locate their optimal match during this current years' time. Those in a genuine relationship may take their relationship to the next level by getting married to their accomplice. The lord of affection and emotions, Jupiter, will transit in the place of correspondence and joy during 2021. This development of Jupiter will deliver beneficial outcomes in your love life. 
Apart from that, Rahu will dwell in marriage over time, causing misapprehension among you and your companion and making contrasts between you both. You would have to put forth additional attempts to keep up harmony and congruity in your married life.
Facing never-ending challenges in your life? For effective solutions, Ask an Expert!
Finance Horoscope 2021
Jupiter has the lordship of your wealth house and oversees the issues identified with your finance. During its transit, Jupiter will go into the place representing your neighbours, relatives, and siblings, delivering beneficial outcomes on the monetary front. 
The Jyeshta Nakshatra natives may plan a long vacation with their family or companions at the beginning or mid of the year. This is because Jupiter will transit in Capricorn during this period bringing your itinerary items to activity. 
The situation of Ketu in your horoscope may be useful to you as far as monetary assistance. The planetary development shows that the Jyeshta natives will handily get financial help from their family members amid hardship. 
Health Horoscope 2021 
The natives may experience the ill effects of minor medical problems during this year. Ketu will remain set in your first house over time, offering to ascend to health ailments. You should be more cautious at the beginning of the month and take prudent steps to keep away from unexpected future problems.
Moreover, Mars has the lordship of both the 6th and 1st houses. It will transit in the place of diseases from January to February 22. 
The beginning and the mid-period of the year will be somewhat testing regarding wellbeing and prosperity. You are suggested to keep a good dieting design consistently. Alongside that, you should rehearse yoga and do some light activities throughout the year to keep the medical issues under control.
You can now overview all the events in various aspects of life in 2021 and make the new year a fun, happy, and successful year!



Some Interesting Facts of Jyeshta Nakshatra
Translation: Eldest sister, river Ganges
Symbol: Earring, umbrella, talisman
Lord: Mercury (Budha)
Zodiac: Scorpio sign (Vrischik)
Deity: Vishnu
Nature: The Sharp or Dreadful (Tikshna) or hard (Daruna)
Gana: Rakshasa Gana
Mode: Active
Constellation: 18
Body VarahaMihira: Neck
Body Parashara: Upper hips
Number: 18
Letter: No, Ya, Yi, Yu
Lucky letters: N & Y
Lucky Stone: Emerald
Lucky Color: Cream
Lucky Numbers: 5
Element: Air
Dosh: Vata
Bird Name: Brahmani Duck
Yoni/Animal Symbol: A Male Deer or Hare
Tree: Shalmali (Cotton tree)
List of Nakshatras

Day Guide
Comprises of events likely to happen, hourly guidance & precise timeframes

Life Meter
Know the percentages of different aspects of your physical and mental state

Compatibility
Check out how well will your wavelengths with others match