Virgo Marriage Horoscope 2023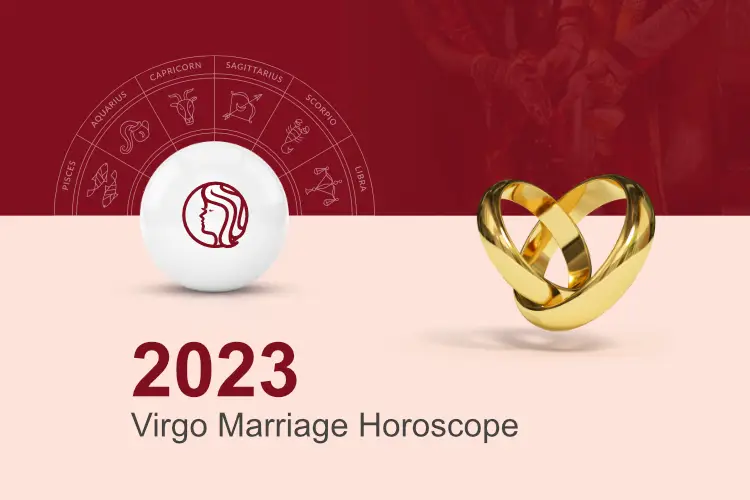 Virgo Marriage Horoscope 2023 – Stay Alert!
This year's planetary alignment may cause a delay in the expected outcome of the marriage relationship. Communication gaps and miscommunication can distance relationships, so you are advised to avoid unnecessary arguments and negative thoughts in terms of a love relationship.
Jupiter and Rahu movement in the first quarter advise you to be attentive in terms of your secret or extramarital love relationship. The chances of a sudden breakup or argument in a relationship can be there.
Virgo Marriage Horoscope 2023 – Singles Get Ready To Mingle
You need to be attentive in terms of love relationships and avoid getting into arguments related to past mistakes, as indicated by Saturn. Try to give some free space in the marital relationship and also avoid over-expectation so that things will go smoothly.
Virgo Marriage Horoscope 2023 for singles predicts the transition of Jupiter and Saturn can get singles ready to mingle. If you receive a marriage or relationship proposal, the months of April, June, and July are ideal for moving forward. Communication with your love partner will be there this year, as indicated by the movement of Jupiter in the second quarter.



Virgo Marriage Horoscope 2023 – Good Times Ahead
Parties and gifts will both make for enjoyable times for you. According to Virgo Marriage Horoscope 2023, your dedication to your partner will be crucial. A naive personality can lead to conflict with your partner. This year may be stressful for your marriage partnership if you are dealing with legal issues with your partner. If you can, avoid arguing with your partner. Some of you might be successful in a case involving divorce.
Jupiter's movement in the second quarter can give happiness from a child or pregnancy news can be there. In the first and last quarter, the movement of Rahu and Saturn can cause some disputes in the family and with in-laws, so you are advised to avoid an unnecessary argument with them.
The Rahu movement suggests you avoid negative thoughts and arguments so that you will have a good time in family life.
Virgo Marriage Horoscope 2023 – Take Small Steps
The month of February advises you to plan a trip with your partner, avoid arguments about past mistakes, and give another chance so that Saturn's and Rahu's negative energy will not spoil your marital relationship.
The month of March can give you a sudden relationship proposal from your colleague or some of you might get a relationship proposal from your ex-partner. You need to give yourself some time to make a decision because Rahu and Mars can drag you into the wrong decision.
The months of July and August can give small celebrations and religious deeds in your family, and a small get-together can give happiness in family life.
Virgo Marriage Horoscope 2023 - All Is Well
The months of July and August can give some positive results in terms of love marriages and also a positive reply to the relationship proposal. Virgo Marriage Horoscope 2023 predicts that this year is going to be favourable for those who want to convert their love relationship into marriage. Don't doubt the small things of your partner.
Sometimes a relationship needs rejuvenation, so you need to express your feelings through communication. As Jupiter indicates, communication can take the form of writing, which will allow you to rejuvenate your marital relationship this year.