Virgo Finance Horoscope 2023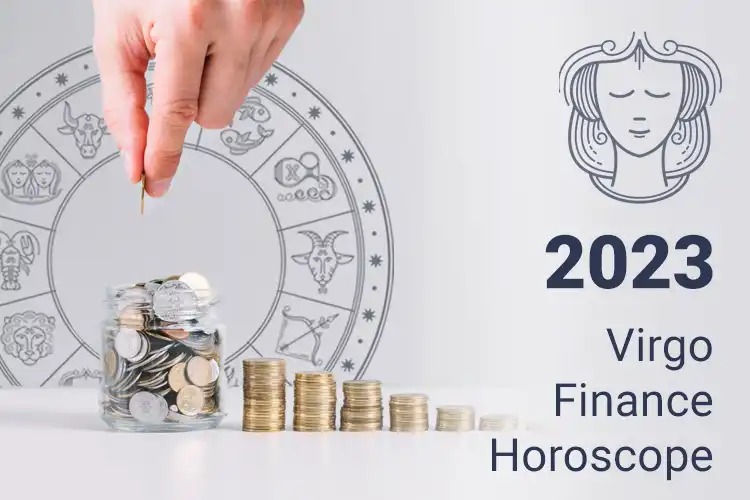 In the first quarter, there may be financial gains from business-related work and financial support from your spouse. In the first phase between January and March, those of you who are independent professionals can also earn from your clients. Some of you might encounter a delay in getting financial assistance from your family, so you need to be patient. Some of you may spend money on buying a vehicle or repairing your vehicle. As indicated by the tough movement of planets this year, some of you might suffer financial loss as a result of making a bad decision in the first quarter. Regarding major investments and financial decisions, it would be helpful to get some expert suggestions.
Push Your Strengths for More Gains
The Mars movement advises you to make no aggressive decisions regarding money. A few unplanned expenses can incur due to work and business. In the first quarter of this year, there may be unplanned expenditures and no expected gains from the stock market. Rahu and Jupiter's movement can give an opportunity for foreign travel and spending on taxes and legal work. The Sun and Mercury can cause some expenditures for children. Chances are good that you'll get an increment or receive an incentive. There can also be financial gain from business-related work or good financial support from your spouse. Expenses related to religion and travel to foreign lands may be incurred. It will be important to make informed financial decisions and seek expert advice so that things will go according to your plan.
The Magic of Money
The stars show that this year will be full of gains and growth for the Sagittarians. Your hard work is going to give you the expected monetary rewards. Your inflow of funds is going to be steady and unswerving. Money is seen flowing quite easily towards you this year. However, you are suggested to be extra cautious on the regulatory compliances as otherwise, it may invite trouble. Overall a good year on the financial front. In the first half of the year, you may see expenses shooting over income. It is advised that you keep control over your spending. July or August will open up an additional source of income for you. This source might have a touch of illicitness so be prepared accordingly.
Some of you might need to spend money on learning new skills and participating in religious activities. Spending can be incurred for traveling to a foreign country or religious location. As indicated by planets, some of you will need to spend money on health-related expenditures this year. Some of you might encounter a delay in getting financial assistance from your family, so you need to be patient. Do not engage in any legal work that could result in sudden financial loss to you.
Wise and Timely Investments Give Better Returns
You can expect some financial gain from the wholesale business. Financial disputes can arise concerning a property. A major investment in property or a vehicle should be analyzed and verified this year as indicated by planets. Some of you might suffer financial losses due to ignorance. If there is any conflict in the family due to property, it would be wise to avoid major decisions at this time. You have a good chance of getting a return on your previous investment.

Small celebrations can result in unplanned expenses on family or friends. There can be a cost associated with learning occult science or meditation. This year, money and finance are going to be in your favour so you can plan for long-term investments with expert advice.
Share Your Problem, Get Solutions