Scorpio Health Horoscope 2023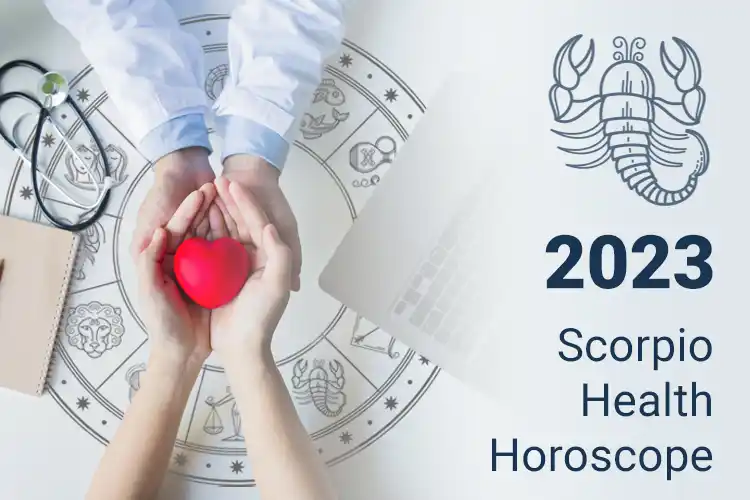 Scorpio health horoscope 2023: An Overview
Scorpio health horoscope 2023 recommends that you are probably going to get eased from sicknesses you had in previous years. You may have a bad immunity but with your good lifestyle, the situation may improve. Your mind may be upset, so it is vital to deal with your mental state particularly during some months in 2023. This helps you to deal with challenges that come your way mentally and physically.
The Moon makes you tired sometimes so be careful and have a consultation with a good doctor. If you have any chronic illness, 2023 is the year to improve healthwise. You should not stress about your professional life, but it is important you should be careful about colleagues who backstab you. Lets see the Scorpio health horoscope 2023.
Scorpio Health 2023 - Do not be upset with challenges
Scorpio health 2023 suggests that you should deal with your wellness and health in 2023 in proper manner. This is due to the unfavorable alignment of the planets. Join any work out routine consistently and practice good weight control plans. Eventhough you have minor sickness, be careful about your health as it may make you even sick. You should keep away from negative situations that come your direction. .For solutions to your health or any other life issues.
Scorpio Horoscope Health 2023: What Can You Expect in the First Six Months?
Scorpio horoscope health 2023 suggests that the Jupiter and Mars travel during the February may help you with good health. During March, you must be extremely cautious concerning your fitness. Any persistent issues may need additional consultation every three months. During April, the travel of Mars shows exceptionally low energy to all the Scorpio natives. The May month gives you some unwanted pressure and thus your energy level will be less this time. Saturn transit which isn't positive recommends you to take proper rest, otherwise you may end up in health issues. You are probably going to feel easy during June because of Venus transit. Deal with your daily schedule properly and have an eye even on minor medical problems.

Scorpio Health Horoscope 2023: What Is In For You In The Final Months From (July-December) ?
Scorpio horoscope 2023 health recommends that during the last months of 2023, you are probably going to feel great health. Also, you are likely to understand the importance of good health and you may achieve it through many health tips. You will know about tips and tricks for good health and try genuine attempts to build the fitness level. During the last days of August you may feel weakness because of the negative planetary positions. You might feel like your digestion is upset. If you have any difficult health issues, try to consult 2 or 3 specialists before going for any surgeries for your conditions. During the months from October to December, the days might be promising to give you very good health because of your proper routine. Would you like to find out about your health in 2023? Get a Free 2023 Detailed Yearly Report.
To conclude, your health might be positive during the entire year if you make a sincere effort to keep up with the health and fitness by having a good way of life and routine. Even if you are dealing with a small illness, you should not be hesitant in visiting a doctor. If you are neglecting any minor issues, you may get bad health in 2023. So, do you want to see a detailed yearly horoscope based on your finances, relationship, business, career etc, Talk to an Astrologer for Free.
Share Your Problem, Get Solutions