Pisces Marriage Horoscope 2023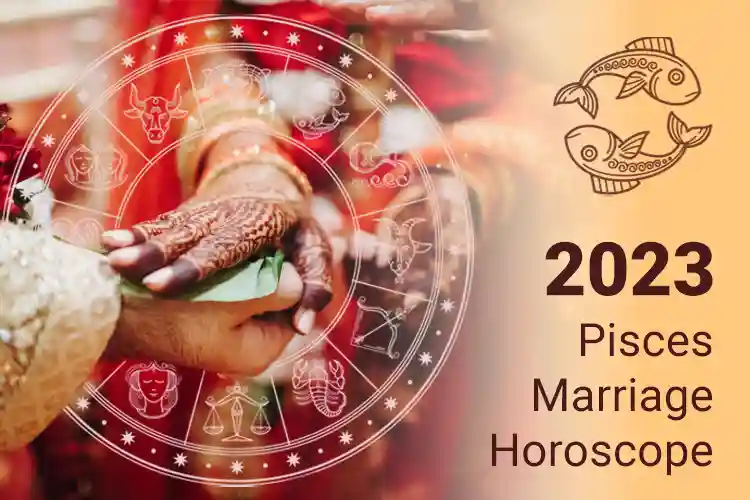 Pisces Marriage Horoscope 2023 – Happiness All Around
As the year begins, Venus will activate all your social contacts. You may feel refreshed and motivated to bring love and charm to your relationship. But, the impact of the Nodes around the middle of January can be detrimental for married couples. There can be some heated arguments, and that might disturb their relationship.
According to the Pisces Marriage Horoscope 2023, the month of February is likely to be very rewarding and you are likely to receive gratification from all spheres of life. Here, you may feel that you have a deep connection with your spouse.
As the year advances, it may prove helpful for married couples to sort out some existing problems and make them able to develop intimacy with their family members and beloved ones.
Pisces Marriage Horoscope 2023 – Few Bumps To Overcome
Pisces marriage predictions 2023 indicate that the combined impact of Venus and Mars will make them able to revitalise relations and participate in social activities with great joy and enthusiasm.
However, you should not take your relationship for granted. Carelessness and self-indulgence, according to Mars, are more likely to cause some disruptions during the month of April. Your approach will be rather aggressive, which may cause problems in your personal life.
The period around the month of May could be a good phase for married couples. Jupiter's and Venus's influences will be beneficial in taking the relationship to the next level of fulfilment. Around the month of June, married couples may have a tough time balancing their personal life and professional life commitments.

Pisces Marriage Horoscope 2023
At times, your friends and beloved ones may differ on many issues, and hence there will be some distance and disruptions in your relationship. However, Jupiter may bring clarity and, hence, you can expect to have a better understanding of your relationship. During the latter half of the year, you are likely to strengthen your relationship with your loved ones.
Pisces Marriage Horoscope 2023 suggests you take it easy until things settle down. The influence of Saturn may make you aware of your weaknesses and help you understand what exactly you are lacking.
Some tricky issues in your family may make you anxious and there may be some heated arguments with your spouse around the month of August, indicates Mars. Some difficult issues may keep you worried about your relationship. Even some petty issues may suddenly turn into matters of ego.
Pisces Marriage Horoscope 2023
The impact of Nodes will not be in your favour till the end of September. You must act with a cool head; otherwise, these kinds of issues will make reconciliation difficult.
During the last quarter of the year, you will generally maintain an optimistic approach. Jupiter may act in your favour. So, this will be a good time to seek solutions and fight the odds with the best of your abilities, wisdom, and patience.
As the year advances, Venus may bring a fantastic time for your love and relationship. Married couples are to have a pleasant and enjoyable time together at the end of this year. Warmth in relationships with family is to be preserved. There will be no serious problems in the family. You are to have a pleasant time with your family around the year's end.