Aries Marriage Horoscope 2023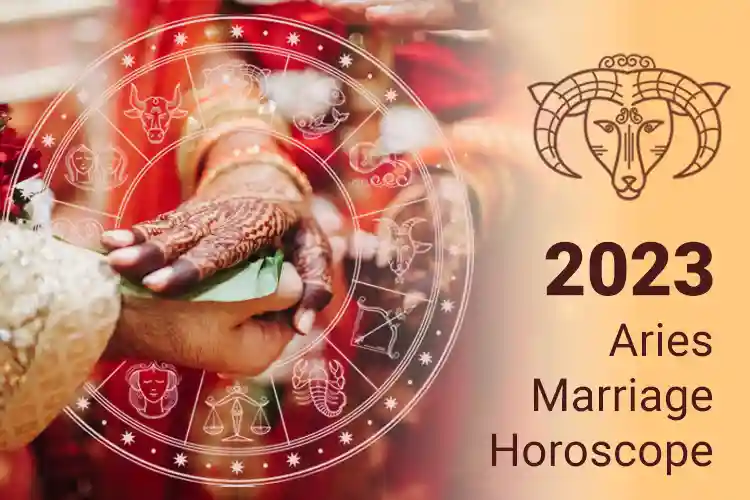 Aries Marriage Horoscope 2023: Beginning Of Healthy Relationship
A wedding is the most expected and cherished event in everyone's life. This astrological chart thoroughly evaluates all houses to provide responses to the questions such as "when will you marry?" and "who would you choose as your groom and bride?
Aries who are expecting to marry their long-time partner will have the blessings of Jupiter and Rahu. Aries marriage horoscope 2023, indicates the sign of happy married life. Jupiter will assist you in fulfilling your wishes towards personal and family life as well.
Aries Marriage 2023: Will The Singles Get Married?
Though the presence of Rahu and Ketu in your horoscope helps you in making effort to build a better relationship with your spouse. The first few months will go better with the help of Venus while Rahu and Ketu's influence may create a raft in the Aries marriage 2023 relationship if any of the individuals become more clingy or dominating.
For a happy and healthy relationship, you need to be calm and give space to your partner. During the first half of the year, you may receive a marriage proposal from your old flame or a close friend. For individuals who want to try luck for another level of relationship after separation, Saturn is here to help them.
Aries 2023 marriage horoscope predicts that the planetary movements during the months of May, June, and October suggest that you should ignore heated arguments. The use of incorrect words creates trouble for you. Compassion and an optimistic attitude will lead to relationship success.
Aries Marriage 2023: Strengthen Your Relationship With Planetary Assistance
According to Venus' predictions for January, February, and July, this journey may lead to a renewal of the marital relationship. The success of their spouse's promotion or raise will make the married pair joyful. Rahu and Jupiter may bring you wonderful news about a kid, which will strengthen your marriage.
According to Aries marriage horoscope 2023, patience and a positive attitude is the key to a healthy relationship. Saturn can have an influence on a marital relationship till the month of April so you need to be patient while making a major decision in a love relationship.
Resist being swayed by the opinions of others and instead have honest and open discussions with your partner to ensure that your relationship works smoothly. May, October, and November are the months when A quick dispute or mood fluctuation of their partner can make life difficult for married couples.
An Overview Of Aries Marriage Horoscope 2023
Married couples will find the year 2023, a lot better than average. Saturn will be visible in your zodiac sign. This will perpetuate conflict in your relationship. During the year, conflicts with your relationship are likely to occur. There may be a disagreement between the two of you regarding old hidden secrets from the past.
A peaceful conversation avoids conflicts in marital life. Do not pressurise your partner to act as per you. Aries marriage 2023 predicts that your partner may come up with health issues. Care and affection will create a strong bond between the two.

A dispute with a loved one might cause tension. This can have an impact on your married life, therefore take caution while speaking and be kind towards your spouse and family.
Share Your Problem, Get Solutions