Pisces 2023 Career Predictions Indicate Challenges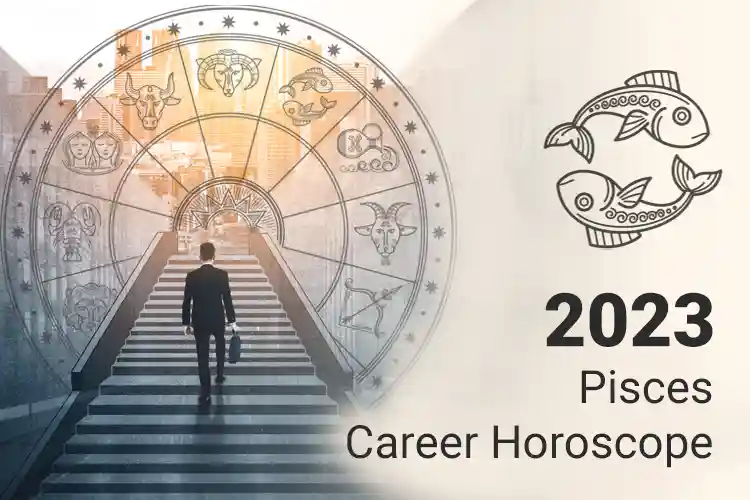 As the year begins, Jupiter seems to bring some new opportunities and therefore you would feel fresh and energetic at your place of work as per Pisces Career Horoscope 2023. At the same time Mars indicates that you might indulge into arguments with peers and superiors. Pisces 2023 Career advises that You must keep in mind that arguments with superiors might affect your progress in the beginning of this year.
Also, due to the impact of Saturn, you might face some pressure and constraints. Mars might help you to strengthen your position at your workplace during the month of February. Due to the impact of Nodes, you would confront fresh challenges as well. The decisions that you take around the month of February might have a strong impact on your business growth, indicates Mercury. So, it is wise to avoid impulsive decisions. The combined impact of Mars and Jupiter is likely to offer you excellent opportunities for progress around the month of March suggests Pisces Career 2023. People doing business might have a good time as well. Pisces Business Horoscope 2023 suggests that Business persons might also need to review their plan in order to enhance business. Some old issues might come to the surface, indicates Pisces Horoscope 2023 Career. The movement of Mercury seems to inspire you with some intelligent ideas to boost up your career around the month of April as indicated by Pisces 2023 Career Horoscope.
Pisces 2023 Career Horoscope: Implementation of Corrective Measures!
Progressive forces might work effectively particularly for business persons. However, you must get prepared for some challenges as Saturn is likely to bring fresh challenges in your career around the month of May, as indicated by 2023 Pisces Career Horoscope. If you are in business, you might be able to implement some corrective measures and are likely to find yourself strongly placed as the year advances.
Get 100% Cashback on your First Recharge and Talk to an Astrologer Now
Mercury indicates that there might be some issues around the month of June where you might indulge into arguments with peers and superiors, says Pisces 2023 Horoscope Career. Jupiter is likely to give some more scope for career progression of freshers. Around the month of July, Saturn might bring some complicated situations at your workplace. You need to trade carefully, suggests Pisces Horoscope Career 2023 . If you are in business, it might not be a supportive time for finalising a deal or taking a decision related to major financial involvement. As the year advances, Career Horoscope Pisces 2023 says that Mars might make you feel confident and you might consult an astrologer for free as well as know about Career.
Know your real strengths, weaknesses, abilities, and talents. Know your Zodiac Signs
Good Opportunities Indicated By Pisces Work Horoscope 2023
There might be glitches in finalising a deal. The transiting Mars indicates that those who are looking for job options to change might get some good offers around the month of September as suggested by Horoscope Pisces 2023 Career. It might prove to be a hectic and demanding one for you particularly if you are in business.
The impact of Mars indicates that there might be some hurdles and you m feel pressure. Business persons can expect some good opportunities to explore new options to boost sales. Around the year end Jupiter might help you gain a greater understanding of your career related matters as per Career Horoscope 2023 Pisces. There might be some complicated matters due to the adverse impact of North Node but with your smart moves you might feel more effective in your professional life. Business people might explore new territories and possibly add new items in the product list.
Uncover all Challenges and Unwanted changes in your Life Graph. Get 2023 Horoscope Reports
Share Your Problem, Get Solutions