Gemini Finance Horoscope 2023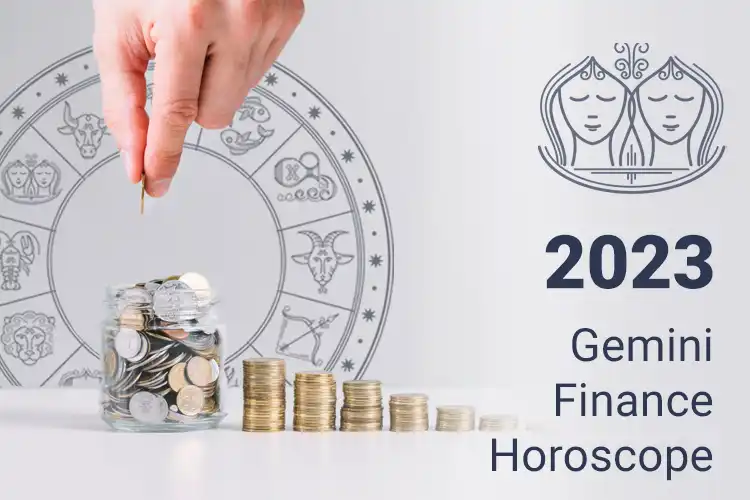 Where and when to make investments is required to be analysed for all the major investments. Gemini Finance 2023 gets good support from Jupiter in terms of finances.
Proper Financial Analysis is Required: Gemini 2023 Financial Horoscope
Overall, this year Jupiter is ready to fulfil your wishes related to money and finances as indicated by Gemini Financial Horoscope 2023. There may be multiple ways to get financial benefits this year, so you need to be careful with your efforts and approaches. You need to do proper research and analysis before making any kind of major investment. Some of you might get new jobs and promotions which might improve your financial condition, suggests Gemini Money Horoscope 2023. There may be new business plans that might bring economic benefits, but in the early stages you need to be careful about your investments, as shown by Rahu and Jupiter. As Rahu and Ketu state, stock market and equity-related investments might turn out to be risky. Therefore, proper investigation and analysis is required to handle finances efficiently.
Venus Transition is Favourable
It is better to get expert advice for expected financial gain as this might help you to know where to make investments in a systematic manner. Saturn might give some delay in property-related work this year so you need to keep patience, suggests Gemini Finance Horoscope 2023. For those of you who were waiting for a long time related to property matters this year, Jupiter and Saturn might help you but these two planets demand patience while having paperwork so it is better to wait for the best instead of hurrying up things. Buying a flat and property might give you happiness this year with the blessings of Jupiter and Saturn. The First-quarter of this year might be average as per Gemini Finance 2023. The movement of Venus might bless you with happiness and you might get expected financial gain from a foreign-related career. Those of you who are in fashion or art-related business might expect to get career related financial gain from their investment. Things might go well in your favour because of the favourable transition of Venus.

Expected Financial Benefits: Gemini Horoscope 2023 Finance
Second-quarter movements on Mars suggest you to avoid large-scale real estate investments, as they might cause losses until June. Thus, if you are about to make some kind of real estate investment then you need to consult an Astrologer. The Venus and Mercury movements provide support for generating financial benefits from new business-related projects as per Gemini Finance Horoscope 2023. The Jupiter movement in the third quarter has the potential to enable spending related to travel abroad and pilgrimages. This year, Saturn might bring the expected savings and wealth growth. As a wholesaler, those of you might also get the expected savings from their business. Independent professional and freelance careers might achieve the expected success in financial operations.
Good Future Plan is Needed
The last quarter of this year seems to have some shortage of money and finance so it is better to keep a saving plan for the future. This might help you to manage your finances efficiently. There might be some financial loss in the mid of October in share market-related investment so it is better to have proper research before making any major investment. Overall this year Jupiter and Saturn might help you to get success with patience and a positive approach. You need to keep a positive approach while managing your finances so that things might go in your way. You might get good family support and help from in-laws in terms of money and finance. You just need a good future plan so that your finances are well managed. You might get your Free Janampatri and know about your finances.
Share Your Problem, Get Solutions