Substance Driven As Ever? Zoya Akhtar Birthday Prediction for 2020-21
Published on अक्टूबर 1, 2020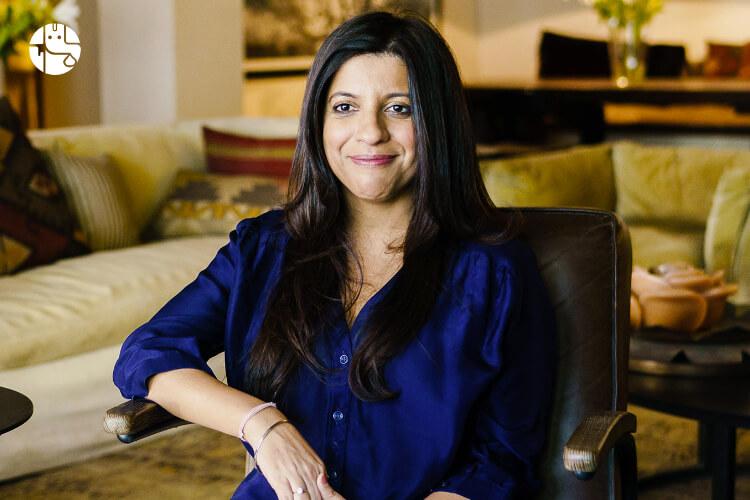 To be a standout name in a family full of talented artists is a feat in itself. Zoya Akhtar has achieved that and more. Winner of three Filmfare awards, she will be celebrating her 48th birthday on 14th October. As this writer-director takes another year head-on, we bring you the astrological predictions of her upcoming year based on her birth chart.
Zoya studied filmmaking from the prestigious NYU and assisted the directors before becoming a fulltime auteur herself. Her debut as the writer-director was Luck By Chance, a movie she wrote seven years before the release of the movie. She won her first Filmfare for the movie, grabbing the award for 'Best Debut Director' that year. Though the film did not turn around well on the box office, she was applauded for the layered treatment of the subject matter. Later on, that would go on to be the USP of her films.
Her big-time success came in 2011 with Zindagi Na Milegi Dobara, a movie that not only put her in the list of best coming of age directors of Bollywood but also made her a director who will be known for making relatable, multidimensional characters. The film was both commercial and critical success, and her arrival was declared in style. Next, she wrote Talaash, along with her long time collaborator Reema Kagti. The movie was a breath of fresh air for the genre.
Gully Boy proved to be her best work, where she brought the rap music from the streets of Mumbai to the silver screen. The movie won all four acting awards offered by Filmfare, got selected for screening at Berlin International Film Festival, and was India's official entry for the Oscars. Zoya's character developments and eye for minutest of the details woven into the story of an underdog was praised by many. Zoya has also been one of the four directors on critically acclaimed anthologies Bombay Talkies (celebration of 100 years of Bollywood Lust Stories and Ghost Stories (on Netflix).
Her next venture is all set to be a crime drama with none other than Ranveer Singh, and the excitement is unbearable! As fans wait for the director's next, we are bringing you her birthday forecast for the upcoming year. How will Zoya Akhtar's career pan out next year? What lies ahead on the personal front? Let's find out with the help of astrology.
Zoya Akhtar Birth Chart:
Date of Birth: 14th October 1972
Time of Birth: Unknown
Place of Birth: Mumbai, Maharashtra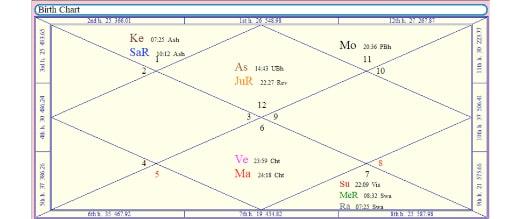 As her time of birth is unavailable, we will be analysing Zoya Akhtar's Surya Kundli. Even though the exact time of birth is necessary for accurate prediction, we can get to know a ton about people's future by looking at their solar birth chart. You too can make the most out of the planetary positions at the time of your birth, by unlocking your hidden potentials and understanding your strengths and weaknesses with our handwritten, personalised Janampatri, made only for you.
Zoya Akhtar's Horoscope by Date of Birth:
According to her birth chart, Zoya Akhtar's zodiac sign is Libra. With Jupiter in her 1st house, the House of Self, and Sun and Mercury in the 8th house, the House of Transformation, it was evident she would choose a profession of creativity. The stories she has written and superhit movies she has directed are a testament to that. The Surya Kundli also portrays her as a person of fewer words and more action, a person whose skills speak for herself and who is famous for it.
Natural poet, lyricist, and writer in general, Zoya is likely to hone her writing abilities this year. This means, her fans may see another deep and meaningful script from Zoya Akhtar, or a rediscovered lyricist, penning down beautiful songs for the movies, walking on the footsteps of her talented father. Do you want to know where your career will take you this year? Is a job change on the cards? Find out all the answers with your personalised 2021 Career Report Today!
Effects of Planetary Transits on Zoya Akhtar Birthday Forecast:
With the completion of the transitory phase of Jupiter in Capricorn, Jupiter will enter Aquarius on 6th April 2021. This may remain beneficial for Zoya, as she may reach new heights of her creativity. She is likely to invest her time in multiple ventures. After March 2021, She may be seen taking on too many responsibilities in different departments of filmmaking, even acting (fingers crossed!).
In the immediate future, the Rahu Ketu Transit 2020 in September is also likely to bring her success, albeit after some relentless hard work. Being a Libran, Rahu, during its transitory motion in Taurus, will pass through the 8th house (the House of Adversities), and hence, she may face some minor health issues. However, they can be avoided by practising yoga and Surya-namaskar.
Birthday Wishes for Zoya Akhtar:
Just like her fans, we wish to see more of her craft in coming years, which boasts of creativity and intelligence she possesses. As this year promises her new ventures and responsibilities, we would like to wish her the best in future endeavours. Happy Birthday, Zoya!
To Get Your Personalized Solutions, Talk To An Astrologer Now!
With Ganesha's Grace,
GaneshaSpeaks.com