Even if she wasn't initially interested, Rekha was destined to make it big in films….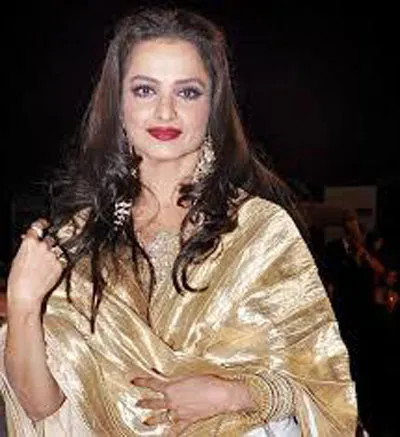 The epitome of grace, artistic talent and surreal beauty, Rekha is an Indian Bollywood actress, whose charm, despite years, refuses to fade. Even after decades, she manages to shine in whichever project she appears and during whichever appearance she makes. In fact, her heavy, Kanjivaram silks in rich, jewel hues and blazing borders have acquired an iconic status.
This original Umaro Jan of Bollywood was born as Bhanurekha to the revered South Indian actor Gemini Ganeshan and Telugu actress Puspavalli. However, Rekha's mom was not Ganeshan's wife. Thus, Rekha had a troubled childhood. Oft-criticised and slandered for her weight and rounded features in her initial few films, Rekha underwent an incredible metamorphosis. The tall and lithe siren that emerged was unbelievably attractive – her later appearances especially in films like Silsila, Khoobsurat, Muquadar Ka Sikandar, Utsav, Ijaazat besides others, were simply stunning.
However, this super popular diva of 70's and 80's, who appeared with almost all leading screen heroes in her heydays, did not have a great personal life. Failed in love and relationships, she married twice, but her love and personal life remains more of a mystery to most. On 10th October, 2015, the enchanting, timeless beauty turns 61, and we take this as an opportunity to prod Ganesha to analyse Rekha's Horoscope and reveal the starry alignments that gave her this beautiful yet chequered life. Read on!
Rekha Ganeshan
Date of Birth – 10th October 1954
Time of Birth – 11.00
Place of Birth – Madras
Starry Alignment
Rekha was born with the Sagittarius Ascendant. The Lord of her Ascendant Sign – Jupiter is Natally exalted and placed in the 8th House of her Chart – in its Sign of exaltation – Cancer.
Starry Effect
The exalted Jupiter makes Rekha a kind hearted soul – knowledgeable, truthful and genial by nature. As her Ascendant Lord is in a watery sign Cancer, she is also tuned naturally to be very emotional. Her Ascendant Lord may make her a high thinker, spiritual and giving by nature, but she may have a tendency to let her heart rule her head, feels Ganesha.
Starry Alignment
Mercury in her Chart is Natally placed in the Sign ruled by Venus.
Starry Effect
This indicates that Rekha is gifted to express creatively. She can present her creative talents well. Thanks to the eloquence gifted to her by Mercury, her creative talent gets communicated beautifully.
Starry Alignment
The planet of vigour and force – Mars is placed in Rekha's Ascendant House.
Starry Effect
This placement makes Rekha an energetic, aggressive and intense person. She would be a tireless worker. At the same time, Mar's placement also makes her a target oriented person. She would be specially skilled at getting any work done.
Starry Alignment
Further Ganesha notes that Rekha's Natal Venus is placed in a detrimental Sign, but it gives a direct aspect to its own Sign in the 6th House in Rekha's Horoscope. The 6th House, besides other things, indicates routine affairs and day to day functioning, especially in the work domain.
Starry Effect
Art, as a routine activity, that is why has been quite favourable to her.
Starry Alignment
Un-afflicted Sun in the 10th House (the House of Profession). The Sun is placed in a Sign ruled by Saturn, though.
Starry Effect
Sun's placement in the 10th House may be held responsible for Rekha acquiring a great social status and fame, thanks to her work. Since Saturn is a slow moving planet and also an enemy of Sun, the Sun's placement in Saturn-ruled Zodiac may be the reason, Rekha's career took some time to really take off. She must have worked extremely hard all through her life to maintain her career.
Starry Alignment
The Lord of the 7th House of marriage – Mercury is placed in 11th House, in conjunction with Saturn – a strong malefic in this regard. Plus, Rekha is a strong Maanglik. Additionally, the Lord of her 5th House (of love) – Mars is placed with Rahu in her Ascendant.
Starry Effect
These are the reasons behind problems in her marriage. She was destined to have an inconsistent love life.
But then, for someone so elegant like Rekha, life is good! Ganesha wishes a very happy birthday to Rekha.
To Get Your Personalized Solutions, Talk To An Astrologer Now. First Consultation with 100% Cashback!
With Ganesha's Grace,
The GaneshaSpeaks Team
---
---
Get 100% Cashback On First Consultation