Pisces Love and Relationship Horoscope 2022: Hold Your Horses, We Mean Thoughts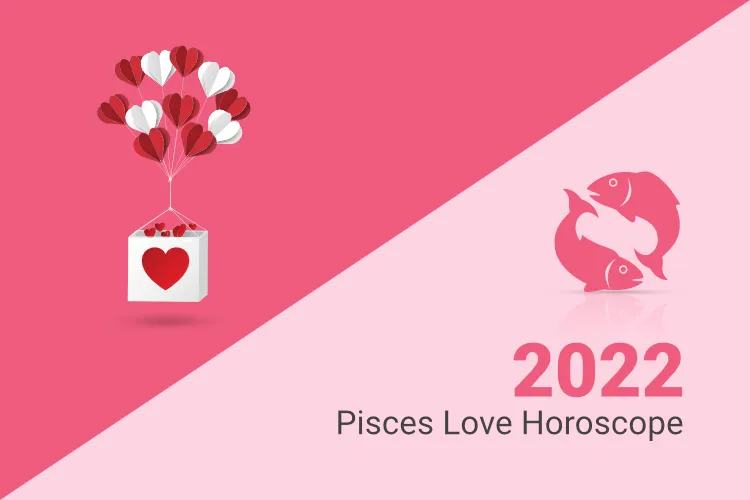 Love is in the air for Pisces Love Horoscope 2022, and it will be all good and fun for most Pisces natives this year. Pisces love horoscope 2022 for singles especially is full of colours as they may find themselves swayed by the charm of the other person, and there are high chances that they find their soulmate.
Starting from the month of March 2022, you will be full of romance and romantic moments with your beloved partner. If you propose, then the probability of you receiving the same energy level is high. This is also the time when the understanding grows in your relationship. Therefore, the two of you would work toward improving each other's confidence and qualities. To know about your relationships in the year 2022, access your Free Personalized 2022 Report.
Pisces 2022 love horoscope predicts the months from June till September 2022 is likely to be full of surprises. A new alliance and relationship will go a long way, so just hold your thoughts. Those of you who are married will enjoy romantic pleasures, and dinner dates will help you get cosy. For some, though, you might get into a misunderstanding with your mate around Nov 2022. Personality clash can be the prime reason that would create adverse results in a relationship.
Finally, the time from October 2022 onwards, many of the issues would be resolved wisely. This would make you feel confident as you would sit with your lover and resolve differences.

Pisces Love Horoscope 2022: Overview
2022 Pisces love horoscope suggests having a little control of your anger and temperament as that would be helpful to drive you to lead a good relationship. Work towards a better one this year. For married Pisces natives, make sure your relationship with your partner and in-laws stay away from any confrontation. Especially where the duo is involved, as this would only add up to the misunderstanding.
Pisces love life 2022 looks dangly, and you know how important love is in your life, so you should stop fighting for small and unimportant topics. Give enough ground to your partner to clarify this behaviour. One in a meaningful relationship will give some useful tips for enhancing your prospects. Access the Free Personalized 2022 Report to know what the stars have in store for you.
It is high time to make it up to your partner too. Communication should be handled very carefully with your partner, says the yearly predictions for Pisces native. Irritating behaviour or harsh words may spoil the harmony in the relationship. If you are single and waiting to meet a partner of your choice, online portals can be a great help.