Gemini Health Horoscope 2022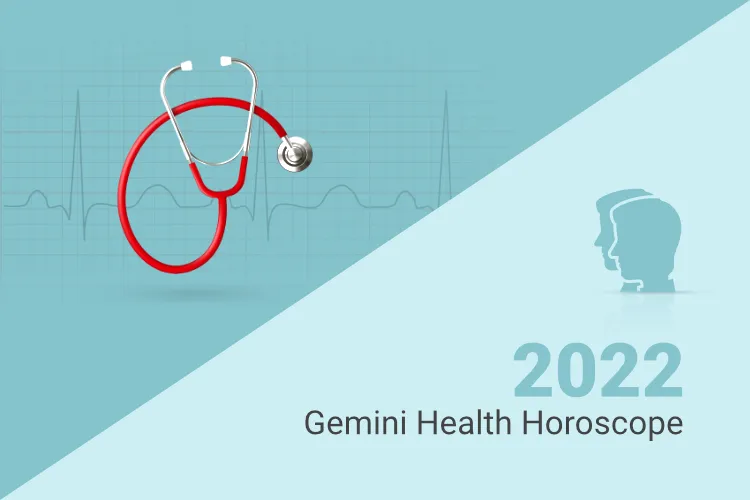 This year, health would need more attention than usual. Health needs to be kept a priority this year. Under no circumstances should you ignore health, diet, and fitness in 2022.
Any compromise on a diet, fitness can affect your health severely. So be very careful.
Also, monitor your health very carefully. The natives suffering from blood pressure, blood sugar problems, and lung-related issues should be extra cautious. Try not to ignore any symptoms. Consult with the doctor immediately when you face any problems.
Make a systematic diet plan, and include many green leafy vegetables and fruits in your diet.
Try to avoid eating oily food and food from outside as this may affect your health and may deviate you from the health plan you have set. To know about your relationships in the year 2022, access your Free Personalized 2022 Report.
Exercise is a Must Says Gemini Health Horoscope 2022
Along with maintaining a healthy diet, you are also advised to stay away from a sedentary lifestyle.
To maintain your health, you mustn't miss your workouts. A fit body is a result of a healthy diet and exercise. They both play an integral part and often go hand in hand.
Changes in your attitude and diet can help you maintain fitness.
Gemini Health Horoscope 2022:- Continued Attention Throughout
The natives suffering from blood pressure, blood sugar problems, and lung-related issues need to monitor their health carefully.
Try not to ignore any symptoms that you may come across. Also, don't miss out on any doctor's appointments. Make sure you keep a reminder on your phone related to all your medical appointments.
This year health requires special attention for the natives of your sign.
Try to take it easy, rest, and eat right. If you are worried about any of your conditions worsening, try to see a doctor and soothe your mind.

The Second Half of Gemini Health 2022
The second half of the year may help you recover from the complications.
Isn't that good news. Natives would be very relieved to hear and experience this since the property may have been bothering you to quite an extent for some time now.
Treatment of any kind may be rewarding and shall enable you to make good gains through this.
Keep yourself away from any stress and strain as it is not going to be beneficial for you.
Try to drink plenty of water and avoid eating junk foods. A healthy eating habit and workout should still be continued.
So, stay healthy and fit. Health is always precious and essential to you. Avoid taking it leniently this year. For a few of you, your family relations may not be very cordial.
Stress is Real
There are high odds of disputes between family members, and you can be seriously affected by this, both mentally and physically.
The atmosphere at home might not be very peaceful and harmonious, causing many serious problems that can affect your blood pressure levels.
Hence, try to handle issues with patience, try to avoid fights, and resolve issues amicably. Also, keep an eye on the problems that are there in the family.
Hence, pay attention to these issues, think practically, and fulfil all the responsibilities you have towards your family. Access the Free Personalized 2022 Report to know what the stars have in store for you.
Gemini Health Horoscope 2022:- Overview
In 2022, health, fitness, and diet should be of utmost priority. According to the yearly health horoscope, your father's health might not be very stable during this year. They would be susceptible to diseases and ailments which can affect their fitness. Moreover, you may fall prey to some old diseases as well.
You may need to monitor your health closely, especially the natives suffering from blood pressure, blood sugar problems and lung-related issues. This year these areas require special attention for the native of your sign. Hence, try to take it easy, rest up and eat right.
Maintain a regular diet schedule and a healthy lifestyle routine. Provide some relaxation to your mind because taking unnecessary stress may harm your health in the long run.
Practice yoga, or perform some light exercises in the morning to maintain fitness.
Take all the necessary precautions to improve your health and your family's health this year. You would feel happy when your health is fit and fine.
Share Your Problem, Get Solutions