Virgo Health Horoscope 2023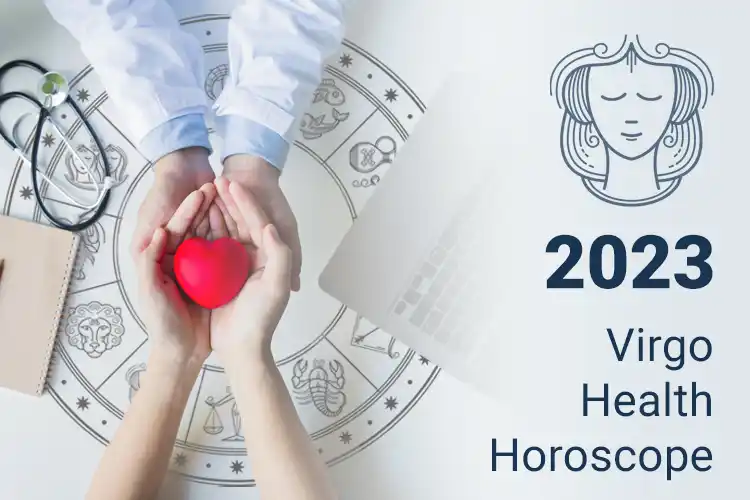 Virgo health horoscope 2023: An Overview
Are you a Virgo who loves to hear about your health in 2023? Then, you must read about the planetary positions and the health horoscope. Virgo health horoscope 2023 suggests that Virgo may enjoy good health due to Jupiter transit during this time. You may be in a good mood to deal with all your confusions this time easily. Your professional life may improve due to your health. Let's check in detail how the transit of planets affects Virgo natives in 2023 while considering their health.
Virgo Health 2023 – Control your emotions!
Virgo health 2023 recommends that the main health issue of virgo is not controlling their anger. But, do you know your emotions can be controlled by consuming a balanced and healthy diet daily that boosts immunity. Do not overstress as it may affect you adversely. This happens due to the Moon transit. Do you want a detailed consultation about your health in 2023?

Virgo horoscope health 2023: What Can You Expect in the first hal
Virgo 2023 health horoscope recommends that you must be exceptionally cautious with your health during January till June 2023. Routine check ups should not be missed because otherwise you may have to face teeth and eye issues as the transit of the moon and Ketu. The development of Mars shows that you simply try not to use any sleeping pills for sleeping. You may be upset between the April and June months. 2023 recommends you to further develop your eating routine quality to its fullest. Likewise, never think twice about your cleanliness. Be hygienic always as it helps you to boost your immunity too.
Virgo health horoscope 2023: What is in for you in July-December?
important one and you might face some skin issues during the last quarterly months. The travel of planets like Mercury and Venus can unexpectedly influence your health, particularly if you are pregnant or you have any health issues. Likewise don't utilize electronic gadgets during the sleeping time too as you might feel uneasiness during them. The first and last quarter of 2023 recommend you to be on a routine everyday practice by taking medications and a good lifestyle. The travel of Jupiter and Rahu gives you medical problems, so avoid junk food particularly from September to November.
Conclusion
In a nutshell, it is recommended that you can be healthy if you follow a good routine and lifestyle. Make sure you will eat proper food and sleep well to bring peace and health next year. Virgo horoscope 2023 health recommends that you may have arm and neck pain. This is due to Sun and Rahu transits. Be careful while driving and do not carry overweights at any cost as it may cause troubles for your hip. Regular exercises help you if you have any sleeping issues. The horoscope says that you may have health issues during the whole year. But all the health issues can be kept at base if you are willing to make yourself healthy through a good routine. Do not use any electronic devices at least one hour before sleep as it disrupts your sleeping routine.
Share Your Problem, Get Solutions