Taurus Education Horoscope 2023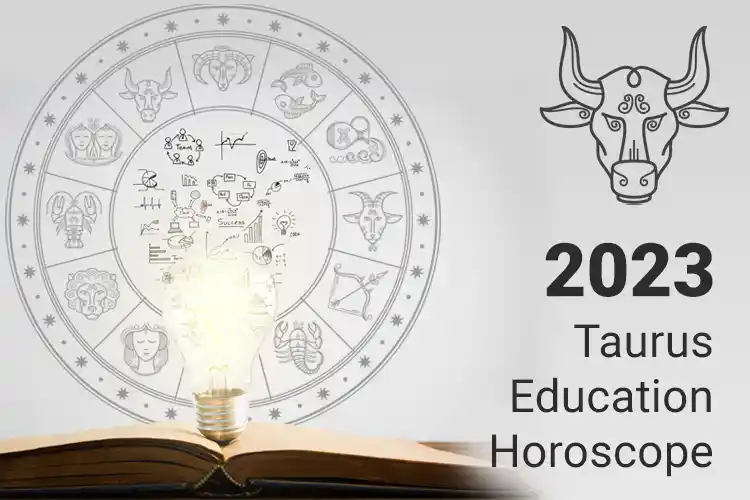 To analyse the importance of studies for Taurus 2023 Education Horoscope and learning technical subjects to gain success.
Taurus Student Horoscope 2023 Blesses with the Happiness
You might be blessed with religious and spiritual knowledge by Rahu and Jupiter. You might also get interested in learning yoga as well as meditation. It seems as though Sun and Mercury might help you to achieve success in higher studies and you might get all the happiness from the starting of this year. Taurus student horoscope 2023 suggests that in terms of learning new skills and education, this year your desire to get admission to a froreign country might be fulfilled. Those of you who want to play at the international level might also get the expected result.
Taurus Education Horoscope 2023 predicts success
Those of you who are school students might possibly make new friends as predicted by taurus education horoscope 2023. It seems that there might be some pressure from parents as indicated by the movement of the Sun. Jupiter as well as the movements of Rahu predict success to get admission in higher industry also. You might also get success in a foreign institute as indicated by taurus 2023 education horoscope. Technical subjects might help you to gain success. This year might prove to be a great success for students. Students of engineering or science might get multiple opportunities to get a job. It is advisable to grab the opportunity and make a good career. This might be helpful to be successful in their project this month.

Blessings of Jupiter is with you
Your hard work and determination might help you to gain good news. Those of you who want to get admission to a foreign country for higher studies might expect a positive result this month as the blessings of Jupiter are with you. Some kind of analysis and reassessment is demanded by both Saturn and Mars which might help you to get expected success. Those of you who are into sports are advised to control their emotions while playing. This might add on to your success. Blessings of Jupiter might give you success in school examinations.This year is the most probable time as blessings of Jupiter are with you. Get free Consultation from our expert Astrologers about your Horoscope.
Know your real strengths, weaknesses, abilities, and talents. Know your Zodiac Signs
Success in Examination: Taurus 2023 Education Horoscope
Some of you might get good guidance from your mentor. Some natives might expect mother's help which might also help them to get success in the exam. Those of you who are interested in writing and mass media-related courses might get expected success with the blessings of Mercury says taurus horoscope for students 2023. Mars might give success to the sports student with the guidance from your mentor. It seems that the student might get recognition for their good performance which would help them succeed in the competitive exam.
Talk to an Astrologer Now and Get 100% Cashback on your First Recharge