Scorpio Education Horoscope 2023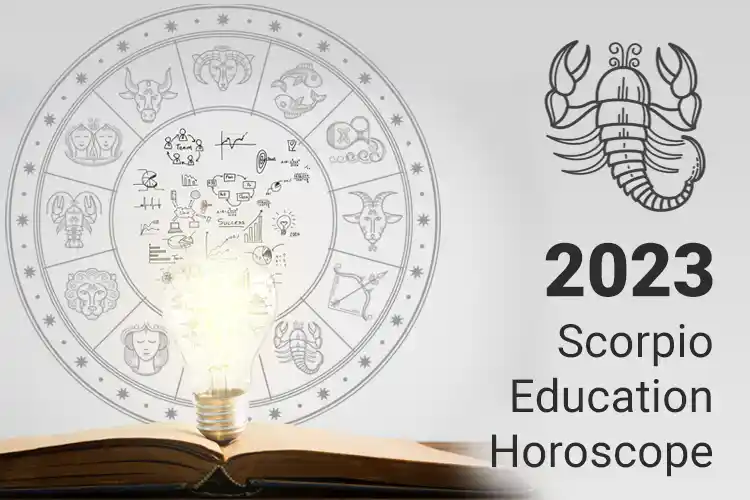 To analyse how expansion of knowledge helps in Career growth. Avoid being over confident at times to keep yourself motivated.
Appropriate Academic Guidance is Necessary: Scorpio Education Horoscope 2023
In the beginning of the year, the planetary aspects do not encourage much academic growth, suggests Scorpio Education Horoscope 2023. You need to be careful such that the progress needs to be closely monitored and appropriate guidance is needed to achieve the desired progress. Saturn's influence on your horoscope suggests that the early stages might not help in academic growth as indicated by Scorpio Horoscope 2023 Education. But as the years go by, the effects of Jupiter might allow you to explore future plans for your educational journey and discuss some new ideas which might help you to move forward. Around February, the impact of the node seems to be causing the problem. Therefore, this year the academics does not indicate a successful phase. If you are a student then you have to fight hard to get better. Only if you work hard is the way to perform well in academics. Things might turn in your favour only if you concentrate well and put in all your efforts.
Expansion of Knowledge: Scorpio Horoscope 2023 Education
The transition of Jupiter might ease the pressure gradually. The impact of stars around March indicates good times for different academic activities, according to Scorpio student Horoscope 2023. Thus, the transition might prove good for you and you might be able to perform well in your studies. You are likely to focus more on your studies due to which your performance seems to also improve gradually. The stars around the month of April might bring some good opportunities and you might observe good progress in your studies. Don't miss to grab these opportunities as it might prove a golden one for you. This might open the doors which you have been waiting for a very long period. As the year progresses, the movements of Jupiter might help you to expand your knowledge. But, the impact of Mercury indicates that stray thoughts or wayward approach might cause distractions in your attention around the month of May. So it is advisable to try to maintain your focus and keep yourself motivated to learn new things, suggests Scorpio Horoscope for Students 2023. Get a detailed yearly Report to know more.

Overview: Scorpio Student Horoscope 2023
During the latter half of year, Jupiter indicates that you might get enough support from your family members and mentors which might help you to sail through some difficult times efficiently. The planets might lead you to learn things well and be able to make due progress. You might also get useful tips from your seniors and mentors such that it might be easier for you to grasp things. As the year advances during the latter half of the year, the prospects for education seem not to forecast good things. However, the impact of stars might present some unfavourable conditions for education around the month of September. The impact of Mars indicates that your overconfidence might, at times, affect your studies greatly, somewhat casually, and this might probably give rise to unnecessary disruptions.
Know your real strengths, weaknesses, abilities, and talents. Know your Zodiac Signs
Thus, make sure that you aren't overconfident! Though you might have ample support from the positive energy of Jupiter, it seems that due to your negligence or laziness, you might get some harsh remarks from your mentors around the month of November. But, you are likely to learn things satisfactorily around the end of the year. So, you are likely to make encouraging progress as the year reaches its end. Scorpio Horoscope for Students 2023 suggests that you need expert advice who can tell you the effective areas to work on.
Talk to an Astrologer Now and Get 100% Cashback on your First Recharge