Sagittarius Marriage Horoscope 2023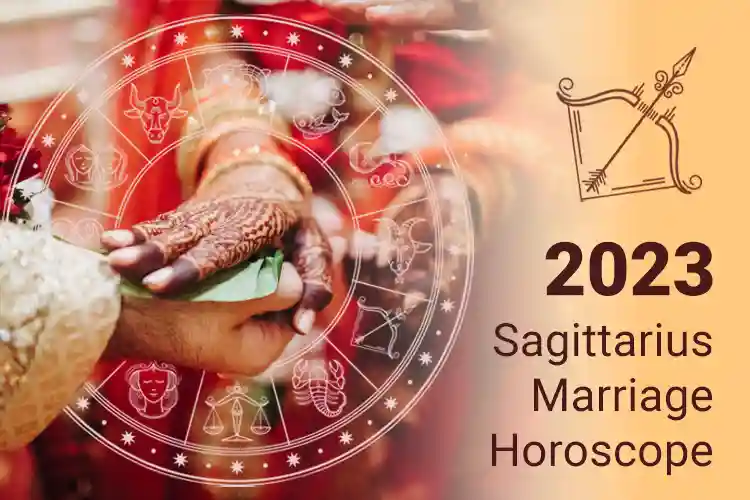 Sagittarius Marriage Horoscope 2023 – Overview
As the year begins, the stars are aligned in favour of Sagittarians and they are generously blessing the affairs of love and relationship. Sagittarius Marriage Horoscope 2023 suggests that married couples may start planning for children around the middle of January. However, the stars indicate that due to some significant disagreements with the elders, family affairs may not work smoothly around the middle of February.
Sagittarius Marriage Horoscope 2023 -Social Life
As the year advances, your social life may be more pronounced. You will be able to cope with some difficult situations at home with ease. Expanding your social circle might contribute to your well-being. Things may start getting better for you despite some teething problems around you.
Social activities could be organised around the month of April. Love and romance can be experienced in your relationship with your spouse, which will, in turn, lead to a happy time. With better planetary impact during the latter part of this month, the problems can be solved through discussions and mutual understanding. Sagittarius 2023 Marriage Horoscope predicts that married couples will enjoy spending time with each other in 2023.

The difficulties can be resolved by conversation and mutual understanding with improved planetary impact later this month. Sagittarius 2023 Marriage predicts that spending time with each other will be enjoyable for married couples. When it comes to some difficult family issues, the elderly members of the family will help you.
Planets will have a beneficial impact on your love life in the latter half of this month, according to the calendar. As a result, you will observe your family celebrating some significant events at your house in May.
Second half of the year - Sagittarius Marriage Horoscope 2023
As per Sagittarius 2023 Marriage forecast, your marriage will be distinguished by love and affection in the second of the year. It will be a socially very active phase. Love and harmony could be reflected in all your relationships. You shall be able to maintain your composure despite some challenging circumstances in your family.
Regarding issues involving your family and relationships, blessings will come your way. During the month of July, there is a good chance that you will have a great time hanging out with your family and friends. You could plan events that would reunite your family and a few old pals.
However, the stars around the middle of August indicate that there will be major disappointments in your marriage. You might make every effort to make your partner happy as the year goes on. Sagittarius Marriage Prediction 2023 indicates that your efforts will pay off, and possibilities are excellent that you'll find love.
All's Well That Ends Well! – A Good Year As Per Sagittarius Marriage Horoscope 2023
According to the Sagittarius Marriage Horoscope 2023, the stars indicate that the latter half of the year 2023 will let you have a great love life as well as social status. Your life will be better because you will have ideal relationships with your friends and family. A deeper knowledge of your connection can emerge around the conclusion of the year. Your personal life is going to rock at the end of the year.
Star Guide
Day Guide
Comprises of events likely to happen, hourly guidance, precise timeframes & Dos and Donts
Life Meter
Know the percentages of different aspects of your physical and mental state
Compatibility
Check out how well will your wavelengths with others match
Share Your Problem, Get Solutions