Pisces Health Horoscope 2023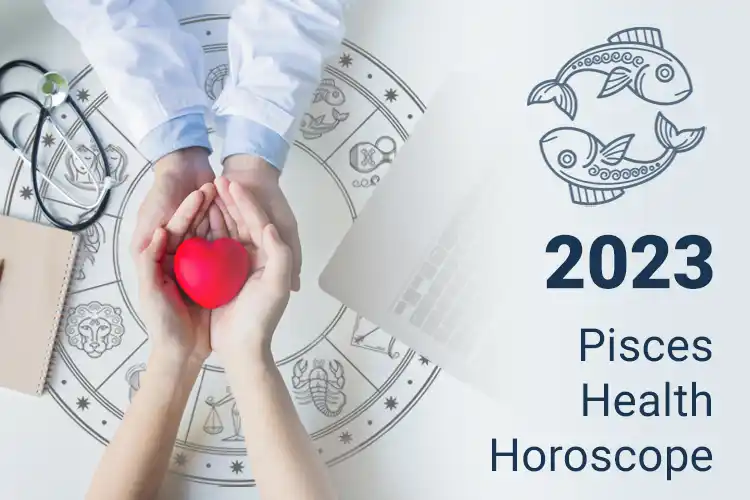 Pisces health horoscope 2023: An Overview
Are you Pisces natives who are looking for a health horoscope in 2023? Then, you have come to the right place. The planets may not be in a proper alignment and so your health may be. Jupiter would cause seasonal medical problems for the natives, especially during the last few months of the year. Saturn transit is also likely to cause health issues during the year 2023. Natives of Pisces may experience ill effects of unfavorable planets and thus it may result in headaches or migraine issues and some of you could come down with irresistible infections as the year advances. Be cautious and take care of your health properly in 2023.
Pisces Health 2023 – Be disciplined!
Pisces health horoscope 2023 suggests that you will be in good health during the starting of the year and you may be in good energy levels to complete all the pending tasks. You may likely experience good health connected to your mental state. As the year advances the transit of Mars may cause you to feel dull and drowsy. In order to attain good health, try to adopt a good eating routine and workouts on a daily basis. Do you want to know about the lifetime solutions to all your problems?
Pisces horoscope health 2023: What Can You Expect in the first half?
Pisces health 2023 suggests that during February, you will be strong due to Jupiter. After that you may be in ill health. But you would get help and remain sound with your proper routine lifestyle. Never ignore your health by any means. Mental peace will be disturbed during the month of March. Watch out for water borne infections during this time. Proper workout, pranayam, yoga and walking will assist you with staying in shape and healthy. The effect of unfavorable planetary movements might cause you to feel some anxiety during the month of May. Thus, you might require taking extra consideration of your health during the mid of 2023. Because of the good help of Jupiter and Venus, your health will improve from June month. Minor issues like the common cold might annoy you at times.

Pisces health horoscope 2023: What is in for you in the second half?
Meen rashi health 2023 suggests that the second half of 2023 may affect you badly on account of your health. But you may get help from Jupiter to take care of your health at some levels. The restless work pressure may likely cause health issues during the month of November. So, it is advisable to practice yoga and other workouts. During October, your health may be challenging due to the Saturn transit. Do you want to know more about your health status for the complete year?
Pisces 2023 Horoscope Health: Do not overwork!
Pisces 2023 health horoscope recommends that Saturn moving through the ascendant would achieve continuous health issues and tensions for the natives bringing about bad health status. You may feel stress, anxiety and depression in your personal and professional life. This isn't a chance to work more, relax and enjoy holidays from daily routine life. You may experience recreational activities this year. It will bring great improvement at the same time, Saturn suggests good discipline and routine lifestyle that may help you to ease the health issues. Jupiter may provide you with good and positive results to make you stronger.
In a nutshell, it is a very crucial year for all the Pisces. So it is advisable to have a proper routine and lifestyle. If you want to have a complete discussion about your upcoming year and the issues.
Share Your Problem, Get Solutions