Gemini Career Horoscope 2023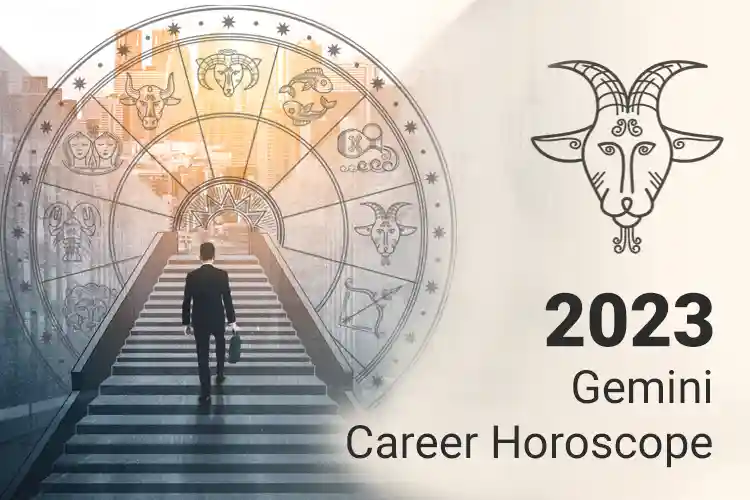 Effects of Planetary Transitions in 2023
Overall, this year will be a great year for you as it will give you a new platform where you can give your best in terms of a job and a career. It means that the people who are already in the job will be given more responsibility, which will mean more work and more pressure, but it will also help you to climb the ladder of success. While Saturn demands hard work and effort, it can also give appreciation and recognition. Mars' movement indicates that you should avoid rigidity this year and strive to work with the flexibility Saturn requires of you.
Doing the right things at the right time with a cool mind maximize returns
Whatever you have invested during the past in terms of your time, hard work, and labor will start reaping fruits. Your efforts will now shine out in open. You may see many new doors opening for you during the year. Your colleagues and seniors will be in your support. Increase connections with positive people and distance yourself from workplace politics. Also, stay away from starting any new venture until mid-year. The year will see you maintaining a healthy relationship with your bosses. Rewards & recognitions are surely imminent.
Know your real strengths, weaknesses, abilities, and talents. Know your Zodiac Signs
Acting with Caution Always Yields Better Results
During the beginning phase, you might have opportunities related to art and jewelry related to your career or business. Saturn and Venus also bring success in careers related to antique art. It is expected that those of you planning to join digital media and fashion work this year will succeed in your endeavors. Throughout the first quarter, Mars is ready to provide support with its passion. You will succeed in a career related to communication and the media if Mars is your planet.
The people who are in the job are advised to avoid aggressive conversations with their senior officials and officials of all levels of government officers. Success in research-related careers can be attributed to the movement of Mars and the Sun. It is also expected to be a successful year for wholesale businesses. Ketu and Mercury might give favorable results if you are looking to start a medical career. A successful career in sports will also be aided this year by the influence of Mars and the Sun.

Make the Best out of All You Get
In the second quarter, Mercury will unexpectedly offer you a promotion or selection in a good company, enhancing both your career and financial status. Those of you in the family business should avoid major career/business decisions in the second quarter. Mars movement can cause a sudden dispute in the family business. Mercury and Venus' movement can support the start of a journalism or writing career. This year, those in the writing elated career will also benefit from Ketu's blessings. Those who are independent professionals can expect success.
Lawyers and freelancers will get support from Saturn for a strong career foundation. While there is workload, you will achieve success if you work hard and are determined. Those of you who want to play at the international level will also have the expected outcome and make your career as a player. A career in foreign countries and success in research will be provided by Jupiter. Having a positive approach and being attentive to small details relating to your projects is recommended due to the movement of Ketu. This year, international connectivity will increase and independent professionals will experience success. Starting a new business or success in an interview will be there with the blessings of Venus.
Talk to an Astrologer Now and Get 100% Cashback on your First Recharge