Capricorn Marriage Horoscope 2023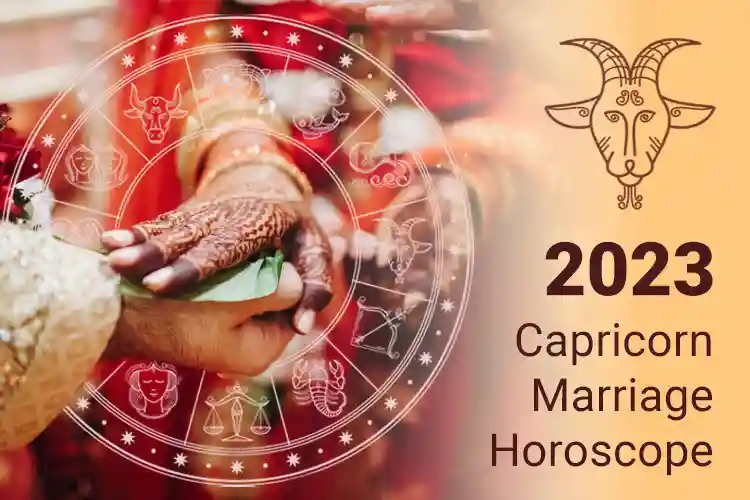 Capricorn Marriage Horoscope 2023 – Period Of Happiness And Some Efforts
Capricorn Marriage Horoscope 2023 suggests that the cumulative impact of Venus and Mars at the beginning of the year will provide stability and passion. Your relationships with your family are presumably going to be positive. Jupiter's influence could bring you good fortune in your social life. Your popularity with your current pals is likely to increase, and you could make new social connections as well.
The period around the month of February suggests that you could prioritise your family. You frequently look to your pals for a sense of calm. Capricorn married life 2023 says that in your personal life, Jupiter might provide some stability. To give your relationship a fresh start, you will have to put in more effort. If they are unable to accomplish this, the relationship might suffer in the month of March.

Capricorn Marriage Horoscope 2023 – Happiness All Around
Jupiter's influence suggests that luck will be on your side as the year goes on. So, take great pleasure in your family life. Your ties to your loved ones and family will be quite strong. Around the month of April, the influence of the stars may inspire you to improve relations with your family. Married couples may have a great time during this period.
Capricorn Marriage Horoscope 2023 – Ups And Downs
Due to the influence of Nodes, you might not be able to fully enjoy your romantic life in May. You'll gradually be able to grow closer to your loved one, thanks to Jupiter's transit. You may discover your inner strength in the second half of this year, as indicated by the stars. Venus is likely to provide you with some energising personal experiences. According to the Capricorn Marriage Horoscope 2023, avoid bringing up old arguments because doing so, according to Mars, would only make your relationship worse.
Capricorn Marriage Horoscope 2023 – Love Is In The Air
Capricorn Marriage Horoscope 2023 indicates that around June, married couples may experience joy and elation. Around the month of July, married couples' relationships may necessitate work, patience, sacrifices, and compromise. Mars might bring some pointless conflicts. Therefore, when interacting with your loved ones near the end of the month, you will need to restrain your temper. Fortunately, the cosmic forces will continue to be in your favour as the year comes to a close.
Capricorn Marriage Horoscope 2023 – Conflicts To Be Avoided
Your relationship may encounter some old troubles resurfacing due to the influence of the South Node, but things will only get better as the year goes on. You'll be able to elevate your social standing. In around October, the erratic energy of Mars has the potential to ruin your relationship. Therefore, avoid abrupt actions or responses.
Capricorn marriage prediction 2023 predicts that as the year comes to an end, things could start to become simpler. Your relationship will benefit from Venus and Jupiter's influence. Improve your communication by working on it. By doing so, you'll be able to improve the harmony. You're probably going to have some wonderful family time around the end of the year.
Share Your Problem, Get Solutions