Cancer Marriage Horoscope 2023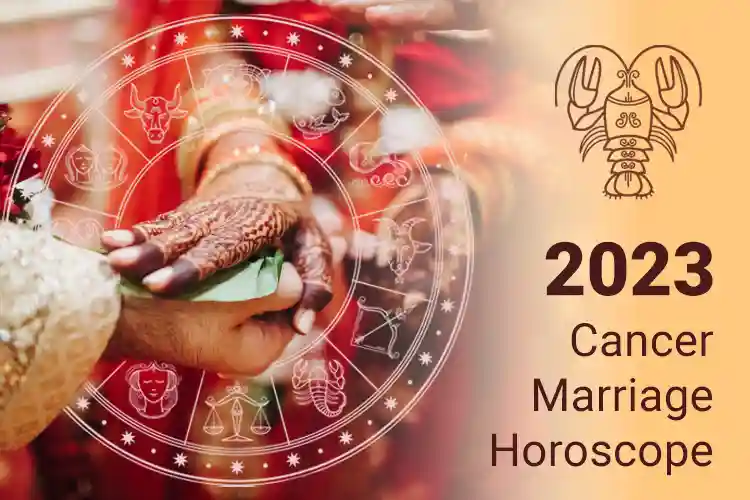 Cancer 2023 Marriage Horoscope: The Period To Resolve Conflicts With Your Partner
The year 2023 would be a typical kind of year for married couples as predicted by Cancer 2023 marriage horoscope. Relationships are probably going to change at the beginning of the year. There might be conflicts in your marriage as a result of Saturn's placement in the seventh house of your horoscope. There will be animosity and strife in the connection, which may cause strain on the mind.
Avoid conflicts and hostility in the relationship, which can lead to mental tension. Jupiter's unique grace in the first house can provide tranquilly to marital life. You are likely to receive a lot of love from your partner during this period.
When Rahu and Ketu are in motion, love and marriage relationships may become more aggressive and detached as predicted by Cancer marriage horoscope 2023.
In the third quarter of the year, the Cancer marriage horoscope 2023 for singles shows an indication of relationship offers from family or a native location in the third quarter. Though Mars is making relationship offers while Venus and Mercury will help you in relocating to another country after your marriage.
In-laws may provide some financial benefit in the second half of this year. Small gatherings and festivities may revitalise the Venus energy in your life.
Cancer 2023 Marriage Horoscope: Trouble Or Solutions?
You might expect success in love and marital relationships in the second quarter as predicted by Cancer 2023 marriage horoscope. From the second quarter, Saturn's progression might bring you good fortune in your married life.
This year, you should create some good views about relationships since Ketu may impact love and married life, as well as family happiness, which requires your attention and a positive attitude.
Cancer Marriage 2023 predictions might help you in making your relationship better with your loved ones. Maintain a balance between family and professional life. Try to spend some memorable time with your spouse, kids and family members. You might welcome a new family member if you have plans to increase your family.
Cancer Marriage 2023: Create Balance For Harmonious Relationship
be a reactant in every situation. Keep your blame games and negative attitude aside if you are looking for a harmonious relationship with your partner or spouse.
Your demanding and excessive expecting attitude might cause problems in your relationship as Cancer marriage prediction 2023 shows the transition of Mars in your astrological chart. During the first half, individuals who are looking for separation might face certain issues in the process.
The transit of Rahu and Ketu can induce anger and dissociation in love and marriage. The migration of Rahu and Ketu can encourage hostility and separation in love and marriage.

Cancer Marriage Prediction 2023: An Overview
During the first half, you should allow your spouse some privacy and independence so that he or she may focus on her professional and personal growth. Some of you may experience unknown channelings due to in-laws, so maintain a secure distance to prevent a conflict.
Jupiter and Saturn's travel in the second quarter might bring about some advancement in marital and romantic relationships. During the end of the year, Cancer marriage prediction 2023 may bring a reunion with your ex-partner or a spontaneous relationship proposal.
In the month of October, you may have unexpected ups and downs in your marriage connection. The last quarter might bring success in love relationships, or it can bring success to people who wish to propose to someone.
Share Your Problem, Get Solutions