Cancer Education Horoscope 2023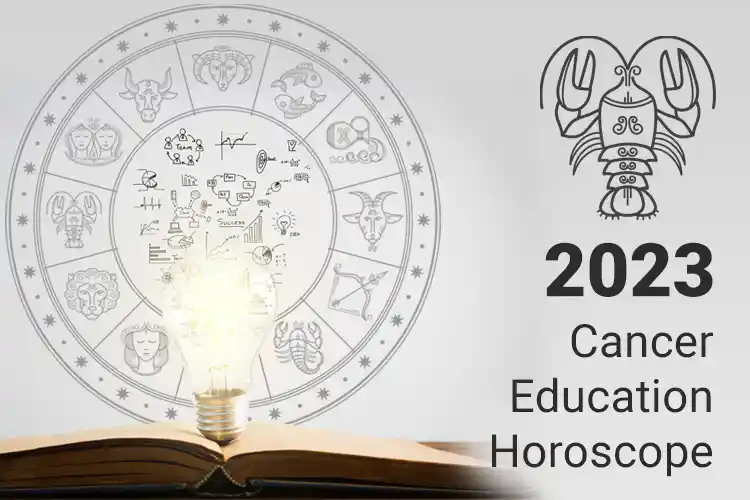 Academic Prospects for Cancer Champs
Academically the year is likely to see some challenges. Initially, your interest in studies would not be up to mark. Definitely, there will be challenges in learning and enhancing your skills. But do not let this overpower you. Instead, burn the midnight oil to improve your performance. Cancer children involved in research are likely to fetch better results. You can take up a detailed analysis and shall be ready to make a submission of your thesis this year. Also, this is a favorable year for you to get a research degree. However, your assessment and analysis will enable you to earn a research degree before the end of the year. So, keep your focus on the goal and try to complete your research paper asap. Without a doubt, you would feel proud of your achievements.
Students can feel pressured by sudden changes in their schedules. Ketu and Rahu show that your ignorance can lead to health issues, which can interfere with your exam preparation. Therefore, give time to your exam preparation while being attentive to your health so that you don't get hindered. Saturn can require more perseverance and effort on your part. Mars can provide you with opportunities for sport as well as the opportunity to travel abroad.
Learning Never Exhausts the Mind
Some of you might experience hidden fear and negative thoughts that interfere with your performance. By transforming negative thoughts and avoiding unnecessary thinking, you can prepare yourself for upcoming performances and exams. There might be some of you who succeed in research and also get projects in your college. While Jupiter can bring success in admission to your expected colleague, Rahu can cause disagreements with your parents. We recommend that you have a healthy discussion with your parents so that they can understand your wishes and permit you.

Success is Never Final, Courage Counts
Mars may cause unnecessary aggression and argument with a family member in the second quarter, which may adversely affect your exam preparation. Mercury and Venus movements can influence interest in fashion or arts-related courses. Saturn's movement in the second quarter and Jupiter's influence can contribute to success in a law-related exam. Selection through interview and finance-related exams are indicated.
Know your real strengths, weaknesses, abilities, and talents. Know your Zodiac Signs
Balance Academics and Fun Activities
Entertainment is also important for refreshment, but the leniency of your parents shouldn't be taken for granted. It is not wise to burn your valuable time on pointless activities. If not considered seriously, you may have to lament later on. Staying away from distractions and giving topmost priority to your studies will help to attain excellent scores in your upcoming exams. Avoid distractions and also be disciplined so that the expected result will be attained. You will need to put more effort into your career due to Saturn's influence. As a result of Saturn and Moon movements, you are advised to stay positive and do your best to overcome this hidden fear. If you are disciplined and determined with your aim, you will achieve the results you desire in your projects, as suggested by Jupiter and Saturn.
Uncover all Challenges and Unwanted changes in your Life Graph. Get 2023 Horoscope Reports
Hard work has no substitute. Don't lose focus.
Saturn and Mars indicate that you should try to avoid using electronic gadgets so that you can sleep better. This is not the year to dream about the future, but to achieve your goals with hard work and determination. Jupiter is ready to deliver the results you are looking for, so keep your work positive. Sports students may find it challenging to give their best. Mars can make you aggressive, which can impact your performance.
Talk to an Astrologer Now and Get 100% Cashback on your First Recharge