Aries Health Horoscope 2023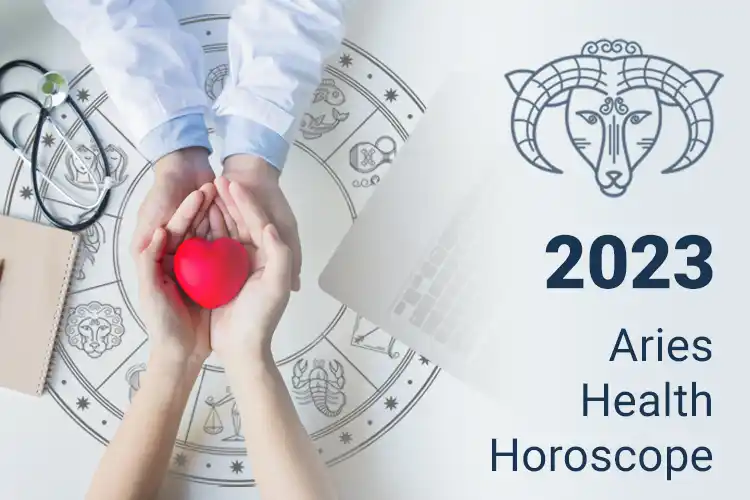 An Overview of Aries health horoscope 2023
Are you an Aries native who wants to hear about your health in 2023? You have good energy, stamina and a positive attitude towards everythings. So, if there are any challenging health issues, it may be due to the workload and pressure. You may achieve life goals if you are in good health. Aries health horoscope 2023 suggests that you should consume a good and healthy diet, follow proper sleep routine and workouts. You may have strong influence from Saturn and Rahu and it demands a good lifestyle which may help you stay away from the ill effects. Let's check how your health is affected in 2023 based on your planetary alignments.
Aries Health 2023 – Have a routine checkup
Aries 2023 health horoscope suggests you to have a routine checkup every term in 2023. You may experience some weakness, so it is better to get your vitals checked. Your immune system is strong but without a follow up, you may end up in troubled health. Also, there is a chance of getting eye and stomach related issues due to the transit of Saturn. Thus, it is recommended that you must wear shades while moving out or any eye screens while using electronic gadgets.
You may have altered mental health as suggested by Aries health 2023. So do not be over stressed with your negative thoughts. Anyways you may enjoy good health more in the first few months than later on. Do you want to know in detail about your future health?

Aries horoscope health 2023: What Can You Expect in the first half?
Aries 2023 horoscope health suggests you should be very hygienic from January to April. If you are not hygienic,be careful that you may end up in various contagious diseases. So, try more fruits, veggies in your diet and avoid junk foods and wash properly before consuming. The transition of Mars during this time suggests you should avoid arguing nature and be calm while talking to others. Arguments may affect your mentally and thereby health. If you have high blood pressure or diabetes, the first phase suggests you to be careful. This is mainly due to the Rahu and Jupiter transition that may cause some health issues throughout.
Aries health horoscope 2023: What is in for you in the second half?
There is a transit that is happening around October 2023 by Ketu and Sun. This shows that you are likely to get influenced by bad health. You may get infectious diseases or fever. Also, the transition of Ketu and Mars may give you heart related health problems. But, these health issues can be nullified by following a proper healthy lifestyle now itself. Do not use ghee or oil more as it imposes bad health effects due to Ketu and Mars. Do you want to know how to make a proper lifestyle according to planetary positions?
Aries 2023 Horoscope Health: Take care of your vitals
You may have some indigestion issues in 2023. It is very crucial that you must be very careful about your stomach, kidneys and head. Also, you may visit a dentist often. This is mainly because whatever you feel simple may cause serious illness as the year advances. Do not worry as you can improve lifestyle by following a proper routine this year itself and may carry forward to 2023.
Aries natives may have serious illnesses if you are not concerned about your healthy lifestyle. Be mentally and physically fit through proper workouts and a good diet and you feel the change gradually.
Share Your Problem, Get Solutions