Nakshatra – Shravana
Shravana Nakshatra is known by many names, such as Sravana, Shravan, or Thiruvonam. It is the 22nd Nakshatra in the list of 27 Nakshatras. Shravana Nakshatra is spread across the Makara Rashi or the Capricorn zodiac sign, and the creator, Lord Vishnu is the ruler.
Shravana Nakshatra consists of three stars Altair, Alshain, and Tarazed. These three stars together form the head of Aquila, the Eagle. To put it simply, the word Shravana means 'Hearing', and the symbol is 'The Ear' because of which we hear. Shravana Nakshatra is the star of listening and learning. Our ancestors passed on the knowledge through oral traditions, similarly, people born under Shravana Nakshatra have a great ability to absorb all the knowledge through listening. As the main idea is to listen and learn, the media and communication field are basically part of this nakshatra. Those born under Shravana Nakshatra often travel to foreign lands to seek more wisdom and do their higher education. They have a great attention span and have a clear focus from the start on how they want to obtain their goals and complete all the projects.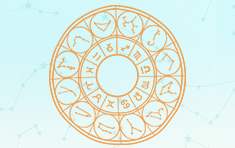 To Find Out Your Rashi Nakshatra, Enter your Birth Details in Online Nakshatra Finder / Calculator to Get Your FREE Nakshatra / Birth Star Report
Shravana Nakshatra Astrology:
Moon is the ruling planet of Shravana Nakshatra, and it represents the highest point of lunar energy. The night sky casts an eagle-shaped constellation that corresponds to the Shravana Nakshatra symbol of three footprints. This Nakshatra signifies the art of hearing or the education and knowledge that is gained via listening. The symbol of three footprints can be associated with Lord Vishnu, the creator. An interesting fact is that it is also the birth start of Goddess Saraswati, the goddess of education and knowledge. In addition to this, Shravana nakshatra blesses its native with a wealth of knowledge, educational proficiency, and intelligence.
Shravana Nakshatra Male Characteristics
The Male native of the Shravana Nakshatra is soft-spoken and methodical in his work. He has his set of values in life and always follows them. One of them is maintaining neatness and cleanliness in his surroundings. He is compassionate and likes to help those who are in need. He does not expect anything when he is helping someone, but instead of getting rewarded for his good deeds, he only gets played. He is also conscious of the food that he eats. He is a believer in God and his guru (spiritual teacher). He will face many ups and downs in his life and will tend to spend most of his career at the middle level. However, he is well matured and loves to learn new things all the time.
Shravana Nakshatra Male: Profession and Related Areas 
The Male native of the Shravana Nakshatra will have to face a lot of change till the age of 30, after which till 45 he will be relatively stable, but it is after 65 that he will experience progress on the economic and social fronts. This native is ideally suited for mechanical or technical work related to engineering. It is also possible that he may be connected to petroleum or oil goods.
Shravana Nakshatra Male: Compatibility and Family Life 
The Male native of the Shravana Nakshatra will have a very happy married life. His wife will possess all the good qualities of a housewife and will take very good care of him. And, even though she gives him enough sexual satisfaction, the Male native of this Nakshatra is bound to have an occasional fling outside marriage. 
Shravana Nakshatra Male: Health and Well-Being
The health of the Male native of the Shravana Nakshatra could suffer from problems in the ear, skin disease, tuberculosis, and problems in his digestive system.
What does your zodiac sign tell about you? Find Now!
Shravana Nakshatra Female Characteristics
The Female native of the Shravana Nakshatra has a charitable nature. This native is also very religious and undertakes many pilgrimages. She has compassion and generosity both but likes to show them off so that she will ensure that people around her know of her charitable works and the funds she has donated. She is very talkative, and can not hide anything, especially from her husband.
Shravana Nakshatra Female: Profession and Related Areas 
The Female native of the Shravana Nakshatra is likely to be uneducated and therefore will have to take up, if necessary, menial jobs. However, she is a very fine exponent of the fine arts, especially, she makes a very good dancer.
Shravana Nakshatra Female: Compatibility and Family Life 
The Female native of the Shravana Nakshatra makes her family happy. This native seeks perfection in everything she does and expects the same from everyone else. She has to understand that everyone can't be as perfect as her. This perfectionist attitude, however, does not apply to her husband, on whom she showers a lot of love and caring, and who, to her, is a real gentleman.
Shravana Nakshatra Female: Health and Well-Being 
The health of the Female native of the Shravana Nakshatra is likely to get some skin disease at some stage of her life. She may be vulnerable to eczema, tuberculosis, and even leprosy.
Shravana Nakshatra Dates 2021
| | |
| --- | --- |
| January 14, 2021 | July 25, 2021 |
| February 11, 2021 | August 21, 2021 |
| March 10, 2021 | September 17, 2021 |
| April 6, 2021 | October 15, 2021 |
| May 4 & 31, 2021 | November 11, 2021 |
| June 27, 2021 | December 8, 2021 |
Shravana Nakshatra Padas
Shravana Nakshatra 1st Pada: The first pada of the Shravana Nakshatra falls in the Aries Navamsa ruled by Mars. The planetary influences here focus on cultivating logic, ambition, and initiative.
Shravana Nakshatra 2nd Pada: The second pada of the Shravana Nakshatra falls in the Taurus Navamsa ruled by Venus. The natives here are diplomatic, and the focus is on music and the entertainment industry.
Shravana Nakshatra 3rd Pada: The third pada of the Shravana Nakshatra falls in the Gemini Navamsa ruled by Mercury. The focus here is on the best aspects of Shravana, which is communication and a wish to expand knowledge.
Shravana Nakshatra 4th Pada: The fourth pada of the Shravana Nakshatra falls in the Cancer Navamsa ruled by the Moon. The focus here is on being sympathetic and receptive. These natives are likely to hold public offices or jobs in the hotel industry.
2021 Horoscope Prospects for Shravana Nakshatra
The 2021 Horoscope predicts that the natives born under Shravana Nakshatra may travel across the ocean to a foreign land. This year your financials will also enhance. You may face some problems with your mate post 13th June, but it is advised to take your mother's opinion rather than taking matters into your own hands and moving forward with any important decision. In terms of health front, you may have a little blinking in the left eye and it will harass you all year long.
Favourable Month: January, April, May, June, July, August, September, November, and December
Unfavourable Month: March and October
Neutral Month: February and June
Since your Moon sign lord, Saturn is positioned in your respective sign, 2021 is going to be a gooooood year for Capricorn natives. This positioning can have an extraordinary impact on your life in all the fields. Whatever you wish for and want, you just have to work hard and you can attain great results. The obstacles that were piled up will clear up slowly. Business people and entrepreneurs can expect some profit coming into their business and startups. Stocks go up and down all the time, right? Similarly, your finances will see some fluctuations but at the end of the year, you can expect some benefits. Rahu favours the students who succeed, but it can haze their vision by casting some spells. 
The student can break the spells if he/she is determined to succeed and works hard day and night. There can be some bikers in the family but you will always have family support. Singles will not be lucky to do the mingling but married couples will enjoy 2021. Spring season can bring some cool breeze to disturb the peace and harmony but apart from that, the year will be all sunny and lovey-dovey for you. Your relationship with your children is going to be beautiful too this year. The Health Zone is your safe zone in 2021 as there is no major illness harnessing you. Stress can come in many forms so practice meditation to get rid of mental tension.
Hindu Moon Astrology Forecast 2021 for all Areas of Life of Shravana Nakshatra
Taking risks is good, but there's no harm in getting little insights into what you'll be facing, right? It cannot be considered as cheating, just a little head start maybe? Well, why don't you see how 2021 treats Shravana Nakshatra natives in terms of Career and Business, Love and Relationship, Finance, and Health.
Career and Business Horoscope 2021
As the Lord of the Ring is staying in your sign this year, your career and business life will be flourishing. To accompany Saturn, Jupiter is also coming to stay in your sign. This creates something by the name of Dharma Karmadhipati Yoga for you, and its magic will work in your favour but only if you work hard too. You give in your all, and these two planets can take you to great heights in terms of career, profession, and business. You can expect the best outcome between April and September. Your work will take you overseas, but you gotta be alert and aware of the rules and regulations of the country. If you don't abide by the country's customs where you are travelling, you may get into some trouble with the local authorities there. 
Love and Relationship Horoscope 2021 
Having Mars as your guest in the 4th House can create trouble for you in many areas of life. Your mother's health status will go down one notch, you have to take good care of her health to avoid any complications. Whereas your love life will be floating in the middle of the sea. There can be some arguments at home too. Individuals planning to buy a new car or property, 'Go for it', it's the best time for you and your family will be happy with you regarding the purchase. When Jupiter makes the grand appearance in Aquarius in April, there'll be almost no drama in your home since Jupiter in the 2nd House can give excellent results. Prosperity and peace will walk in style in your home in regards to your relationships with your family members. The addition of a new member in the family can lead to the distribution of sweets at home. 
Rahu in the 5th House can cause mischief and create some problems for the love puppies who are not married. So, take it as a warning, but you gotta be careful and refrain from cheating your partner. Although Venus will be visiting your Moon sign for some time which can improve your love life. The stars can hear wedding bells in September.
Facing never-ending challenges in your life? For effective solutions, Ask an Expert!
Finance Horoscope 2021 
Control on expenses? Check. Investing wisely? Check. Taking care of funds? Check. Doing savings? Check. And after all this, your financial life will look steady along with additional gains.
Most likely in January, May, and August you may be spending money for some auspicious events as the planets must be aligned beneficially. But these events can cause some financial strain on you. Since Rahu is residing in 5th House, your finances will grow and improve gradually. The source of finance will be creative, not just active or passive. The time frame between April and September, and November and December, can put an end to your financial crisis as Jupiter will stay in the 2nd House to increase your wealth.
Health Horoscope 2021 
'An apple a day keeps the doctor away', people born under Shravan Nakshatra took this quite literally and maintained their health very nicely in 2020 because of which 2021 you can bid goodbye to your doctor altogether. Previously if you suffered from any health problem or chronic illness, you will get a cure for it and find some relief at last. Keeping your mental state positive will also help improve your health. You may have started the year with a little cough, but now you're all fit and fine, ready to run a marathon. But don't just go and sit on cloud nine, keep your healthy eating habits intact, meditate a little, exercise as per your routine, and sleep well.
Some Interesting Facts of Shravana Nakshatra
Translation: Hearing", "The one who limps
Symbol: An ear; three footprints in an uneven row; a trident
Lord: Vishnu
Controlling Planet: Moon
Ruling Deity of Moon: Parvati
Deity: Vishnu — the All-Pervasive
Body – VarahaMihira: Ears
Body – Parashara: Lower Belly
Rashi / Zodiac Sign: Capricorn
Nature: The movable or ephemeral (Chara)
Ganas: Deva Gana (God Like)
Mode: Passive
Constellation: 3
Gender: Male
Dosha: Kapha
Element: Air
Lucky Color: Light Blue
Letter: Ju, Je, Jo, Gha
Lucky letters: K
Lucky Stone: Pearl
Lucky Numbers: 2 & 22
Animal Symbol: A Female Monkey
Bird Name: Francolin
Tree: Swallow Wort, MilkWeed, Erukku, Arka Tree
List of Nakshatras

Day Guide
Comprises of events likely to happen, hourly guidance & precise timeframes

Life Meter
Know the percentages of different aspects of your physical and mental state

Compatibility
Check out how well will your wavelengths with others match