Taurus Marriage Horoscope 2022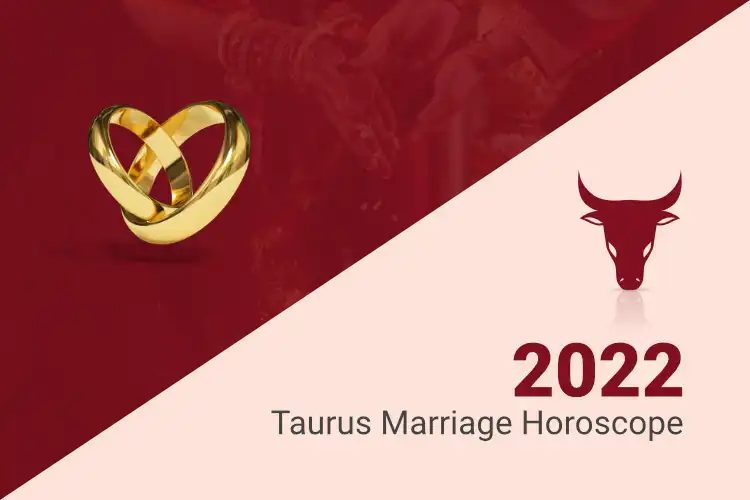 "Once in a while, right in the middle of an ordinary life, love gives us a fairytale."
Marriage and love affairs can go hand in hand, especially when the experience indicates success in the relationship.
2022 is instead quite an eventful year for the natives of Taurus, as you may see an improvement in your love life, along with professional achievements.
The transit of planets is aligning to give you the necessary support in making the right decision.
So if you are in a relationship for some time now and planning on taking the relationship to the next level, this is the right time to pop the question, as planets and stars are entirely in favour of you.
"When you realise you want to spend the rest of your life with somebody, you want that bit of your life to start as soon as possible." To know about your relationships in the year 2022, access your Free Personalized 2022 Report.
Taurus Marriage Prediction 2022: A Year to Remember
For the native of the Taurus sign, the year 2022 may be remembered for marriage and personal achievement in your life. 2022 would be an exciting year for the natives already married. This would mean you would find reasonable grounds in your married relationship.
All the differences that prevailed may slowly take a back seat and make you feel proud of your efforts. Even your partner would complement your decision and actions. Therefore, your judgment in married life will be excellent and encouraging.
With a lovey-dovey atmosphere around you, make sure you make the most of it. Try to plan trips and vacations. You can also do unique and cute things for your partner like planning a surprise party, going on long drives, taking a long walk, or even planning a dinner for them.
Plan activities that you both may enjoy and love. At the same time, you are planning activities for each other. Ensure you don't step on each other's toes as you want to cherish this time and make it last forever!
Taurus Marriage Horoscope 2022: Next Chapter of Life
For the folks who are planning to extend their family, the year 2022 is likely to be very progressive and supportive.
We can already hear the lullabies echoing all around. Make sure you take care of your health, and you both enjoy this journey as these moments are rare, and this time could be therapeutic and spiritual for both of you.
Around the end of the year, newly married folks may also consider extending their family. These are the special moments in your life, and your achievements in this phase will be like climbing a milestone one after the other.

Taurus Marriage Prediction 2022: Airs Indian Matchmaking
For natives looking for a suitable alliance, the first quarter may test your patience and make you run from pillar to post.
Especially the folks who are planning on an arranged marriage. You may face some delays in finding the right partner.
Displeasure is likely to engulf you around this time but, it would certainly make you learn the value and importance of patience. The good part of this year is that your dream to get married will certainly get fulfilled. Patience in your conduct will undoubtedly be rewarding. Try to keep your expectations accordingly so that you can sail through the first half of the year with little ease. Access the Free Personalized 2022 Report to know what the stars have in store for you.
Taurus Marriage Horoscope 2022: Overview
Your achievements may also be relatively high this year. Not only your professional successes but your achievements as well. Personal life may see quite an improvement.
Couples may move past the issues. Love, understanding, respect may blossom again in their life.
Love is in the Air. Enjoy this time and make the most of it.
Few of the Taurus folks may think of starting a family, and they may enjoy the phase towards parenthood. They may be very rewarding, therapeutic and spiritual.
Peeps looking forward to an arranged marriage may have some trouble initially in the first quarter, but you may undoubtedly get fulfilled in the year. You may meet the person of your dreams.