Taurus Education Horoscope 2022: Concentration and Dedication is the Key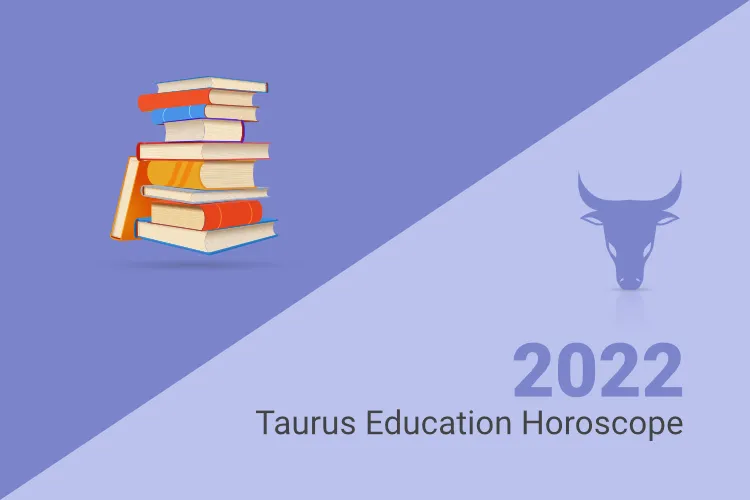 According to the Taurus student horoscope 2022, students are expected to concentrate more on their studies.
It is advised not to opt for group studies, as their unproductive time may increase. Also, make sure you create a systematic study plan and follow the program religiously. Take into concentration all the aspects around you while you make the study plan. Try to minimize the other activities and dedicate the entire time to your studies.
You could also join an online class to enhance your skills. But, make sure to check about the courses and classes thoroughly before you enter them.
Taurus students who have been appearing for competitive exams for a long time may finally receive outcomes this year. Make sure you leave no stones unturned in preparation, as stars support you, and your vital preparation can be another strength. To know about your relationships in the year 2022, access your Free Personalized 2022 Report.
Also, if you have been planning to clear any arrears at an academic level, you are likely to earn and score well. Again as mentioned above, make sure you leave no loopholes behind.
Taurus Education Horoscope 2022:- Preparation Is The Key
Prepare thoroughly for your exams and also set aside time to revise appropriately before the examination.
Avoid getting distracted by people who have less interest in academics. One rotten tomato can spoil the good tomatoes in the basket. Similarly, during this time, you need to be highly motivated and focused. This would be possible if people with similar interests surround you.
If you are lenient towards the company that you keep, at this point, then it can affect your academic preparations. Academics and vocational learning is something that may open the doors for you this year. Those of you planning to pursue higher studies abroad are also going to do well. But for this, you would need to work hard, improve your performance, and always remember hard work betrays none.
Taurus students should be cautious when it comes to studies this year. Especially at the beginning of the year as it doesn't look favourable for a few. In such a case, focus only on your studies if possible and avoid any distraction. Seek the assistance of elders when in doubt.
Don't struggle in isolation. Keep your parents informed about the obstacles that you face while studying. You can also seek guidance from your seniors and teachers if you are unable to reach a solution.
Significant improvement in academic life may be witnessed in the middle of the year, which will make things better for students. During this time, those pursuing higher education may get a chance to perform better and achieve success since luck will be on their side.

Taurus Education Horoscope 2022: Being Productive Never exhausts
Parents may go through a lot of exertion because of their children's education.
However, this is part and parcel of the process. So key your worries at bay and try to do yoga and meditation to keep stress at bay.
Also, parents should keep their children involved in some of the other activities. These activities should be focused on overall development. They may have an extensive syllabus to finish. However, it is advised to take extracurricular activities apart from academics. Choose activities that would not only shape their personality but also shape their thinking wisely.
All work and no play may make Jack a dull boy.
Please consult with your child and try to understand his hobbies, areas of interest, and choose extracurricular activities for him.
Subsequently, take care of your children's health and make sure they only eat healthy and homemade food. Avoid oily food or outside food. The kind of food and the diet he maintains may affect his academics. Hence, this point is mentioned in this section.
Taurus students may have to stay a little distant from their close friends or loved ones. However, that would turn out to be beneficial for health and studies. Access the Free Personalized 2022 Report to know what the stars have in store for you.
Taurus 2022 Education Horoscope: Overview
This year has to be a year wholly dedicated to concentrating on studies more than anything else. Along with academics, try to enhance your skills that may improve your personality.
Parents should take a keen interest in children's academics and overall development.
Taurus peeps planning to pursue higher studies abroad may find favourable results. But you also need to work hard and improve your performance.
Academics and vocational learning is something that may open doors for you this year.
Mantra, for you, this year should be focused only on your studies and try to avoid any distraction.