Scorpio Marriage Horoscope 2022 - Banter Here and There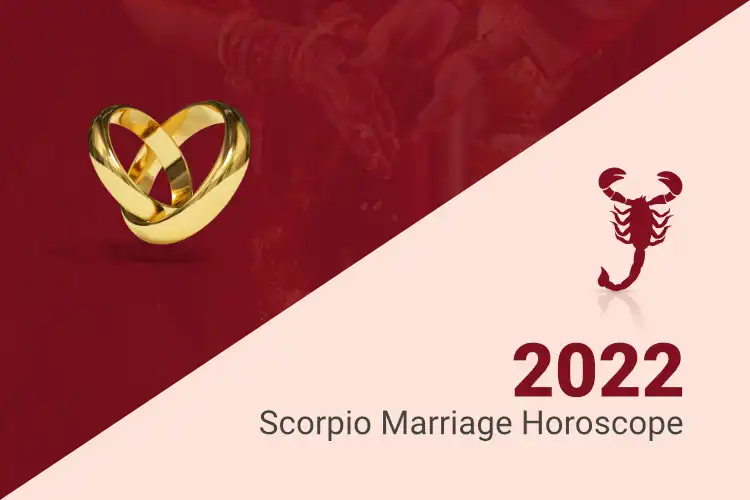 As per the analysis of your Scorpio marriage Astrology 2021, you may not agree on many fronts with your partner this year. This could be related to anything minor or major. For example, it could be related to interiors if you are planning on changing the home decor or even associated with work since you may be engrossed with work as there may be some added responsibilities.
You both have some banter related to work, and you were overexerting yourself.
Also, your spouse may disagree with your eating patterns and lifestyle and may accredit these factors to always staying under the weather.
However, instead of hushing them off, it would ultimately be better to understand and analyse things. Probably what they intend to say may be correct. Try to analyse your actions instead of just being receptive to win the arguments. It would be better if you meet midway and understand their point of view. Try to avoid as many arguments as possible for preserving the harmony of the relationship.
The entire foundation of a marriage is based on mutual understanding and communication. As stated in your Scorpio Marriage Horoscope 2022, do everything you can to prevent the disruption of that base. To know about your relationships in the year 2022, access your Free Personalized 2022 Report.
Single Scorpio Love Horoscope 2022: Singles Ki Shaadi
This coming year is bringing so much love and marriage into the air. Singles are the ones to enjoy the most this year. Singles looking for a partner may get in touch with someone to plan their future and get married.
The period from July to October may bring discomfort. Thus, spending quality time with a partner is essential.

Make Them Special
Go out for more dates just like you all did before. In case you do not feel like spending time outside, you can have dates at home. You have an option of candlelight dinner, or you could do movie nights at home. Let your partner see all the efforts that you are putting into the relationship.
The gap in the relationship could be because of petty arguments, misunderstanding, trust issues. So it is better that you both try to have an honest conversation with each other regarding disputes. Try to understand how you both want to end the everyday squabble.
There may be some things which they may find bothering about and some which you may encounter. So give an honest report card to each other and work on the items — marriage with all about partnership working on everything necessary. It is about giving importance, respect, love, affection and being there for each other constantly.
Keep your beloved closer to you to avoid any misunderstandings. The solution to the misunderstandings would again be communication.
Communication may solve half your troubles as your misunderstanding may be settled down ultimately. The rest would be resolved by spending quality time with each other. Whenever you go out, give them all the details of where you are going, call them as often as you can. If you go on long trips for work, see if you can take them along. If you cannot, give them all the updates, get them souvenirs. They may see the efforts you are trying to put in, and they may let go of the misunderstandings.
Mid-October brings in a lot of peace in your marriage relationship, for things start to settle for all; family, friends, partners, and children. However, you may not be able to advance in your financial abilities.
Charm of Venus
Venus may make you feel essential and shall help you to find the right person. Eligible bachelors can expect to find someone attractive by the middle of the year.
If you are dating someone and want to get married, there are high chances of approval from the elders of the house. However, there can be issues related to joint family. Therefore, it would help if you were careful on this front. Access the Free Personalized 2022 Report to know what the stars have in store for you.
Babies On The Way
Married couples have good chances of conceiving. If they plan for a child then too the year is quite supportive. The time from August to December 2022 is looking very bright to plan and raise a child. Your partner would also be in your support today. For marriage, your love life needs particular attention this year. Take nothing for granted. You will have the ability to access some of your deeper feelings so that you can talk to a loved one about how you feel.
You may be justified in your anger, but focusing on those negative feelings will only worsen matters. Just remember that. At the same time, this year will be challenging for recently married couples. They are expected to find fault with their partner for some misunderstanding. This will be due to unwanted tension in your mind. Your yearly horoscope suggests you spend some more time with your partner to sort everything out.
Scorpio Marriage Horoscope 2022:- Overview
You may disagree on many fronts with your partner this year, but both may adjust for the sake of the relationship. Singles get married.
As stated in your 2022 Scorpio Marriage Horoscope, the period from July to October may bring discomfort. However, mid-October brings in a lot of peace in your marriage relationship.
This year will also bring a great time on the romantic front for most native. There are high chances of romantic encounters for both singles as well as those who have been in a relationship for a long time. Venus may work its charm for the Scorpio natives, and they shall find the right person. The time from August to December 2022 is looking very bright to plan and raise a child.
Your Accurate Personalised Astrology Predictions Are Just A Call Away - Talk To Astrologer Now!
With Ganesha's Grace,
The GaneshaSpeaks.com Team
Share Your Problem, Get Solutions