Pisces Marriage Horoscope 2022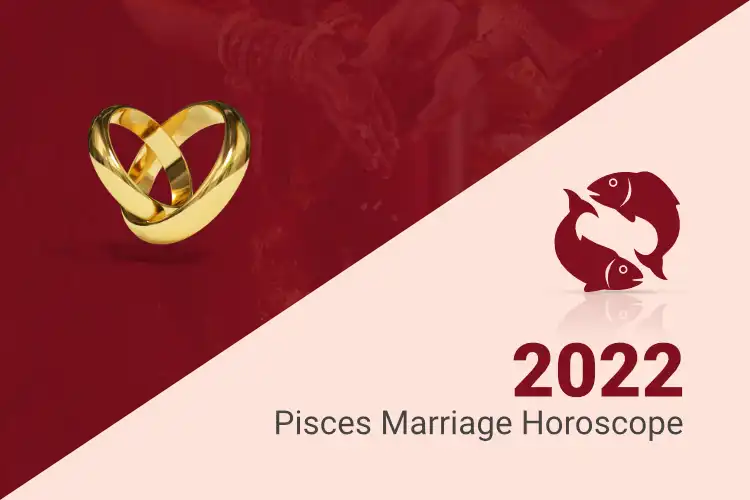 Pisces Marriage Horoscope 2022 says that 2022 is not favourable for marriage for Pisces in love. Don't think the universe is plotting something against you, and it's just that you may face difficulties in relationships with your loved ones, which is why the stars are warning you. As per the Pisces marriage predictions 2022, some of you may lose your loved ones.
Pisces, you may begin repairing works or may get a new house in 2022. Horoscope 2020 has predicted some problems regarding children, which may require large expenses. Those who are going to get a divorce may be able to resolve property and children related matters.
According to Pisces Marriage Horoscope 2022, childbearing and pregnancy for women are likely to be successful. In the second half of 2022, you may probably have problems. The first half of the year has the problem of transit of planets that will not give any favourable results. Once you move to the second half of the year, then gains are indicated and wonderful. You can plan to marry your beloved partner and also make sure you raise a family. So, have patience and do not feel disappointed. To know about your relationships in the year 2022, access your Free Personalized 2022 Report.
Pisces Marriage Horoscope 2022 – Talking About the Married Pisces Natives
Now for those who are already married, the year would have some surprises in the middle months of the year. The bonding that was missing until recently might once again develop slowly and gradually. This would mean the love and the companionship you have with your partner, Pisces, would grow slowly! All the differences of the past that you have can be put to rest.
So, do not lose any hope, and you are likely to make good progress in your personal life. The only advice the stars are giving for Pisces women is to take up a medical check-up before raising their family. Some medication cannot be ruled out, but the same would not be alarming. This may be the only area that you would need to focus on now, and then you would be happy with the way life would take a perfect turn.

Pisces Marriage Horoscope 2022: Overview
Relatives can prove to be difficult at times, and, in some cases, a small argument with them may lead to serious conflicts. As per Pisces Horoscope 2022, your relationship with children is likely to improve and benefit you. But the entire year is not bad for marriage or relationships. So you may hear the wedding bells in the second half of the year. Access the Free Personalized 2022 Report to know what the stars have in store for you.
Pisces Horoscope 2022 is proving to be a wonderful year for those of you who have been working in tandem with others when it comes to their married life. Counselling in one area that can bring you closer to your mate. Thus, some minor frictions that exist now can be easily settled with the days to come. The difference can be easily settled down, and you would remain happy and content.