Aries Horoscope 2022 Education: Advance your Skills Advices Your Aries Education Horoscope 2022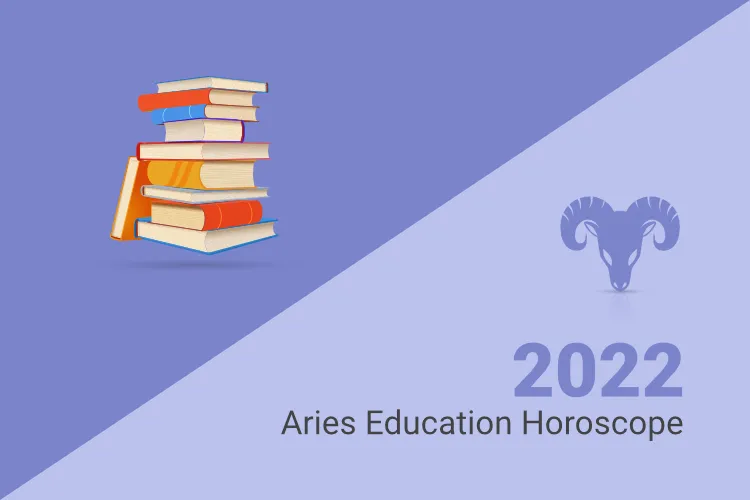 For Aries students, the direction of the tides may change. As in the year 2022, academic & learnings may be slightly different.
It won't be your usual and traditional education format, where you study what is mentioned in your academics or just read and complete your portion.
2022 is the time to get up & start learning not only to complete the formalities but also to advance your skills.
So, try to take online courses in which you can improve your skills and personality. To know about your relationships in the year 2022, access your Free Personalized 2022 Report.
Robust Approach To Be Adapted As Per Horoscope Aries
As per the 2022 Horoscope, you may face some challenges in your academics. However, challenges are part and parcel of life. Therefore, it is not the problems, but how you overcome them, that is important.
Try to make a detailed study plan on the potential problems you may face and mention the steps to overcome them.
Along with a plan, also make a proper schedule, and follow that daily. Finally, make sure you keep your studies as a priority!
You can enjoy yourself, but that should not come in the way of your studies.

Education Horoscope Aries 2022: Close Door to Distraction
Aries natives have to pay proper attention to their studies. You need to turn off all the modes of distraction & hug worthy activities to attain excellent results. That's what champions do!
Through this ritual, you can add your skills to your talent's inventory & you'll be able to hit the market with loaded skills & abilities.
But, once you start earning, you must use it in the right direction. Do you have your group of people as your squad family? If the answer is yes, then go out & discuss money.
No knowledge is a waste. So, hey Ariens, it is time for you to rock this year by delivering the best performance in your field.
Aries 2022 Predictions Says Focus on Goals
A super-duper year for all those who are interested in pursuing research and detailed analysis work.
This is also a good year for you to get a proper degree in research. Keep your focus on the goal and allow the research paper to be completed at the earliest. Try giving it a shot, as you'll feel proud & happy about your achievements later.
The year would be moderate for the folks who may appear for board exams. However, don't be disheartened. Try to work harder than you would typically do, and the results could be excellent.
Remember the words; you'll be victorious if your efforts are poured in the right direction—time to take the word 'Study' seriously, kids. Access the Free Personalized 2022 Report to know what the stars have in store for you.
Aries Horoscope 2022 Education: Overview
According to the year 2022, the horoscope of academics and learning may be slightly staggered. This year is about learning and enhancing your skills.
Confront challenges but don't let them overpower you. Instead, remain focused on academic goals to help you find a way to cross this difficult path of unwanted hurdles.
The right approach in your life would help you secure your career using the acquired knowledge in your life.
The year is suitable for students who are into research and detailed analysis. Your assessment and examination may help you to get a research degree before the end of the year.
So, keep your focus on the goal and allow the research paper to be completed at the earliest. Then, you would feel proud of your achievements!
For students appearing for any board exams, the year is not likely to be excellent.
You may lose focus or enthusiasm towards your studies during your examination. Hence, try to maintain the place and try to keep your focus and energy. Do not let the efforts of the entire year go in vain.