Aquarius Marriage Horoscope 2022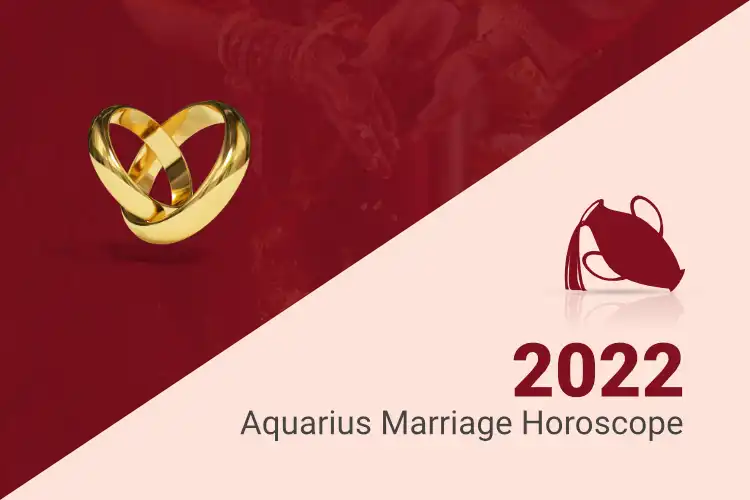 According to the yearly horoscope 2022, the predictions are for personal relationships which may not go smoothly. Especially if in a living relationship or planning to get married.
Many problems are expected with a significant coldness in your feelings. There would also be a problem with your partner, who may show some cold shoulders to you. The solution to the apathy would be communication.
Communication may solve half your troubles, and the other problems could be worked on by spending quality time with each other.
The above prediction is mainly for the folks who have got used to mixing personal affairs. If you are interested in an ulterior motive, you may not be happy to deal with the present situation. To know about your relationships in the year 2022, access your Free Personalized 2022 Report.
Aquarius Marriage Horoscope 2022 – Losing Love
You may slowly lose interest in your love life, leading to a pause in the marriage prospects. Further, during the year 2022, you may face difficulties with your dating partner, resulting in heavy expenses. This means some financial traction on either side can be the actual spark that can lead to problems in the relationship.
As per the yearly prediction of 2022 for love, you may decide to buy a house in another city or relocate abroad by the end of the year to overcome the emotional problem that you are enduring presently. It is foremost that you keep yourself before everyone else.
Also, it would be best if you kept in mind your priorities, your mental health. Try to meditate and do yoga. Also, keep on checking on yourself. Understand when you let go of specific things, you make space for better things to come in life.

Be Patient
In the second half of 2022, you may have problems with relatives who are on your side for the marriage discussion that you are having for a long time. Ensure this does not lead to any misunderstanding in the relationship. Your close family is not against you but has strong likes and dislikes, which is not easy to deal with.
Also, people close to you may take a conflicting position, which may create difficulties in your family. Sit with them and make them understand what the true nature of the problem is likely to be.
You would be happy to deal with them on a one-on-one basis. All this is in your favour, and you would be glad to deal with the scenario. The time that you are dealing with may be helpful, favouring you to a better personal life.
The second half of the year may be suitable for those already married and looking to settle down with their family. Raising a family or even planning a second child may be on the cards. So, make sure you do not lose your time in all these possibilities. Access the Free Personalized 2022 Report to know what the stars have in store for you.
Aquarius Marriage Horoscope 2022 – Overview
Personal life may be a bit bumpy in 2022. Love life may be impacted, where you or your partner may stay away. Marriage prospects may also see this friction and could be extended to the financial aspect as well.
You may decide to buy a house in another city or relocate abroad. Towards the third quarter, relatives may have a lot of say in marriage talks and preparation. You may need to take a stand and may have to solve the problems by yourself.
There could arise conflicts, but you may need to solve them patiently, calmly, and one by one. This quarter may be suitable for married folks and those who are looking to extend their family.