What is Relationship Therapy? Know Significance, Types and Many More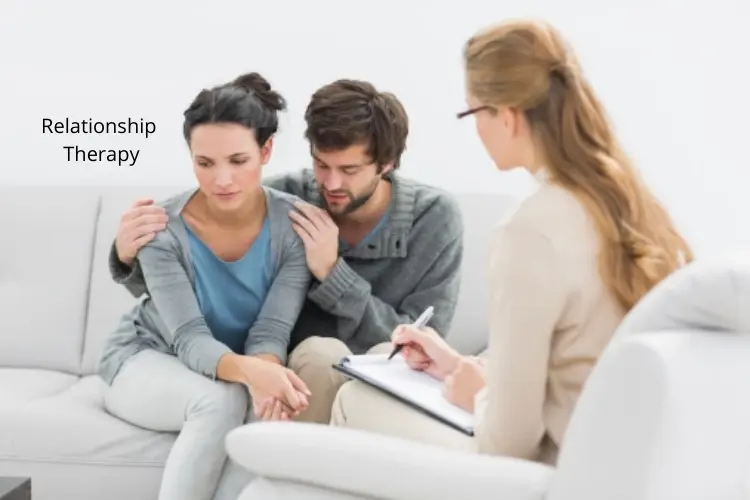 "Compatibility doesn't determine the fate of a relationship, how you deal with the incompatibilities, does."
~ Abhijit Naskar
Asking for help takes courage due to certain stigmas attached to it. You might have had people tell you that you're not capable enough to resolve your own problems or that weak people need help or even that you're 'not supposed to be dependent on others to get through something. In collectivistic cultures such as India, China, Korea, Japan, and so on, it gets even more difficult to ask for help due to the pressure of what others might think or say in society. But if you have felt the need to get help from your friends or even a professional, and you took a step towards it, then you definitely deserve a pat on your back!
In another case, very often people in a relationship think that they know best about what's happening between the two of them and that the intervention of a third party would actually be problematic. Even if they acknowledge the importance of third-party intervention, the first thought would be of a friend or a family member. Little do people realize that therapy is a way of actually saving a relationship.
You can save your relationship by seeking help from our relationship Experts at Ganeshaspeaks.com
---
What is Relationship Therapy?
Relationship therapy refers to the therapy which is designed to address and resolve issues in relationships – romantic or otherwise. It attempts to strengthen love and overcome interpersonal conflicts. Professionals with expertise in this area assist people in resolving relationship issues through therapy and treatment. The professional could be a counseling psychologist, clinical psychologist, pastoral counselor, social worker, and marriage and family therapist. It includes finding ways to "speak with" a person, especially during times of conflict.
According to Brian Mueller, a Ph.D. in Couples Therapy, the range of this therapy would include issues related to conflicts in a relationship, intimacy, communication problems, and so forth. The focus of relationships therapy is generally to emphasize the fact that the relationship matters, hence, it is possible to overcome the hurdles.
---
Why is Relationship Therapy important?
No matter how good a relationship is, conflicts are an inevitable part of it. Differences in opinion arise due to different thought patterns of individuals. Nearly all relationships face pressure at some point in time, which results in a failure to operate effectively. Possible reasons for relationship issues would include ego issues, anger, jealousy, and lack of communication, among many others. The ability to think critically and act rationally is compromised leading to the formation of self-reinforcing, maladaptive behaviors. If operated often, these behaviors escalate into a habit of a "negative interaction cycle".
According to research studies, in order to get out of this cycle, what would most benefit the couple is: Seeking Relationship Therapy. It acts like the water and sunlight of a bond that would aid a withered plant to bloom gracefully.
---
What are the types of Relationship Therapy?
Various types of therapies are employed in relationships counseling, including:
Cognitive Behavior Therapy: Taps onto the negative cycles, changing them into positive behaviors.
Emotion-Focused Therapy: Emphasizes the bond and attachment as well as analyses the reasons for not feeling connected in order to rectify the situation.
Psychodynamic Therapy: Explores the underlying motives and fears for certain kinds of behavior exhibited by both parties and fosters better understanding.
Gottman's Approach: Involves directly targeting the area of conflict in order to improve intimacy and quality of the relationship between the couple.
---
What are the advantages of Relationship Therapy?
Seeking therapy has multiple benefits which include the following:
Freedom of expression: One of the key elements of any therapeutic setting is to provide a safe space by creating a secure environment. In relationship therapy, every person gets a chance to express themselves in front of a non-biased and non-judgmental entity. As a result of this, both the people involved can talk about their problems in an uninterrupted flow and express their hearts. It gives the couple an opportunity to heal from their past experiences.
Negative interaction cycles are identified: Very often the people involved in the relationship fail to identify the maladaptive patterns adopted by them. Since the professional can view and analyze the situation from an unbiased point of view, it is comparatively easier for him/her to identify these loops of negative interactions and bring them to the light. Once they are brought out in front of the couple, improved ways of communication can be discussed and agreed upon.
Strengthens Attachment: Seeking relationship therapy can help to discover the root cause of conflicts. Once this is done, it gets easier for the couple to deal with anything that comes their way.
Improved communication and sense of intimacy: Once the couple seeks therapy together, eventually it helps to restore physical as well as emotional intimacy. Therapy brings along clarity to clouded thoughts and it makes space for renewing emotional and intimate connections.
Better understanding: After a successful reorientation of the way a couple looks at the problematic situation, the perception of the root of the problem completely changes, as a result of which the couple starts to put themselves in each other's shoes. Once this is done, a better understanding and acceptance are fostered between them.
"It is important to respond to your partner instead of reacting."
Learn healthy ways to respond by speaking to our Relationship Expert at Ganeshaspeaks.com
---
---
Get 100% Cashback On First Consultation