Libra Marriage Horoscope 2023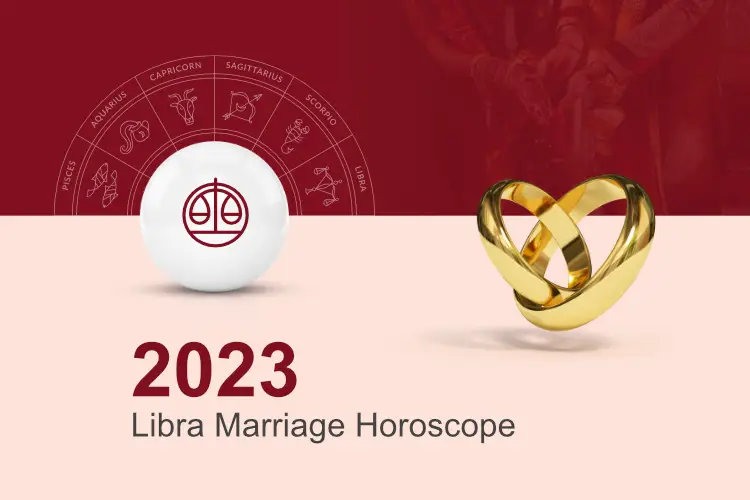 Libra 2023 Marriage Horoscope – Everything In Order
Libra Marriage Horoscope 2023 predicts that this year your relationship will strengthen with your partner. There is a chance that this year will offer clarity on a number of issues.
The year will bring clarity about your relationship and relationship needs. You will understand your life partner's needs. So, it is going to be very good for you and your marriage and family life.
Libra 2023 Marriage Horoscope – Take It Easy Singles
The transiting Jupiter will also prompt you to take appropriate steps which will serve your relationship well. This year, when you take the right step and make the appropriate decisions, it will benefit you in abundance. Be very cautious with what you're doing and also keep an eye on everything that might cause disturbance for you.
The Libra Marriage Horoscope 2023 for singles advises those who are considering marriage to wait before making a decision and not rush. By the end of the year, you'll be ready to evaluate your relationship.
Libra Marriage Horoscope 2023 – Building Bonds
At times, you will be more emotional and subjective than usual. Some unresolved emotional tangles are likely to arise with the progression of this period. The volatile energy of Mars indicates your emotions will be heightened. Emotional problems will always come up; it depends on how you tackle them and control everything. You need to be strong to protect your partner and family members from any harm.
Libra Marriage 2023 indicates that from March onwards, your relationship matters will start getting better. Benevolent Jupiter will help you now. Here, you will feel a strong need to connect with someone with whom you would like to share your feelings. It would be very good for you if you spoke to your loved ones about anything that was disturbing you.

Libra Marriage 2023– Express Yourself
Speaking your heart out is very important to get rid of the emotional baggage from your heart and mind. But you will be unable to stimulate your life.
You may realise that something is missing in your relationship, as suggested by Libra 2023 Marriage Horoscope. So, you have to put in extra effort to find what is missing so that you can spark up the romance and intimacy between you and your partner.
This will help you to get closer to your partner and understand each other's needs and desires. When you get closer to your loved ones, it will make you feel more delighted and happier.
Libra Marriage Forecast– Time For Peace And Harmony
You might feel a little angry and start losing your patience around the month of May. During the latter half, the goddess of love, Venus, will bring a harmonious impact. The period starting in July will help you understand the real causes that have been creating the disturbances in your life.
When you find the roots of the problem, it becomes easier for you to get things back on track. But, around the month of September, unnecessary discussions on trivial issues can be detrimental to your relationship.
The last quarter of this year will help you to strengthen your rapport with your beloved ones and maintain peace and harmony in your relationship. It will help you show the world your practical and responsible side. This could be a good period to sort out some existing problems.
Share Your Problem, Get Solutions