Leo Marriage Horoscope 2023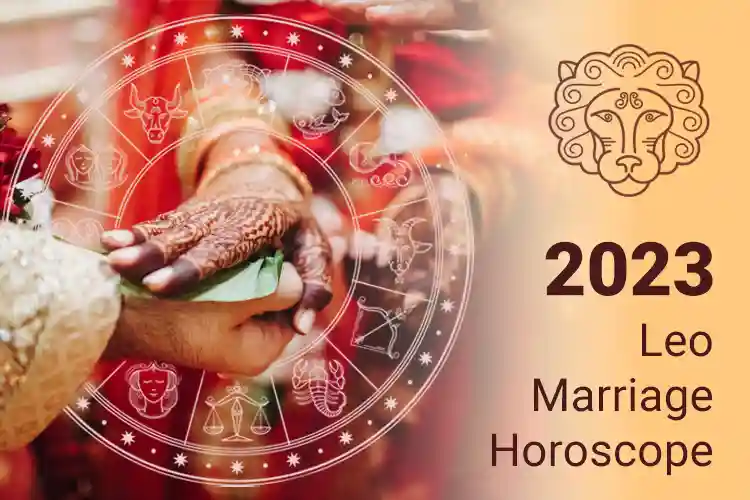 Leo 2023 Marriage Horoscope: Is The Year Lucky For Leo?
Leo, who is regarded as a self-centred and attention-seeking member of the astrological family, is a dedicated and conscientious partner. Leos that are trustworthy and caring provide their companions with a lot of consideration, care, and protection.
Leos, as with the other fire signs, exhibit rebellious tendencies as well, however they reserve these qualities for close friends and family. Let's examine the Leo Marriage Horoscope 2023 to learn what to anticipate and what to ignore during the coming year.
Leo Marriage Horoscope 2023: Happy Relationship
Leo Horoscope 2023 Married Life forecasts that you can enjoy a gala time with your dear ones and in-laws. During the first phase, Venus's transition in the celestial chart might bring exciting news for would-be parents or expecting mothers. There might be conflicts in marital life. But with Jupiter's support things will go smooth.
Enjoying social gatherings with your maternal family and in-laws will make your relationship better with your spouse and near ones as well.
Leo Marriage 2023 predicts that the second phase would be the right time for foreign settlement. Some Leo individuals might get married with the support of planets such as Jupiter and Saturn. There may be circumstances where it would be hard to achieve success.
Individuals who are expecting separation can get favourable results. The second quarter of the year would bring good news for expecting parents. You may welcome new addition to their family. There might be health issues related to your child in the first quarter.
Leo Horoscope 2023 Married Life: Successful Or Problematic
Leo's Horoscope 2023 Married Life depicts that arguments and dissatisfaction can cause problems in relationships. With the presence of Rahu and Saturn in your celestial chart, you may feel constrained in terms of a relationship. As per Leo Marriage Horoscope 2023 predictions, interference of a third person in your married life may ruin your happy family as suggested by Rahu and Saturn.

Jupiter is poised to grant success in love marriage, yet a more positive outcome won't happen until after the first trimester. In the second half, Mars is prepared to provide settlement in another country.
There may be some irreconcilable differences with the partner, which may cause tension. This may have an impact on your marriage, so use your words carefully and be kind to your spouse and family as well.
An Overview Of Yearly Predictions With Leo Marriage Horoscope 2023
As per your astrological chart, Leo's Marriage Prediction 2023 suggests that you must avoid negative thoughts related to your spouse and family members. Since they may cause unforeseen conflicts and difficulties in your marriage. Rahu and Sun also encouraged you to have an open discussion with your partner about commitment to a long-term relationship and to avoid depending too much on luck in love & relationships.
Success in love marriage is possible with the support of Mercury only. Those who are in the middle of a divorce might find success on Mars. Relationship distance and misunderstandings might result from the motion of Saturn and the Moon. You might be able to take a little vacation with your husband.
Communication is the key to expressing your love and affection towards your loved ones. Your connection will grow stronger. Spending quality time together will be helpful in revitalizing your relationship. You can also plan a family trip for a fresh restart.
Share Your Problem, Get Solutions