Capricorn Career Horoscope 2023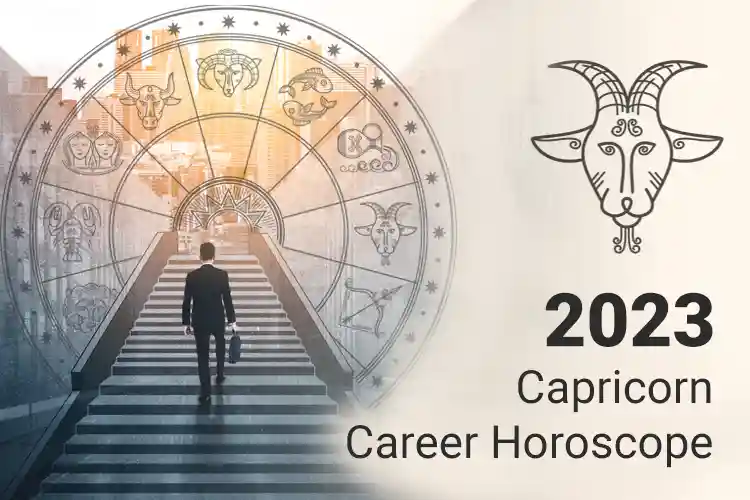 Go forward with positivity and all your dreams might come true. It is advisable not to depend on others.
Capricorn 2023 Career Predictions Keeps You Motivated
As the year begins, you might see ample planetary support which might help you to make progress in your profession. As the year advances, Capricorn Career Horoscope 2023 indicates that the impact of the North node might make your task challenging. There might be some sort of uncertainty at the career and business front around the month of February. If you are facing any difficulties in your life, then it might relate to your career, indicates Saturn. As the year proceeds, the favourable impact of Jupiter might keep you motivated at your workplace. Saturn might demand strict discipline and a focused approach suggests Capricorn 2023 Career Horoscope. If you are in business, the period around the month of March might be a suitable time to go for a meeting or you might discuss with new people about the business expansion, suggests Capricorn Business Horoscope 2023. The impact of Venus and Jupiter is likely to make your task easy as the year progresses predicts Career Horoscope Capricorn 2023
Career Capricorn 2023 - Work Harder as It's a Long Run!
You might deal with confidence as your career is likely to get positive momentum, says Capricorn Horoscope Career 2023. Mercury indicates that the period around the month of April seems good for business persons to finalise any deals. Jupiter foretells that your position at your workplace might be strong and secure as the year advances. However, it might not seem to be so easy and you might need to work for extended hours to meet scheduled deadlines. The impact of Jupiter might broaden your horizons during the latter half of this year and you might also look forward to new projects.
Business people might get an opportunity to strike a big-ticket deal with a high worth customer. The impact of Nodes might seem to be confusing around the month of July as per Horoscope 2023 Capricorn Career. Don't get lured by short term gains suggests Career Horoscope 2023 Capricorn. Be prepared to work harder to achieve desired results. Transition of Venus might boost your career prospects gradually as indicated by 2023 Capricorn Career Horoscope. Do not get distracted by seemingly good options. It is better not to depend on others too much, suggests Career Horoscope for Capricorn 2023. Know what is best for 2023 Capricorn Career by expert Astrologers.

Capricorn 2023 Career Helps You To Grow
You need to find ways to manage, but don't let stress affect you. The period around the month of September is likely to bring some good opportunities for progress as per Capricorn Horoscope 2023 Career. If you are in business, then you might see some important developments. You need to keep in mind that Saturn might demand strict discipline by keeping a focused approach. Venus might continue to favour you during the latter part of this year. It is likely to bring some good growth opportunities. The impact of Nodes is likely to bring some sudden changes around the month of October.
If you are in business, some events during this phase might become difficult for you to handle. The positivity of Jupiter might also help your career grow during the ending part of this year. You might probably get some good rewards provided you don't take mindless risks, suggests Capricorn Career 2023. The year end might seem to be hectic but it would be progressive. Business expansion is also foreseen. You might get a chance to make a profitable business move around the year end.
Talk to an Astrologer Now and Get 100% Cashback on your First Recharge