Aries Career Horoscope 2023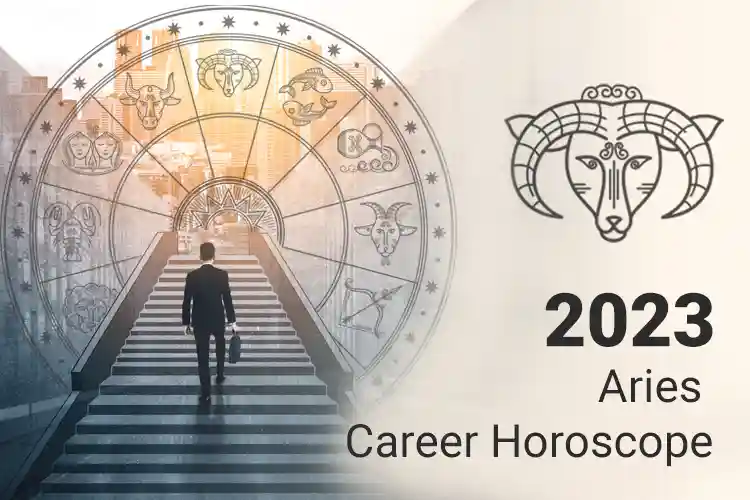 Many projects might execute successfully as per Aries Business Horoscope 2023 but the decision making process needs to be administered in a proper manner to get expected results.
Way to an Independent Career : Aries Career Horoscope 2023
Jupiter might bless you with success this year because of your positive approach towards life. You need to take care of some things like you need to avoid negative thoughts as well as laziness as indicated by Rahu and Saturn. It seems as though Saturn might give the attitude and your work might go on pending. Aries Career in 2023 states that it might create many hurdles in getting expected success at the workplace. Those of you who want to run any kind of independent career might also get success with the blessings of Jupiter and Saturn this year, according to Aries 2023 career horoscope.
Challenges in Aries Career 2023
Rahu in this year seems to give an illusion and confusion that require proper analysis and research at the workplace. In terms of business also, Saturn and Rahu demand determination. You need to be ready to accept the challenges because of Jupiter. You need to make sure about having a healthy conversation while making business decisions according to Aries business horoscope 2023 so that the projects might get executed successfully. Get your Free Janampatri now to know how to handle your Career and Business well.
Know your real strengths, weaknesses, abilities, and talents. Know your Zodiac Signs
Aries 2023 Career predicts an expected Increment
In the second phase of this year, with the movement of Jupiter and Mars, you might get some good change in terms of business. The professionals might get an expected increment and a new job seems to be in your way this year as well. Those of you who want to change jobs might also get many opportunities. You might also get success at the digital platform. Jupiter movement from the month of May might start giving more positive circumstances at the workplace according to Aries Horoscope 2023 Career.

2023 Aries Career Horoscope predicts an expected Increment
You might also get more response and success related to your new job with expected increment but Saturn might also have influence on your job as suggested by Career aries 2023. This might demand continued effort and determination as per aries Horoscope Career 2023. Jupiter and Sun movement in the month of April might give a meeting with higher authority as per career horoscope aries 2023. Rahu and Sun movement in April suggests you to avoid aggressive replies and also not to choose any shortcuts to get success as per horoscope 2023 aries career. It seems that due to movements of Rahu you might get into trouble in the month of April as suggested by Aries 2023 horoscope career.
Uncover all Challenges and Unwanted changes in your Life Graph. Get 2023 Horoscope Reports
Aries Job Horoscope 2023 predicts support from Mars
Those of you who are in real estate or property related business need to be attentive in the month of May because the Mars movement might not give expected support, says Aries Work Horoscope 2023 Aries Job change 2023 is predicted due to the influence of Saturn and Rahu. Career Horoscope for Aries 2023 might result in some financial loss. The last phase of this year might give sudden achievement, promotion and recognition for your hard work and effort as per aries 2023 career predictions. Ketu might have a strong influence on your business so unplanned long-distance travelling related to work might be expected. It is better to be away from any argument with government authority as this might give you uncertain challenges. Aries Horoscope 2023 overview says that there might be some miscommunication because of your ignorance so you are advised to have an attentive and positive approach at the workplace. Consult an astrologer for free to know about your career horoscope 2023 aries.
Get 100% Cashback on your First Recharge and Talk to an Astrologer Now