Aquarius Marriage Horoscope 2023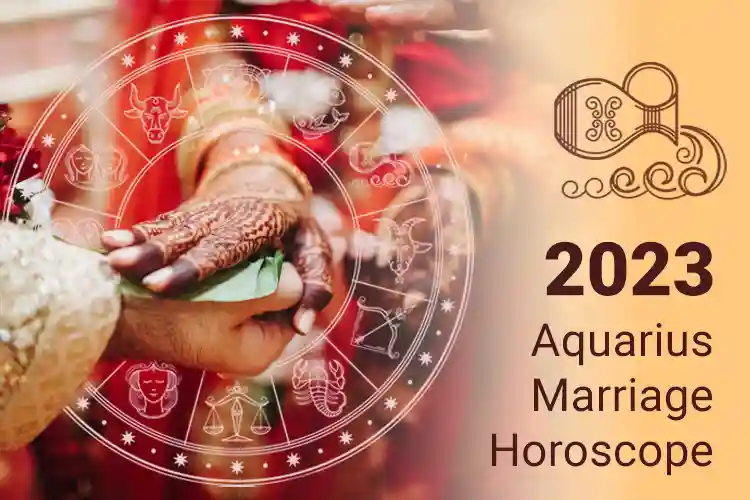 Aquarius Marriage Horoscope 2023 – Overview
The planets' movement this year predicts that a couple could arrange a fantastic destination together. Newlyweds may also consider having a good time together to continue their marriage.
According to the Aquarius marriage horoscope for 2023, Venus will bring you warmth and a plethora of sensuous experiences as the year 2023 starts in earnest.
Aquarius Marriage Horoscope 2023 – All Good News And No Hiccups!
As the year advances, your social life may be more pronounced. You will be able to cope with some difficult situations at home with ease. Your partner may have to relocate away from you at the start of the year for some reason. Stay in touch with them frequently in this situation and keep sharing your feelings with them.
In 2023, the Aquarius companion or spouse will be a fantastic source of love and support. With the blessing of their families, some Aquarius' love will manifest as marriage, as predicted by Aquarius Marriage Horoscope 2023 for singles.
The Aquarius Marriage Horoscope 2023 predicts that marriage will be full of both good and bad experiences. The planetary shift this year will let you experience both joy and sorrow. All that remains is for you to embrace both without giving in.
Aquarius Marriage Horoscope 2023 – Stronger Than Ever
The difficulties can be resolved by conversation and mutual understanding with improved planetary impact. When it comes to marriage, everything is going pretty well. You'll work harder to strengthen your bond with your special someone. The likelihood of your love marriage will be determined after June 2023.
You might be able to start a new association. According to the Aquarius Marriage Horoscope 2023, the winds are blowing during the second quarter of the year, and you may have the opportunity to interact with a new partner by chance or through other social encounters that may ultimately lead to marriage.
It will be a socially very active phase. Love and harmony could be reflected in all your relationships. You shall be able to maintain your composure despite some challenging circumstances in your family.
There may be a settlement between you and your partner around the middle of the year. The two of you will experience renewed love and romance. Your love and trust for one another will grow as a result of this.

Aquarius Marriage Horoscope 2023 – Happy Endings At The End Of The Year
Marital and married life satisfaction could be visible in the year's fourth quarter. Things appear to be going well at the conclusion of the year. You will be able to maintain your relationship with your life partner's love and support.
You can use your time to settle any disputes that are currently in motion. Your husband and your in-laws' side will be in continual conflict. There will be a plethora of mental worries all around you.
According to the marriage horoscope for Aquarius in 2023, the last transit indicates that everything will be alright at the end of the year and that you won't look back on your life with regret.
Share Your Problem, Get Solutions