Pisces Health and Fitness Horoscope 2022: Stress-Free Year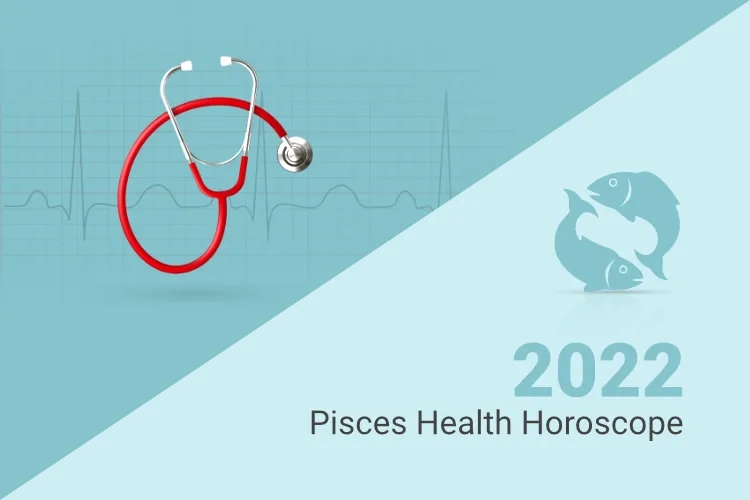 Pisces Health Horoscope 2022 predicts that it can be a stress-free year. There may not be any major issues, but you need to take good care of yourself. Make sure you drive carefully as there are odds of a mishap. Take a proper diet and maintain a healthy lifestyle schedule. Practice yoga and do some light exercises in the morning. This helps in keeping the health problems at bay.
This year is going to be very good in terms of your health, says the Pisces 2022 health horoscope. You should try to go for a short trip where a beautiful landscape may help you soothe your soul.
Your health and energy level are rather good given the mishappenings around you. It is the best time to get back to your sports life and quit unhealthy habits. These changes are likely to have a positive impact on your life, in the long run, says the stars. To know about your relationships in the year 2022, access your Free Personalized 2022 Report.
Pisces Health 2022: Having Some Discomforts
For Pisces natives who are having some issues related to blood pressure or heart, always keep things handy and take care of yourselves. Try to stay calm and do not consume much salt as it's not good for you or your health. If you feel prolonged discomfort, do not discount or neglect it and immediately consult a doctor. If you have recovered from any health issue recently, you are likely to take it up as a priority. Again, those who have been working on taking up some surgery are likely to see a quick recovery in the second half of the year.
Around the second half of the year, your level of energy is likely to decrease, and your state of mind may get tested. Keep your emotions under check. So that in a few years time, you can recover at lightning speed.

Pisces Health and Fitness Horoscope 2022: Overview
Live, love and laugh; these things will make you feel so relaxed and relieved. This is not a good year for you to avoid your health issues, especially for those who have been into athletics and have a problem related to your mental and physical fitness. You have to pay proper attention to what your body needs, as you may suffer from fever or some pain. Keep yourself covered, and take general precautionary measures. Access the Free Personalized 2022 Report to know what the stars have in store for you.
Don't take anything to heart, and approach with strength any challenges life throws at you. Occasionally, make sure you also relax spiritually. The mental side also needs constant activity, and there are spiritual activities that can help you improve your state. Let your confidence level increase, and eliminate the stress and fatigue from your life.
Your Accurate Personalised Astrology Predictions Are Just A Call Away – - Talk To Astrologer Now!
With Ganesha's Grace,
The GaneshaSpeaks.com Team
Share Your Problem, Get Solutions