Aquarius 2022 Love Horoscope: Love With Caution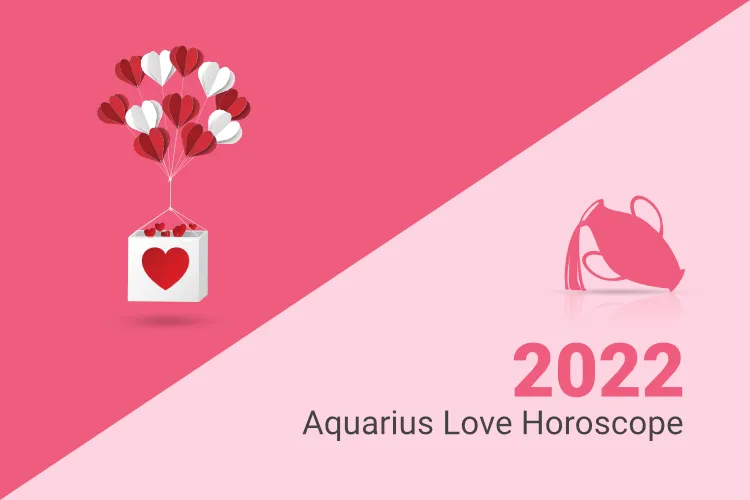 In 2022, Aquarius will be joyful. This cosmic environment in the first month of 2022 brings many of you the possibility of a fresh beginning in love life, which will be a decisive and surprising journey.
In particular, the single hearts want to settle their life and create a lasting partnership. At first sight, a probable love for some Aquarius might emerge on a journey overseas or at an unforeseen meeting with an alien.
For Aquarius folks, this is the moment of cherishing love, and it will bring several happy moments in your life. Moreover, it might also help you attain freedom from your boring life.
However, as there is a saying with some positives comes negatives, thus in the first half of the year, you may get stuck into some kind of arguments because of your individuality. Therefore, this year, make your own space and attain the freedom to ward off the conflict. To know about your relationships in the year 2022, access your Free Personalized 2022 Report.
The chances of fighting might crop up for some time this year, so try to separate yourself from the moment for some time.
Aquarius 2022 Love Horoscope: Love Is In The Air
According to the Aquarius 2022 love horoscope, singles would be courageous and express their true feelings to their loved ones this year.
During the second half of the year, all your romantic and love activities are likely to be fulfilled. Also, the moment you're in, take full advantage of the inner harmony.
Single Aquarius have a lot to enjoy this year because love is going on for them. You will meet a lovely person who may sweep you off your feet. Your love chemistry will nevertheless be incredibly thrilling and surprising.
However, don't let yourself lose your senses. Blink and try to think things through practical lenses because the chemistry between you and your lover, aka your possible mate, might fade as soon as it has started.
Thus, taking things slowly will do you good. It is also quite likely that Aquarius people might have physical connections this year, where they need to set some limits to avoid letting the relationship go. If they fully adhere to the partnership without having any authority, it might damage them in the future.
Aquarius Love Horoscope 2022: A New Relationship
According to the Aquarius love 2022 horoscope, the mommy has to pay extra attention. This year, most of you will be happy with your love life and think of making drastic changes in your relationship status.
The singles are likely to experience a stormy love story this year. You can notice a great change, overturn, revitalization of attitudes, and the need to love.
This year, you might meet, through your entourage, someone who will raise your interest, and with whom you can start a new relationship. Indeed, you may find yourself enjoying an evening with someone who has been a friend for some time but has recently expressed an interest in learning more about you.
Allow yourself to be carried along by the stream since you never know where it may take you!

Aquarius Love Horoscope 2022: Tumult & Disputes
Those born under the sign of Aquarius will continue to have ups and downs in their romantic relationships, and it is recommended that they communicate with great care.
Furthermore, your love relationship appears to be on the rocks, as there is a great likelihood of disagreements and conflicts between the spouses. Despite the fact that you and your partner are infatuated with each other, there will be a lot of turmoil in your relationship since the stars are not in the mood to help you with your love life at this time.
Despite the fact that you and your partner are infatuated with each other, there will be a lot of turmoil in your relationship since the stars are not in the mood to help you with your love life at this time.
You will have to put in some effort as long as things do not entirely settle down. Do not back down, or you may find yourself in a situation where you must separate from your lover. This year, the compatibility for the vast majority of you is likely to be excellent.
Aquarius Love Horoscope 2022: A New Decision
You, dear water bearer, might have a great understanding with your other half, and this might put a pause in time for your relationship so that you can enjoy it the moment.
Singles are expected to find someone this year, as they have in previous years. However, the good news is that you will make the proper decision in terms of finding a life partner this time for the rest of your life.
You would not be in a hurry to tie the knot with anybody and be sensitive to your spouse's feelings as you are very much satisfied and content with the current status of your relationship. You might not want to give huge commitments this year, but with time you'll be ready to take up the responsibilities. Access the Free Personalized 2022 Report to know what the stars have in store for you.
Aquarius Love Horoscope 2022: Overview
For Aquarius, the year 2022 may be full of excitement and adventure. When compared to the previous year, the sentimental life will be somewhat enhanced.
The beginning of the year is going to be best for your love life, but things are likely to fluctuate between good and bad from the second half of the year.
The only advice is to prioritize the relationship on the first degree and will be of great importance. Just go with the flow and see where it takes you in your love life.
The second of the year may be ideal, and your love signs may shine brilliantly over you. You may get to experience some of the most spectacular moments of your life this year.
It's possible that your desire to become a mother may come true this year. A trip to the doctor is almost certainly in order, bringing happiness and a lovely new essence into the world.