↑
Taurus Zodiac Sign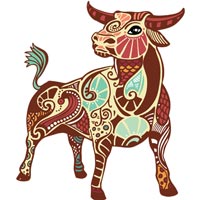 Taurus Overview
(April 21 – May 21)
Taurus, the 2nd Sign of the Zodiac, is an Earth Sign. It is hard working, rock solid, stable and practical. Ruled by Venus, Taurus, however, is also given tremendously to sensual pleasures. So, be it the physical pleasures or material comforts, the Taurus-born love to indulge in excesses. And, they will not hesitate in going an extra mile to find these pleasures. Most Taurus-borns are connoisseurs of good food and good life. Paradoxically, though, Taurus natives are fixed in their approach; they disregard change. They are loyal and attached to their loved ones, jobs, employers, project, friends and almost everyone and everything. Many believe Taurus to be the most dependable Sign in the whole Zodiac, simply because Taurus hates the idea of 'change'. This attribute make Taurus quite headstrong and stubborn. When extended to work, this very stubbornness becomes a boon – as the Taurus Individuals are seen slogging it out to achieve what they have set out for. They are happy, willing, patient and sincere in their overall approach. Unlike Aries, Taurus are also gifted with an ability to see a project to completion. However, when applied to their personal realm, this obstinate streak makes Taurus quite a tough nut to crack. You will see them creating a hue and cry, whenever pushed to alter their schedules and priorities. Note that it is extremely difficult to convince Taurus to change their minds. Also, many Taurus individuals are slow and lazy, which may irritate their partners. Nonetheless, the possessive Taurus individuals make excellent lovers, as they tend to value their loved ones, over everyone and everything. Their own personal lives and security net are precious to Bulls, and they do not hesitate to shower their beloved with amazing gifts.
Read More..



Kundli Matching –

20% OFF
Forge the most important bond of your life with an accurate Kundali matching reading.


Your Birthday Report- Premium –

50% OFF
Understand the challenges, eventful periods and find the direction for the next year.


28-05-2017


27-05-2017


29-05-2017


28-05-2017 – 03-06-2017


May 2017
General description: Each year, on or around 20th April, the Sun enters the Zodiac Sign Taurus. This Sign represents a calm reserve, force, determination, endurance and stability. Known for being reliable and practical, the Taurus-born have a positive approach towards life. Their commitment and ability to stay focussed are their biggest strengths. However, they tend have fixed opinions and their dogged determination is also often perceived as stubbornness. Lovers of peace and harmony, the Taurus play the role of the providers with heart and soul. Moreover, you may obtain fully personalised astrologer generated Natal Chart based 2016 Finance Report to plan your finances systematically for the upcoming year.

Element – Earth
Quality – Fixed (= stability)
Characteristics: Cold, feminine

Ruling planet: Venus
Detriment: Mars
Exaltation: The Moon
Fall: Uranus
Symbol: the Bull
The Symbol denotes: Stubbornness and tenacity, fierce energy and aggression but also a laid-back, lazy attitude.

Birthstone – Emerald and Jade.
Birth Colours – Earth tones, green, orange, yellow.
Other lucky colours – Pale blue, pale green, pink and all pastel shades.
Lucky Day – Friday.
Associated Flowers and Plants – Daisies, foxgloves, lilies, poppies, primroses, roses and violets.
Quality most needed for balance – Flexibility.
Deepest need – Comfort, material ease, wealth.
Compatible Signs – Virgo, Capricorn.
Best sign/s for marriage and/or partnerships – Scorpio.

Anatomically Taurus corresponds to: Neck, throat, ears, pharynx, Eustachian tubes, tonsils, palate, thyroid gland, upper portion of the oesophagus, and vocal chords; jugulars in the next and the veins of the thyroid gland; cervical vertebrae in the neck; the front and back neck muscle; external carotids and basilar artery.

Noteworthy qualities: Steadfastness, trustworthiness, persistence, composure, self-reliance, constructiveness, practicality, humour, fearlessness and stability.

Undesirable personality traits: Stubbornness, domination, obstruction, dogmatic attitude, conceit, self-centred behaviour, laziness, exacting approach. If you are struggling to maintain your relationships, you may get assistance by Asking 3 Relationship Questions – Detailed, which will be answered by an expert astrologer based on your Natal Chart, thus, you will receive 100% personalised report that is specific to you. Through this report, you will also get remedial measures which will help you to free yourself from your problems. You may also want to read about Taurus Decans.
Food for Taurus :
The Bulls need to eat foods that are beneficial for the thyroid gland. Their food needs a pinch of iodized salt. Pumpkins, cauliflower, cucumber, peas, almonds are good for them. They should lay off starchy, sugary and fatty foods that may increase their weight. For snacks, they may go for celery. They can have meat for gaining strength. Don't give up the chocolate and goodies otherwise you'll feel deprived. Just be sensible and cut back on the amounts.
Taurus Physical Structure:
The Bulls have a pleasing face, plump features with full sensual lips. The face is usually oval with a prominent middle part. The nose is rounded and upturned. Their complexion is fair and they have thick, shiny hair. The body is well-proportioned. They take their appearance seriously and wear stylish clothes with good taste. They carry themselves with grace. The whole physique gives an impression of elegance with some degree of strength at the same time. Order totally personalised Natal Chart based 2016 Ask a Question report, which shall clear your doubt and set your mind free.
Taurus Habits:
The Bulls have this bad habit of surrounding themselves with clutter, and are too lazy to keep everything organised. Having all their possessions within hand's reach somehow gives them a sense of security; however, it also causes confusion and chaos. Give them open shelves, handy storage facilities, and they'll be just fine. Though the Taurus-born tend to save a lot of their earnings, one of their major causes of stress is lack of liquidity. You can right away order fully personalised Natal Chart based 2016 Finance Report so that you can plan ahead in time to make your future financially secure.
Taurus Health:
The Bulls are robust and have great physical stamina from birth, so they are unlikely to suffer any health problems during childhood. But as they grow older they tend to overindulge in food and drink and may put on weight. They also have a sensitive throat, which may sometimes lead to congestion. They need a mild diet once in a while and exercise regularly. However, if the idea of regular exercise is not too appealing, they would do well to try their hand at gardening or some other outdoor activity.
Taurus Beautyscope:
The Bulls usually have a soft skin, and blue colour would really suit them. Floral scarves look good on them, as do bright lipstick and nail-polish. They are sensuous people and look great in outfits of pastel colours such as light violet, pink or yellow. They should be conscious about walking gracefully. They are very choosy and take time to decide what they are going to wear, even if it is for an evening walk. They love to look good and will give a lot of thought to their clothes. Mostly, it is expensive stuff. Vedic Astrology has a wealth of knowledge when it comes to analysing one's personality and prospects in life. If you are curious and confused about your intimate desires and sexual style, please avail Your Passion Personality report. This completely personalised and astrologically astute report help you understand yourself better. You might also like to read Taurus Decans.
Those born under the Zodiac Sign Taurus (Vrushabha), the second Sign of the Zodiac calendar, focus on the rewards they would get for their efforts and hard-work, and would not plunge headlong into the challenge of the game without thinking through it. Symbolised by the Bull, the Taurus natives are down to earth and display a no-nonsense approach, often only saying what they really mean.

Practical, stable and reliable, the Taurus prefer to take each day as it comes and march towards their goals slowly but steadily. Their strength is in their stability, loyalty and dogged determination. It takes a lot to deviate a Taurus from his path and make him lose his focus. The Taurus want to reach their final destination, and they will!

But, the Taurus are averse to taking risks, and certainly are never rash. The reason number one – the Bulls are security lovers – their security net is paramount to them. Reason number two – they are lazy and have an inherent need to hold on to their possessions. So, all in all a Bull likes to play a safe game. Well, that is not such a bad thing always, though this tendency may stop them from going all out and having fun.

These security-loving souls like to be rooted to their environment, work, home or opinions. Others may call it their stubbornness, but the Taurus prefer to call it the need to guard their stability. This makes their mind closed to new ideas and radical changes. But, this doesn't stop them from giving their best to whatever they undertake. Thus, they may be stubborn and headstrong, they also possess a dogged determination that's so rarely seen elsewhere in the Zodiac. No wonder, the Bulls rarely buckle under pressure and adversity. They prefer to be in a rather Zen-like peace. Don't mistake them to be withdrawn, though. Do you have a special Taurus in your life, or are you a Taurus yourself? Here is a word of advice! Know them (or yourself) inside out, and see how your equation improves (even with the self) dramatically! Get a Natal Chart based, personalised reading – Janampatri or the higher version like Life Prediction Detailed.

Usually, the Taurus are extremely patient and dependable. But when annoyed, the Taurus will rage and turn ferocious and unstoppably angry. Sure, they are temperamental, but once the thunder dies down, they also prove to be the sloppiest of sentimentalists. They are also quick to regain their Buddha-like stance, almost as if nothing happened!

The Bulls also carry a very strong sense of values and possess a distinct personality. Besides, they are very artistic and sometime very musical too. The good life in all its forms – the fine arts, music, good food, physical pleasures and material goods are heaven on Earth to the Taurus-born. If you closely observe a Taurus, you will see that their possessions speak highly of the need to own the best. This is not to say that they are self-centred individuals, but materialistic they are. Plus, family lovers that they are, the Bulls also ensure that the things they do or possess make their near and dear ones happy.

Overall speaking, most Taurus natives are excellent individuals. However, their stubbornness, combined with their trademark laziness, can create problems they may find difficult to deal with. Often they make little or no effort to change the situation they are around them. Hence, they may find themselves in similar kinds of situation again and again. But if they focus on their unique talents through Chart your Destiny report – a completely personalised predictions basis one's birth details – and follow the advice given by expert astrologers, they can surely make the most of their abilities.

The life partner a Taurus chooses bears a strong impact on the personality of the Taurus. Thus, they need to find someone, who will give them the much-desired stability. Usually, Taurus-Taurus, Taurus-Capricorn, Taurus-Libra and Taurus-Virgo make for good life partners. Check out Taurus Compatibility with other Signs to find out the kind of relationship a Taurus will share with other Signs.

And, if you are pretty serious about a particular relationship or a person, get their complete Birth Details, and ask for a premium reading – one that will clarify all your doubts and erase all your confusions – if it's about marriage, nothing beats the premium Kundli Matching, or if you wish to judge how compatible you two are, get a Compatibility Assessment Reading.