↑
Aries Zodiac Sign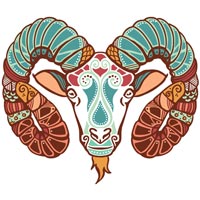 Aries Overview
(March 21 – April 20)
The very first Sign of the Zodiac is Aries. And, much on the same lines, the ones born under this Sign consider themselves as the first. Aries are known for their fiery zeal and exuberance. Most impressive are their leadership qualities and optimism. Most Aries have a burning desire to start things off, and make things happen. Individuals born under the Sign Aries are also known to be pioneers of the Zodiac, and many a times it's their brave journey into the untrodden path that helps them emerge victorious. Aries individuals also exhibit energy and dynamism, and with their innate charisma, they are often able to convince and lead people effortlessly. The Zodiac Sign Aries is found to be compatible with the Signs Sagittarius, Leo, Aquarius and Gemini (Leo is the best suited among others, as a partner for Aries). In relationships, it is often found that the Aries mate is a loving and loyal one. When the Aries falls in love, he/she will not wait, and would rather straight away go and express his/ her feelings, without even giving this a considerable thought. Affectionate Aries individuals are known to pamper their love ones and beloved to the degree of being excessive. The guileless and usually 'a child at heart', Aries natives, however, are extremely dejected and disappointed, when their love is not reciprocated in the equal measure. They try to be understanding and appreciative of their beloved, but only till the time they receive and see the requisite attention and love (or the hope of it) in return.
Read More..








22-05-2017


21-05-2017


23-05-2017


21-05-2017 – 27-05-2017


May 2017
General description: The Sun enters this first Sign of Zodiac, the Aries on or around March 21st each year. Aries, the first Sign of the Zodiac calendar, represents raw energy, unbridled passion and a ruthless haste. Aries are energetic and enthusiastic people; they like to set the ball rolling as soon as they come across an interesting opportunity, but they lack the discipline and commitment to take things to the finishing line. Aries may also be impulsive and harsh, and it is almost impossible to convince them about anything. The Aries-born are quite action-oriented, and tend to act in a physical way to everything.

Element – Fire
Quality – Cardinal
Characteristics – Masculine, positive

Ruling planet – Mars
Detriment – Venus
Exaltation – The Sun
Fall – Saturn
Symbol – The Ram
The Symbol denotes – Cheerful, carefree, boastful and confident behaviour along with a combative, rash and hasty approach

Birthstone – Ruby and Garnet
Birth Colours – All shades of red – scarlet, carmine, red, vermilion
Other lucky colours – Jade green, green
Lucky Day – Tuesday
Associated Flowers and Plants – Geraniums, Honeysuckle, Cacti, Chillies, Ginger, Garlic, Aloe, other shrubs
Quality most needed for balance – Caution
Deepest need – Action
Compatible Signs – Leo, Sagittarius
Best Sign/s for marriage and/or partnerships – Libra and sometimes even Capricorn
Anatomically Aries corresponds to – Skull and face; muscles used in eating, smiling, talking and other facial expressions, deep muscles in the mouth and other muscles in the head; temporal and internal carotids, and cephalic vein.

Noteworthy qualities – Industriousness, enterprise, courage, generosity, practicality, ambition, inspiration, leadership, action-orientation.

Undesirable personality traits – Audacity, impatience, imprudence, egocentric and selfish approach, hastiness, recklessness. Wish to read all about Aries? Know how they are in love with an article on Aries Romance. Or, how they are in their work and career with an article on Aries Career. A Horoscope is a sacred document. Why? Because, it is like the blue-print of a person's life. It makes for an ideal gift for a new-born baby or a struggling to find the right path adoloescent. It is useful at any age, and can help a person look at his/ her life in a new light. If you haven't yet, we suggest you get your Janampatrior Personal Horoscope Analysis NOW!
Food for Aries :
As they belong to the Fire element, the Rams should avoid spicy foods to keep acidity at bay. Foods that support their livers and kidneys are good for them. These would include beans, brown rice, lentils, olives, cucumber, spinach, figs, apricot, pumpkins and bananas. They also require dairy products for the calcium content. Invest in a juicer or blender to juice veggies and make smoothies that are quick and nutritious. Get our service Personal Ask 3 Questions for detailed prospects. This report will be Birth Chart-based, and hence 100 percent customised.
Aries Physical Structure :
The Rams have h5, sharp features, with a prominent chin, nose and mouth with a full upper lip. They have wide-set eyes with high eyebrows. Their speaking tone can be brash. They are quick on their feet, but their movements are far from graceful. They have an average height, and their complexion is tanned and rugged. Their appearance can be jarring. The look is usually gaudy or eccentric, quite often sportive, energetic and unrefined. Red colours are frequent. Indeed, the Rams do not belong to the discreet type!
Aries Habits :
The Rams love to take centre-stage, and if need be, they will push and shove their way to the front. Though this habit can help them progress quickly in the short-term, in the long-term it can compromise their relationships with people who matter. Putting them in a responsible position can help diminish this selfishness. Regarding money, they are prone to spending more than to saving, and rarely devote time to organising their finances.

If that is an issue or an Aries loved one is facing – we suggest you get Remedial Solutions for Wealth– a personalised, Horoscope based reading, which will give practical remedies only basis the person's Birth Chart.
Aries Health :
The Rams have great energy, strength and stamina. They, however, are susceptible to disorders of the head, stomach and kidneys. They need to take extra care of these parts of their bodies, or they can develop disorders like migraine, indigestion or kidney stones. These can be caused by too much work pressure or an unhealthy diet. In spite of their tendency to get involved in accidents and all sorts of mishaps due to their intense activity, they are very tough.
Aries Beautyscope :
The colour that suits the Ram best is red because it matches their spirited personality. Using this colour in their make-up as well as in their outfits enhances their characteristics. They have prominent cheekbones, and look very attractive with earrings and hats of any design. Come what may, they always look good. Whether it is a last minute purchase or a carefully chosen dress, it will look great on an Aries. The same thing may look ordinary on anyone else, but an Aries can make it look really fashionable. Wishing to know all about Aries Traits? Read on.
People born under the Zodiac Sign Aries (Mesha), the first Sign of the Zodiac calendar, represent the raw energy of life itself. Impulsive, spontaneous and often self-centred, this Sign is symbolic of the innocence and egocentricity of a new born. This Sign is also symbolised by the Ram. Always fearless and brave almost to a point of foolishness, people born with the Zodiac Sign Aries live their lives on their own terms, often unwilling to compromise on their beliefs, ideals and ideas.

Truth is when these enthusiastic individuals set out to accomplish something, they ensure they achieve it, come what may. However, there is problem here! When their unbridled enthusiasm backfires, they lose interest just as quickly as they had gained it. Thus, no one begins like an Aries, but when it comes to maintaining the tempo till the end, many an Aries fail. Often where angels fear to tread, these high-spirited, energetic and optimistic individuals are willing to start. They take on difficult projects and challenges with an adept enthusiasm.

The Aries also tend to react in a physical way to everything, which may, at times, make them seem overbearing and dominating. The good thing is, however, that the frustration and anger are quickly forgotten, and the Aries becomes that lovable child yet again. The Aries, in fact, have an emotional and passionate nature, owing to which they are liable to make strong reactions, but they hardly mean wrong. The loving nature of the Ram inspires and flatters others, but it is their impatience and impulsiveness, which also puts off other people.

Charismatic, courageous and friendly that they are, the Aries can become extraordinary leaders, provided they learn to be diplomatic and patient. After all, it takes a lot of focus to to be a great leader. Also, when it comes to dealing with too many details and concentrating on a particular project/ task for a long period of time, the Aries often fail to handle it. They lose interest very easily, which may hamper their career growth. In fact, since Aries have a tendency to keep experimenting, which may lead them to get into wrong places, they should figure out what's best for them right in the beginning. Astrology services like Career Prospects Report Or Career Strengths Reading. Or even the Job OR Business Reading, if they feel confused.

Active, fiery Aries also have a tendency to bite off more than they can chew. Before taking something apart, they don't stop to wonder if they can put it back together. Besides, they constantly require others to motivate them to get going and do their best, and when they don't get it, they blame others for not being supportive and encouraging. But the fact is, it is an excuse for their own idleness and unwillingness to find a driving force.

Although many Aries don't seem romantic initially, they will profess undying love for their beloved – a promise they are most likely to keep, provided their beloved keeps the Aries fire going. Aries make caring partners, but at times they might expect too much from their life partner. This will be more so in the case of Aries men than the Aries women who tend to settle down more easily. As for the Aries men – they don't like waiting for things. Aries Compatibility with other Signs is quite interesting, but the pairs – Aries – Aries, Aries- Leo , Aries – Aquarius, Aries – Scorpio are the most compatible of them all. But then, a lot depends on the planetary positions in one's Kundli, too. Get a Couple Analysis done to know how compatible you and your beloved are with each other.

Wish to read and know more on Aries? Know all about them in Aries Description.