↑
Libra Zodiac Sign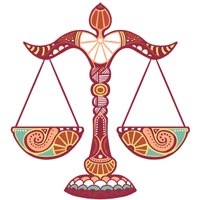 Libra Overview
(September 23 – October 23)
Libra, the 7th Sign of the Zodiac, is represented by the symbol of the Balancing Scales. Naturally, the buzzword here is 'Balance'. Unsurprisingly, most Libra individuals are balancers – of varying degrees. Also, since a pair of Scales always has two aspects, two sides – Libra-born too has two sides to his/ her personality and thinking. Yet, unlike Gemini, the most Libra individuals don't let this aspect rule their personalities. They are, rather, what you would call, as 'the weighing options and then deciding (and picking the peaceful option) kinds'. They value fairness and justice above most things, and are natural soothers and harmonizers. On their own, most Libras will steer clear of conflict or arguments, and would also not prefer to create or cause conflicts and disagreements. Owing to this trait, they make for good team players. Friendly, amiable and attractive, Libra individuals are also quite popular among their friends, more so because they tend to play able, trustworthy and balanced team strategists for their groups. However, many a Libra are found to be too manipulative or stubborn – for their own good. They can be critical of others' ways, fixed in their own or may be too manipulative; and, they can be quite difficult to manage, once they get into any of these modes. Good thing is that most Libra-born are able to effectively reign in this side of their personality, rather using the gift of tact and diplomacy to get positive results. In relationships, the Scales or Libra are very loving and careful. They make for beautiful, elegant partners, always well turned out, and are a treat to be taken along on dates, parties and social dos. Most Libra-born are graceful, polite and admire beauty in all its forms. They love a good life!
Read More..








22-05-2017


21-05-2017


23-05-2017


21-05-2017 – 27-05-2017


May 2017
General Description: The Sun transits through Libra from September 23 to October 23. The people born under this Sign love to be surrounded by people and to interact with them. Skilful and diplomatic, these people always try to do their best to be fair in an argument in the interests of peace and harmony. These balanced and attractive people are easygoing and love peace. Indecisiveness is their major negative point because of which they end up delaying things and miss out on profitable opportunities. They are often accused of being lazy. You would greatly profit from the customised Natal Chart based service Remedial Solutions for Personal Issues OR you could even try Personal Ask A Question – Detailed Advice.

Element – Air
Quality – Cardinal (= activity)
Characteristics: Airy, Cardinal, Masculine, Positive, Humane
Ruling planet: Venus
Detriment: Mars
Exaltation: Saturn
Fall: Sunday
Symbol: The Scales
The Symbol denotes: Harmony, Justice and a Balanced Nature

Birthstone – Jade, Sapphire, Turquoise, Quartz and White Marble
Birth Colours – Blue, Jade Green
Other Lucky Colours – Pink, Shades of Blue, Pale and Light Green
Lucky Day – Friday
Associated Flowers and Plants – Hydrangeas, Large Roses, Lilies, Violets, All Blue Flowers
Quality Most Needed For Balance – A Sense of Self, Self-Reliance, Independence
Deepest Need – Love, Romance, Social Harmony. If you are in love and wish to know whether the relationship has a future, you could try the personalised Birth Chart based service Romance Potential Reading.
Compatible Signs – Gemini, Aquarius
Best Sign/s for Marriage and/or Partnerships – Aries


Anatomically Libra Corresponds To: The lumber region in general and the kidneys in particular; loins, ovaries and the substance of the kidneys; lumber vertebrae, just below the ribs; lower back muscles at the top of the pelvic bone; arteries going to the kidney and lower back; veins coming from the kidneys and lower back.

Noteworthy Qualities: Thoughtful, unbiased, graceful, modest, adaptable, persuasive, affectionate, cheerful, sympathetic, generous, tactful, balanced.

Undesirable Personality Traits: Indecisive, extremist, reckless, hasty, susceptible, aloof, tend to get carried away by others' opinions. You might also be interested to explore about Libra Moon Sign.
Food for Libra: The Scales need to be careful about their blood-sugar balance. The foods recommended for them are almonds, peas, brown rice, beet, oat meal, strawberries, apples, spinach, raisins, asparagus and corn. They also need Omega 3 acids which are found in seafood. They should avoid sugary and starchy foods. Libra rules the kidneys so they should avoid excess sugar, alcohol and carbonated drinks. Drink pure water and consider buying a quality water purifier for your home. For any personal issues that may be troubling you, try the 100% personalised Birth Chart based service Remedial Solutions for Personal Issues.

Libra Physical Structure: The Scales have balanced and pleasing features in an oval-shaped face. They have a long neck, beautiful almond-shaped eyes, a V-shaped chin, chubby cheeks and dimples. They are of average height and built, and tend to put on weight in middle age. This is why they should make it a habit to exercise regularly. Their appearance is cool and calm, and they have lots of charm and compassion. If you have a query regarding your personality, you would greatly benefit by trying the Natal Chart based product Ask Any Question.

Libra Habits: The Libra-born love to have the best of everything, and will spend all their money to buy the things they want. They may be able to manage their finances well as long as the going is good, but they may be in trouble in emergencies. They need to learn not to indulge too much in luxuries and to enjoy the simple pleasures of life. Some of them, even when they are saving enough money, can go on complaining about not earning enough. For any query regarding finances, you would benefit by trying the totally customised Natal Chart based service Wealth Ask a Question Detailed.

Libra Health: The Scales rarely face health troubles, because they like to look young and beautiful, and will do everything needed to stay that way, including exercising regularly. But their problem areas can be their back, buttocks, kidneys and bladder. Frustration can easily get to them, especially when a relationship does not work out the way they want it to. They should keep away from high calorie foods and alcohol, as this can lead to weight gain.

Libra Beautyscope: A heavy necklace would make the Libra look more beautiful and charming. But they need to smile more often, and practice walking gracefully. Soft beige, pink lipstick with a glossy finish brings out their beauty. Lacy, colourful dresses, sandals, Capri pants and tank-tops suit them. They will follow fashion tips only if they feel they suit them. They create a personal style and make that a fashion statement. You might be also interested to read about Libra Facts.
With the Scales as their symbol, the people born under the Sign Libra (Tula), the 7th Sign in the Zodiac, are full of natural charm. From this point in the Zodiac calendar, there is a noticeable shift. Whereas the last six Signs focus on the individual's contact with the world, the first six Signs tend to focus on themselves. Avail personalised Natal Chart based service Life Prediction – Overview to get an in-depth knowledge about yourself from an astrological perspective.

It is well known that the Libra-born people hate to be alone. They will start conversations and socialise, keep themselves surrounded with people, and will focus on how best they can relate to people. They believe in team-work more than in solo efforts, and therefore perform better in a team. Even at home, their best comes out when they share work with their family members. The typical qualities of a Libra-born are balance, harmony and a sense of fair play. However, even so much as a whiff of disharmony or a dispute can throw them off-balance, and if you are facing such a delicate situation, you shall greatly profit from trying a personalised Natal Chart based service Remedial Solutions for Personal Issues wherein remedial solutions are recommended by expert astrologers of GaneshaSpeaks.com.

Fair and objective, the Libra tend to do things that will benefit everyone. Not surprising that the Scales are often called upon to settle disputes, something they do with a keen sense of justice. This tendency for justice often comes from a deep desire to avoid all kinds of arguments. Keen planners and great organisers of groups, they know how to get things done smoothly.

The Libra-born also have an intellectual bent of mind. They like to convey their thoughts to others with clarity. They employ a definite tact to get to know others better, to make a fair argument, be diplomatic and to compromise. However, if a combined effort of all these fails to perform as desired, their persuasive charms are employed in full scale to get their way. However, it is not to say that the Libra are manipulative – in fact, they are often too nice for that. Polite and never willing to fight, preferring to talk things peacefully, they would rather get things sorted out through discussions. They rarely get angry, even when faced with an opposing viewpoint. They would rather take a deep breath and consider all the options in the spirit of cooperation. These qualities make them well-suited for a number of careers. But if you are unsure about which career to choose, avail the fully personalised Birth Chart based service Career Ask 3 Questions, which will be answered directly by an astute astrologer.

Diplomatic and polite, the Libra-born hate irrational behaviour. Always balanced and pleasant, they possess an easygoing manner that makes things they desire, quite easily accessible to them. However, they are often accused of being lazy. But it is only because they work overtime and can get stressed out. Their indecisiveness is their biggest drawback, which often leads to delays, as they keep weighing the pros and cons.

Emotional relationships are based on an equal give and take for the Libra-born. They tend to get attracted to the opposite sex quite often. But before getting into a life-long commitment, they should weigh things carefully for themselves. As far as Libra Sign is concerned, Libra-Libra, Libra-Gemini, and Libra-Aquarius are ideally suited for each other. When in love, the Libra are a bundle of energy, romantic and loyal to the core. Check out Libra Compatibility to know how compatible they are with people born under other Zodiac Signs. You might also be interested to know about Libra in Romance.