↑
Aquarius Zodiac Sign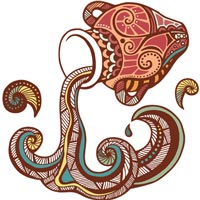 Aquarius Overview
(January 21 – February 18)
Aquarius is the 11th Sign of the Zodiac. A symbol of all that's humane and humanity, this Sign is modern, independent and freedom loving. While everything new and new-age enthralls the Aquarius natives, rebelliousness of any sort liberates them. Aquarius is known as the Sign of discoverers, inventors, adventurers and visionaries. Amiable and cheery by disposition, Aquarius-born tend to have a plenty of social charm. Yet, they lack the depth required to strike and cultivate truly profound relationships. That is why, the Aquarius natives may have a lot of acquaintances, but may have a very few close friends. Their social charm, nonetheless, in non-negotiable, and they are also, very often, perceived as pretty attractive by the opposite sex. But, again in love, the Aquarius may never feel as immersed as a Pisces will – for to them (Aquarius) it's the whole wide world that's important and vital. Most of them, thus, have a mission or a larger cause on their mind. Even if some Aquarius may seem to lead an entirely mundane life, on some digging, you would find that they have attached, somehow, themselves to a charitable cause. Generous and compassionate, the Aquarius, however, are very different from Pisces or Cancer – the other two Signs, perceived as very kind. Aquarius are more practical, and have a keen eye, which is easily able to see through deception and betrayal. Nonetheless, as parents, spouses or friends, Aquarius-born are very supportive and encouraging; they also are often 'the go to frontier' for many – the ones (Aquarius) who will always be ready to help with genuine, unbiased advice and a practically contagious optimism
Read More..







30-04-2017


29-04-2017


01-05-2017


30-04-2017 – 06-05-2017


Apr 2017
General Description: The Sun enters Aquarius on or around 20 January and transits through it till 18 February every year. Individuals born during this period are typically humanitarian and philanthropic. They love travelling, freedom of movement, thought and life, and have a potential to become great inventors, technical wizards, scientists, researchers, analysts, etc. However, their unconventional mindsets and rebellious nature manifest in their unpredictable behaviour. They are friendly people but they are not known to change their minds or opinions easily. To gain an insight about yourself, you can get a fully personalised Birth Chart based Detailed Life Predictions Report.

Element: Air
Quality: Fixed (= stability)
Characteristics: Masculine, Humane, Scientific, Eloquent, Intuitive
Ruling planet: Uranus
Detriment: The Sun
Exaltation: Neptune
Fall: Pluto
Symbol: A man emptying/ carrying a water pot/ Water Bearer.
The Symbol Denotes: Waters of life, the beneficence of fresh water to nurture the mankind on earth.
Birthstone: Amethyst, Opal
Birth Colours: Electric Blue, Grey, Ultramarine Blue
Other Lucky Colours: Gold, Orange, Aqua
Lucky Day: Saturday
Associated Flowers and Plants: Orchids, Fruit Trees
Quality Most Needed for Balance: Warmth, Feeling and Emotion
Deepest needs: To know and to bring in the new
Compatible Signs: Gemini, Libra
Best Sign/s for marriage and/or partnerships: Leo

Anatomically Aquarius corresponds to: The coccyx at the base of the spine, the calves and ankles, the cones and rods in the eye; lower leg bones, coccyx and shins; muscles in the calves, ankles and shins; arteries in the lower leg; veins in the lower leg. Besides, to know more about your destiny, you can get 2015 Overview Report.

Noteworthy Qualities: Leadership skills, truthful, scientific, sincere, earnest, humane, cooperative, unbiased, inventive, philosophical, intuitive, pleasant, considerate, progressive. Moreover, we recommend you to buy the Janampatri report, to get details about all the aspects of your life.

Undesirable Personality Traits: Gullible, extremist, inconsistent, detached, cold, stubborn, unpredictable, aloof. You might also be interested in reading about Aquarius Nature.
Food for Aquarius : The Aquarius-born people should have a diet which consists of substances that are good for their circulatory system and keep their blood sugar level in check. Walnuts, ocean fish, pears, lemons, oranges, apples, oysters, radishes, corn, peaches, lobster, lettuce, tuna, clams and grapefruit are good for them. They need to avoid sweets and carbonated drinks. The people of this Sign tend to consume junk food or foodstuffs which have poor nutritional value. They need to make sure that they have lots of nuts, seeds, fruits and vegetables. Caffeine does not suit them, so they should consider replacing coffee with herbal tea. You may get our Life Prediction – Overview report to obtain brief yet accurate forecast about important aspects of your life.

Aquarius Physical Structure: The body structure of most Aquarius people tends to be slim and tall though the neck can be relatively short and thick. They have an attractive sharp nose and dark-thick hair. Their sparkling eyes give them an appearance of liveliness, but their face can bear a serious expression. Their smile is subtle and they tend to have dimples on their cheeks. They have a clear and articulate voice. They can sometimes be a bit eccentric. However, regardless of how they look from outside, they will most likely be enjoying themselves from inside. Do you have any troubles in your personal life? Get a report on Personal Ask A Question – Detailed Advice for reliable, in depth analysis and appropriate remedial solutions, as the report is Birth Chart-based and hence 100 percent personalised.

Aquarius Habits: Apart from being extremely independent, the Aquarius-born people can go out of their way to help their friends out of tricky situations. However, though they do everything possible to help others, they never take any help themselves, because they fear that they may become dependent on others. They need to understand that they, too, are human beings and may sometime or the other have to depend on others. They have the capacity to earn big money, but they don't give too much importance to it. One thing that can really get on their nerves is getting caught in a traffic jam.

Aquarius Health: People born under the Sign Aquarius usually have a weak bone structure, so even a minor fall or accident can cause a fracture. Their nervous system, heart, backbone, throat and bladder can also cause anxiety on the health front. However, their digestive system can adapt to all kinds of cuisines easily. As they are prone to worrying too much, it can lead to brain disorders, which in the long run can cause brain tumour or epilepsy. Still, by and large they do tend to live to a ripe old age in good health. Is any aspect regarding your health bothering you? Get a fully personalised Birth Chart based Remedial Solutions for Personal Issues report, to solve issues on the health front.

Aquarius Beautyscope: The Aquarius-born like fluorescent green colour, as it is lucky for them. They don't need much make-up because they are naturally beautiful. Sometimes, though, they like to change their hairstyle. Though they can carry off almost any kind of dress with grace, the retro look suits them best. They love to dress in simple clothes. They rate comfort far above fashion. They are very practical when it comes to the clothes they wear. You might also be interested in reading about Aquarius Relationship.
The main objective of the people born under this Sign Aquarius, which is the 11th in the Zodiac calendar, is to improve the world around them and make it a better place to live in. They are humanitarian people in the true sense of the word. These progressive-minded individuals, who follow their intuition and are quick to involve others in their efforts to improve the world, tend to make many friends.

Though they can be cold and unemotional at times, they have a keen sense of justice, and can be mercilessly unbiased. Modern and practical, they love freedom and action, thought and life, and can be great inventors. They are sometimes called eccentrics as they keep changing their views and ideas. They cannot relate to people who do not think like them.

Compassionate, sensitive, intelligent, affectionate and yet aloof, these people are very intuitive. They guard their personal space so carefully that sometimes it is difficult for others to get close to them. Thereby, they can end up being very lonely people. The Aquarius-born are admirers of beauty, and are attractive and gentle people. Their unconventional thinking and creativity may often manifest in their strange and unpredictable behaviour. They are forever looking to expand their horizons of knowledge, and their analytical minds also draw them towards science and invention. Though not easily agitated, as they are patient and persevering, the Aquarius-born people are not open to changing their opinions easily. To learn more about yourself, you can get a free Astro Profile report.

The Aquarius-born can go on to become exceptional scientists and doctors, as they have the ability to analyse and concentrate for long hours. They can also do well in artistic pursuits. Law is another field they can pursue and find expected success. Financial matters never make them worried or anxious. As they often indulge in charity, they are likely to suffer serious financial losses. Do you wish to financially secure your future? Get a fully personalised Natal Chart based 2016 Finance Report to plan your finances wisely.

The Aquarius love their personal freedom and will not tolerate anyone who tries to snatch their space. However, the ones that they do let into their space find them to be very interesting and charming people. Those who fall in love with an Aquarius are most likely to share his/ her artistic and intellectual interests. They like to make everything perfect for their partner. Their approach to love and marriage is logical and intellectual, therefore loving with the mind is their way of being in a relationship. They are accommodating, will compromise and adapt to the nature of their partner. Aquarius-Aquarius, Aquarius-Gemini and Aquarius-Libra make good life partners. Moreover, you can opt for our Love Horoscope to know your compatibility with your love partner. You may also try this fully personalised Birth Chart based Love Prospects report to know what the future has in store for you on the romantic front. You might also be interested in reading about Aquarius Relationship.