Yoga Challenge | See The Challenges That You Can Take Up
15 minutes is all you need to crack any of the challenges.
Yoga Challenge is not for you to prove your flexibility to the world. It is for you to see how much time you can give yourself. There are multiple Yoga Challenges you can choose from; from Teenage Yoga Challenge to Couples Yoga Challenge to 21 or 30 Days Yoga Challenge.
Explore how doing Yoga regularly can transform your mind, body, and soul.
Table of Content
Should You Take Up Any Yoga Challenge?
The idea of practicing in a Yoga Challenge might have crossed your mind at least once, right? It must be the curiosity about how you can do that and maybe challenge your friends. Or maybe it's something that you would want to try with your partner.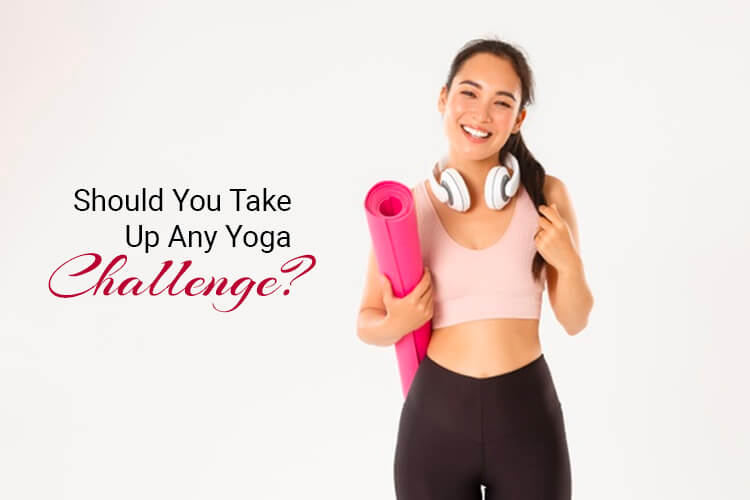 Don't just run when you hear someone say a Yoga challenge. No doubt they are meant to get you out of your comfort zone and push your limits – physically, mentally, and spiritually. But if you follow a well-designed yoga challenge, this will not only strengthen your body and holistically stretch your muscles, but will also help you feel lighter and more at ease
Starting something is hard, not denying that but maintaining a daily practice is even more difficult. So take up a yoga challenge that welcomes breaks and is deeply satisfying too. Don't do it just for the sake of doing and following a trend. Do it for yourself. You may find that daily yoga practice will help you move towards a happier, healthier, more joyful way of living.
How to Succeed in the Yoga Challenges, Pick The One You Like
The yoga challenge you need to take is to PRACTICE DAILY. If you are planning to participate in a yoga challenge, it means you are committing to practice yoga every day. It can be for 21 days, 28 days, or 30 days straight. Depending upon the type of yoga challenge you pick, the length and focus of your practice can vary. But in all honesty, it's more than just doing the yoga poses every day.
A 21-day yoga challenge, easy yoga challenge, teenage yoga challenge – all these represent a personal commitment you make to yourself. Most of the time, it is easier to find time for your work, family, and friends but not an easy task to take out some time for yourselves.
To get a headstart in your yoga challenge, we have listed down some of the top yoga challenges that people do all the time. By taking up any of these yoga challenges, you will be able to create time each day to nurture yourself.
21 Day Yoga Challenge
28 Day Yoga Challenge
30 Day Yoga Challenge
Couples Yoga Challenge/Partner Yoga Challenge
Teenage Yoga Challenge
Easy Yoga Challenge
Hard Yoga Challenge
One Person Yoga Challenge
Three Person Yoga Challenge
Yoga Challenge for 4
Cheat Codes to Help You Gear Up and Take Up that Challenge
The thought of starting a 21-day yoga challenge, or perhaps a 30-day yoga challenge, can be overwhelming for sure. But you need not worry as there are many ways to get yourself ready for a successful journey! Below are some cheat codes and tips for overcoming the obstacles that anyone can face when beginning a yoga challenge or any challenge for that matter.
Find a Friend or a Partner
It is said if you start any new path or activity with a partner or a friend, then the distance travelled is less important than the journey. The miles became useless because the process was bearable. First things first, catch a friend or partner who is willing to join you for a 21-day or 30-day yoga challenge! You can either do a partner yoga challenge or do a yoga challenge for two but at your place. Practising together will keep both of you encouraged. Keep inspiring each other and hold each other accountable for everything. This way you may discover that getting rolling out your mat and doing those not-so-complicated poses every day is not as hard as you thought. Plus, having a friend along for the ride can make the challenge a lot more fun.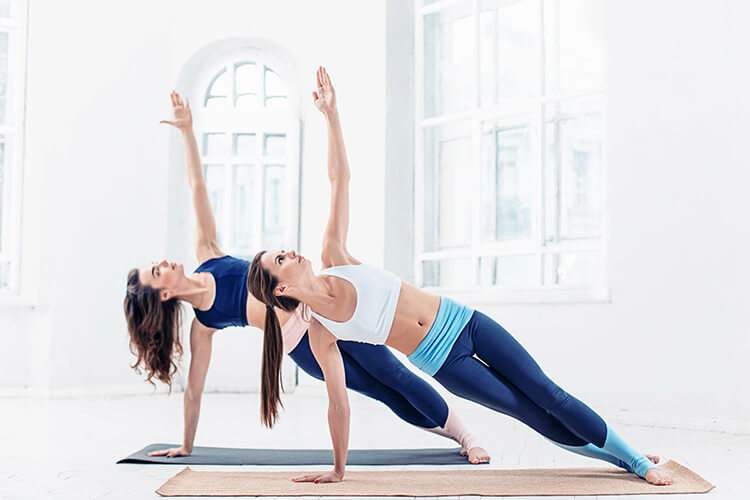 Set Achievable Goals
Do not keep your head in the cloud and your expectations above that. If you have never done yoga before then, you should not dream of acing the yoga challenge. You may not be able to command the advanced poses just after 21 or 30 days, right? Also, don't force your body to do 90 minutes session on the first go. Start small with a 15 to 20 minutes session. Once you feel more comfortable and have a rough idea of what your body can do, you can move forward and commit to more challenging goals.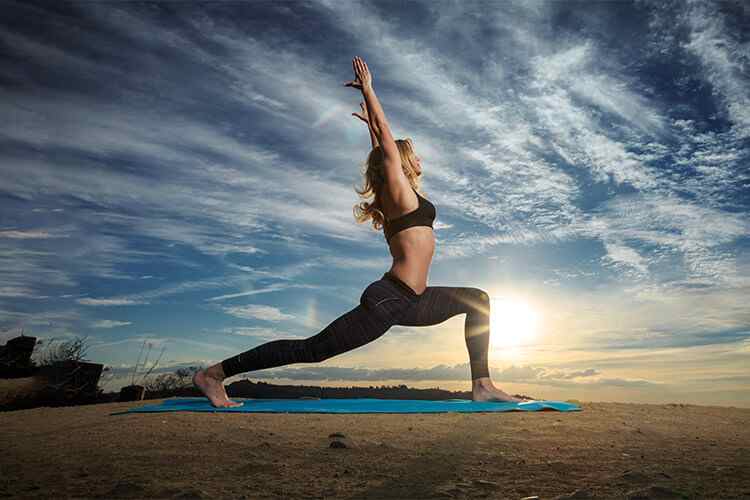 Time For Celebration
Throughout the journey of a 21-day yoga challenge or a 30-day yoga challenge, you will surely make some noticeable strides. Give yourself credit for stretching and twisting your body to move into a flexible zone. You are worthy of that cookie for putting yourself on that mat daily. It is a huge achievement no matter what that noisy neighbour of yours says. Acknowledge when you keep your promise of daily practice, even on the days when you were feeling lazy. Celebrating victories, whether small or large, will help you make the 21-day yoga challenge fulfilling and satisfying.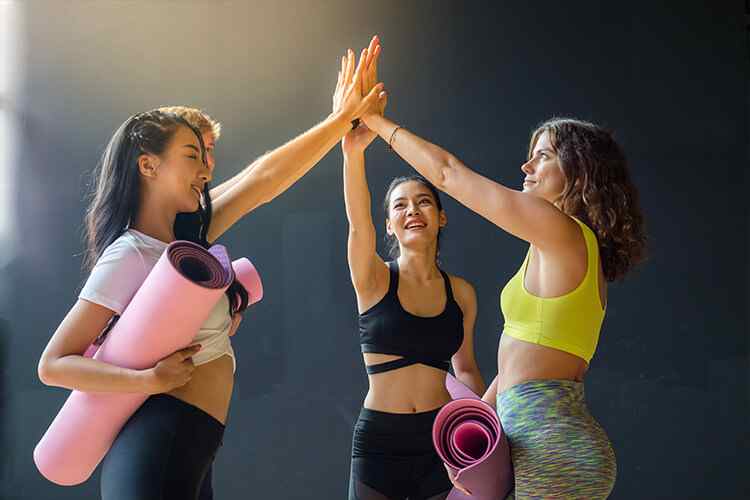 Make a Choice and Stick with It
Doing something daily will be hard if you don't enjoy it and find it boring. Take a few days to try and experiment with new yoga styles and poses while you are preparing yourself for a yoga challenge. By this, you will know what works for you and suits you best. There is an ample number of yoga types to explore from. Vinyasa Flow, Yin Yoga, Aerial Yoga, and many more. One day you may have the energy to do power yoga, while the next can be a little lethargic when you are happy doing just the child and cobra pose. Just remember, the deeper you dive into practice, the more likely you are to stick with it.
Keep a Track Record
The best way to keep yourself and your partner motivated during the yoga challenges are to keep a track record of your progress. Use the notes on your phone or simply download an app, if you are old school, start a journal, whatever sails a boat. This will make your yoga challenge more manageable and fun. Plus, seeing all the progress you have made in one place will drive you to do better.
What Will Happen to Your Body If You Do Yoga for 30 Days Daily?
A yoga challenge can look scary if you're not accustomed to doing yoga every day – so start small! Some yoga challenges only take 10 to 15 minutes. And it is said that a little yoga every day is a lot more beneficial than sweating yourself for longer periods only on some days.
No matter if you are a pro at Yoga or a new bud in the garden. Some of the yoga poses can make you realize that you may or may not be as flexible as you thought you were. The pro players may think it is an easy yoga challenge while others can find it a hard one.
Gearing up for a yoga challenge is similar to preparing for a cyclotron or appearing for a music exam. You can be unfamiliar with the keynotes and symphonies at first but then you get the hang of it. Likewise, yoga poses can be confusing and daunting at first, but as you practice daily, your body remembers the steps and poses!
Yoga challenges bring out the player in you who is ready to take up any task and has the adrenaline rush to win. Although, the prize of doing good in a yoga challenge would be the improvement in your yoga poses. But on an important note, they also allow you to experience the good effects of a consistent yoga practice. Your strength, flexibility, balance, stability will be as they are improving, but you may also notice subtle benefits like jolly mood, zen attitude, relaxed demeanor, and sound sleep.
Not only this, you may start to feel and even look less bloated. Your posture will improve, and because of that, you may look much taller. You'll feel elated when your friends compliment you for the glow that yoga will give you. Your face may look more lifted and sculpted than usual.
The radiant look that you have is no magic, but if you search up, you'll find that "Yoga Glow" is a real thing. By practising Yoga the blood flow in your facial muscles increases which contributes to less inflammation. This results in a glowy, radiant, and less puffy face. And who doesn't want the skin like Jennifer Lopez and Beyoncé.
Plus Side of Doing Yoga
Not in the mood to cook food? Feeling a bit low? Craving for Thai noodles down the street or maybe you want to treat yourself to those white boots you saw the other day. All this will give you short-term happiness, but putting aside 15 minutes to practice yoga daily could transform your mood and your health in more ways than you could imagine and for a long period.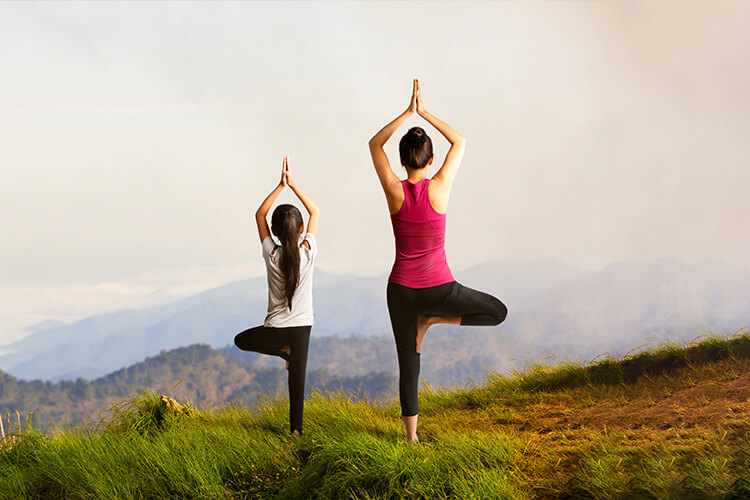 Here are some of the benefits if you take up the yoga challenge and then add it to your everyday schedule:
Improves Flexibility and Mobility
Builds Strength
Corrects Posture
Increases Your Energy
Reduces Stress
Sleep Better
Supports Your Immune System
Become More Mindful
Improves Concentration and Think Clearer
Live Longer
Last Words
The goal after the Yoga Challenge should not be to lose some pounds/kgs, because that is not what Yoga targets. Yoga is meant to be a lifestyle practice and not your workout routine. The 15 minutes you spare for this should blend in with your daily routines like brushing and bathing.
Yoga provides you with mental and physical benefits but it is not like you cannot enjoy the process.
You may also like:-
How is Ujjayi Pranayama Performed?
Matsyasana – Fish Pose Yoga Asana – Significance & Tips.
Butterfly Pose Or Titli Asana – Uses And Benefits For All Age Groups.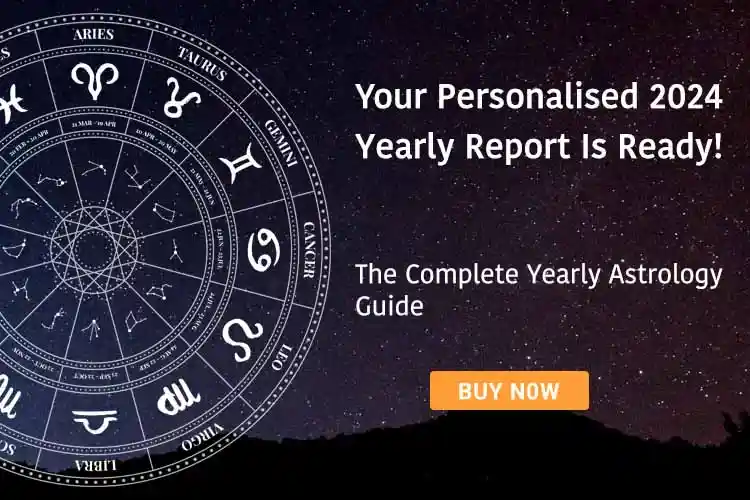 Share Your Problem, Get Solutions