Why did Kiara Advani & Siddharth Malhotra's relationship culminate into a marriage?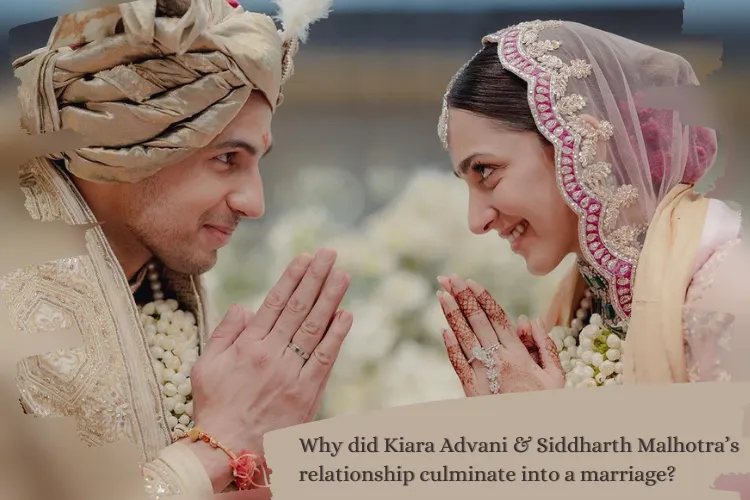 Shershaah couple, Sidharth Malhotra and Kiara Advani tied the knot on February 7, 2023. They were dating since 2019 and despite the swirling rumour mills of their breakup in between, they always looked very strong together. What is the secret behind their relationship culminating into a lifelong commitment? 
It's no secret that dating and relationships can be challenging. It can feel like months or even years of trial and error before you find the person you want to spend time with. And if you do enter a serious relationship, both people must put in effort to make it last. Doubt and concern can easily creep in, even when there are enjoyable times spent together and great memories created. Couples date for an average of two to five years before getting engaged, according to Brides. But how can you tell if your relationship is going that way or if it will last?
For Your Compatibility with Other Zodiac Signs,  Check Compatibility: Calculator.
There are certain signs that a relationship will survive a long time, even though there is no way to forecast the future or use perfect science to do so. Looking at the tinsel town couple who just got married, let's find out how to determine whether a relationship will last.
---
Kiara Advani & Siddharth Malhotra seemed to have always anticipated the best from one another.
Many individuals hold the view that you frequently get the world you put your energy into, therefore unpleasant emotions may breed more negativity. Affirmations have an impact on those around you as well. The couple is a live example of this nugget of wisdom.
The celeb couple have hobbies and interests.
Both renowned actors, continued working individually while being in a relationship. They were very much together, despite not being together all the time. One must remember there were activities you liked to do before getting into a relationship. Time spent with someone else shouldn't have an impact on it. Siddharth and Kiara showed no one can be everything to each other. And the more you sacrifice your own wants and needs in order to take care of someone else, the more probable it is that resentment will fester. Self-care is not a luxury but a necessity. To maintain your personal identity when in a relationship, it's critical to make time for the activities you enjoy and to take care of yourself.
Are you worried or anxious about any personal issues? Buy the Remedial Solutions for Personal Issues and get it sorted.
They tremendously respected each other.
Kiara Advani & Siddharth Malhotra beautifully portrayed that love and respect go hand in hand, especially in a committed relationship. Respect is essential to a healthy relationship. Without it, a relationship will deteriorate and end. Controlling tactics frequently tread a tight line and might be mistaken for respect. It's critical that your partner views you as a unique individual rather than as someone who can be tailored to fit their exact needs.
For both partners to give and receive, autonomy is essential. Nobody likes to be told what to wear, eat, or do; keep in mind that your spouse isn't your child or parent, but rather your lover. Criticism is something that kills intimacy the fastest. Concentrate on improving your connection, and if there are problems, express your thoughts without blaming one another.
Daily Expressions of Gratitude is very important.
"No one is always bad or irritating. While at times your partner's flaws may seem very obvious, there is more to it than just these specific flaws. We did hear of rift between Siddharth Malhotra and Kiara Advani. No relationship is immune to conflicts. But as long as you don't allow the minor irritations overshadow all the pleasant recollections, it's very healthy. There are many positive qualities about one another that need to be acknowledged. For that you need to expand your eyes a bit broader. Even for insignificant tasks, the two simple words "Thank You" have great impact. Who, after all, doesn't enjoy being appreciated for their work or effort? It's simple to take these routine little things for granted, yet resentment may quickly fester. In a relationship, a little gratitude goes a long way.
Vulnerability is the key.
Whether it is a Siddharth-Kiara relationship or any other one, a relationship can swiftly end if there is only physical intimacy involved. Vulnerability with one another is necessary if you seek closeness. Especially at the onset of a relationship, a part of you will fight the temptation to be open. But one must remember that your lover is the one person you can be vulnerable with even though you don't want to open up to just anyone. A level of trust in another person is demonstrated by being vulnerable. This does not, however, imply that you must always communicate anything and everything. Embrace it to the fullest extent you can because that is when the actual magic happens, even if you are trying to hold back your tears or act unaffected. The appeal of vulnerability is magical.
The celebrity couple did make their relationship successful. You can make yours as well by simply remembering these little big things. Here's wishing Kiara Advani and Siddharth Malhotra a very happy married life. Cheers to their togetherness forever.
Talk to an Astrologer Now, First Consultation with 100% Cashback!
---
---
Get 100% Cashback On First Consultation