Vastu Tips For Pregnancy, Conceiving and Fertility
It may be quite surprising (not for Vastu Experts) for people to understand that the house that they reside in and the Vastu Shastra affiliated with it plays a major role in conceiving a baby. Most women may not realize this, but the house that they live in plays a vital role in being pregnant as per Vastu. 
It is very pivotal to comprehend that the location of the rooms and the placement of items immensely affect the conception of a baby in a house. There are many instances where, despite trying to conceive a baby for years, the results are not fruitful. Even though there are physical complications that play a huge part in not being able to reproduce, there certainly are other factors that create numerous issues pertaining to the same. This is associated with the Vastu Shastra of the place the family lives in. 
There are several ways through which one can deal with such circumstances in life about conceiving babies. There may be doctors who may lose hope but perceiving this situation as per Vastu and treating it accordingly may give a ray of hope to the inhabitants who are not able to have their offspring. Having a baby brightens up a house and helps in bringing Happiness and fortune for the family, which is why generating solutions according to Vastu for fertility may bring a cloud of a silver lining for the dwellers!
Vastu Tips For Fertility and Bedroom to get pregnant 
Numerous parameters are taken into consideration while dealing with the inability to reproduce a child as per Vastu Shastra. Here are a few points that will give a better idea as to how to tackle this problem according to vastu tips for bedroom to get pregnant and Fertility:
As per the Vastu tips for bedroom to get pregnant, a married couple should always sleep in the South-East side of the bedroom for it is connected with the Fire element. This not only helps to have a better sex life but also increases the ratio of conception.

To deal with problems related to conception, one can also use our

"Santan Gopal" Yantra

that helps in bestowing offspring to childless couples. This powerful yantra is purified, energized and attuned by our Expert Astrologers.

Always sleep with your head on the South and legs towards the North. Another position to sleep, to gain an advantage, is to put your head on the West and legs towards the East direction, says Ganesha.

Try maintaining a positive aura in the bedroom. One can hang beautiful landscape paintings that please the eyes or keep fresh flowers in the bedroom as well.

Make your bedroom exclusive for intimacy by getting items that remind you of your life partner. A special connection and bond between a couple may always help spread a loving and cheerful vibe in the surroundings.

Also, make sure that you spend some quality time in your bedroom with your partner to create a benevolent atmosphere in the room.
Vastu Tips During Pregnancy
There are instances where one is not able to deliver a baby due to a mishap or miscarriage, which is why there are certain rules that one needs to follow for the successful delivery of a baby in the house. These are:
A pregnant woman must watch motivational movies, read religious books and magazines, etc during pregnancy as they have an optimistic influence on the baby.

It is highly recommended for a pregnant woman to read Sanskrit Literature during pregnancy. 

A pregnant lady must meditate during the morning in the North-East direction of the room. This may also get her more fresh air and morning sunlight which is very vital for both the mother and the baby. 

With respect to the Vastu tips for bedroom to get pregnant, removing clutter in your bedroom creates serenity and will help you feel more efficient and function optimally says Ganesha. Clutter, especially under your bed, weighs you down and keeps your mind subtly connected to the past, which does not allow forward progress. 

Upon entering your bedroom, one can decorate the view with something positive that gives a feeling of peace and serenity. This could be a photograph, a favorite quote, a painting or sculpture. Even flowers will enhance the vibe of the place.
Vastu Tips For Fertility: Don'ts
Under the Vastu Tips for Fertility, there are some criteria that one needs to follow to make the most out of the principles of Vastu Shastra applied here. These are the things that one should avoid if they want maximum gains with the help of Vastu tips for bedroom to get pregnant. These are:
As suggested by our

Vastu Experts

, avoid using heavy Electrical and Electronic Gadgets as it generates harmful radiation that can have a negative impact on the process of conception. 

The mirror in the bedroom should never face the bed, because its reflection not only disturbs sleep patterns but also affects your daily routine and life, including sex.

Expecting mothers must avoid wearing dark or shiny colors such as dark red, black, and orange and go for subtle colors such as pastel green, blue, yellow and white.

Paintings depicting violence, war, dragons or any negative aspect should be avoided.

Avoid constructing any heavy load, staircase or beam over the sleeping bed. 

Do not spend time in the bedroom when you are feeling unhappy, stressed or angry as it may have a pessimistic influence on the couple. 

Avoid using a round shaped bed. Also, refrain from having your lunch or dinner over the bed. 

For newly married couples, abstain from utilizing the North-East corner of the bedroom.
For more detailed information and guidelines, connect with our Vastu consultants who will thoroughly advise you with more precision!
Read Article :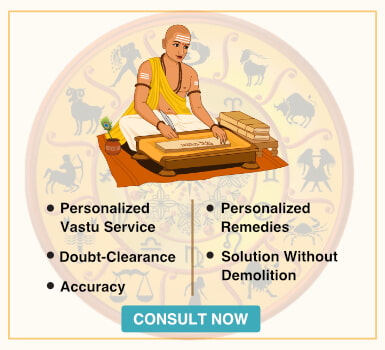 Day Guide
Comprises of events likely to happen, hourly guidance & precise timeframes

Life Meter
Know the percentages of different aspects of your physical and mental state

Compatibility
Check out how well will your wavelengths with others match