Vastu Tips To Design Blissful Garden At Home
We all know that plants and trees are known to be the oxygen cylinders for all life on this planet. Not only do they provide the necessary means to continue life but are also a rich source of food for us and all others. Thus, it becomes preeminent to be connected with them by not only nurturing them in your house but also taking the utmost care of it.
In the realm of Vastu Shastra, plants and trees have been given a lot of significance which is why it is highly recommended to grow them. Not only will it affect us physically, but it may also assist us in developing mental balance and peace as well.
Vastu plants for home, thus, play a vital role in the functioning of the house. This also means that proper care and attention is mandatory to gain fruitful outcomes in this process. One can look for a variety of options to nurture plants and trees via setting up a garden outside your house, or growing plants in the backyard, or flourish them in your balcony/verandah according to Vastu plants for home and garden Vastu! Follow the Vastu Evaluation process to know about how to build the house as per Vastu.
Vastu Plants: Tips to Nurture Plants And Garden Trees
As far as setting up a garden and growing plants is concerned, different green plants can be grown at home depending on the effect of the plant. Vastu plants form a major backbone to this as nurturing them in a particular manner can give the inhabitants a lot of benefits and advantages in life.
Here are a few tips to set up plantations at home that may generate optimistic vibrations in the house along with blessing the people with auspicious situations. They are:
As per what is stated in garden Vastu, several plants and trees are lucky and felicitous for the house and its members. However, some should not be nurtured at all as they may bring unfavorable circumstances for the inhabitants.
Basil or Tulsi plant, as we know, has a lot of superiority in the Hindu tradition and culture. This plant can be placed in the North, East or North-East direction for it tends to set up a positive aura in the house.
Planting Bamboo trees can also prove to be very advantageous. It is especially known to shower good fame, fortune, and peace to the members. A noteworthy point is to realize that it is not the same common bamboo plant we know of (Bambusa vulgaris) but is the lucky bamboo plant (Dracaena braunii).
Nurturing Money plants at home helps in generating income and achieving monetary balance in life. Such plants should be grown in the North or East direction.
If you do have a garden or a big space to grow trees, then you are advised to plant a Coconut tree, Ashoka tree, and Banana tree (in backyard) . All these plants are known to provide good health and drive the negativities (grief and sorrow) Out from the house. To add further, Banana trees are also worshipped and are also known to have an affiliation with Lord Vishnu.
Another tree that bestows optimistic energy and a conducive vibe is the Neem tree. Not just this, but it also is known to have many medicinal values which makes it all the more compulsory to plant this sacred tree. It should be placed in the North-West corner as suggested by the experts.
Into the bargain, one can also grow several other flowers like Hibiscus and Begonia, Peony and Chrysanthemum in the South-West direction of your garden. These beautiful flowers spread a lot of positivity and fill the space around them with a lot of vibrant energy as well.
In terms of the kitchen garden, one can resort to planting Mint, Green chili, Coriander, Pomegranate, Cinnamon, lemons Gooseberry (Amla) etc. All of them are considered to be auspicious plants.
In addition to this, plants and flowers with the likes of Daffodil, Lily, Orchid, Lotus and White Magnolia can also be nurtured as per the Vastu plants for home.
Vastu Plants: Things To Avoid
As much as they look beautiful and pretty, there are certain plants and trees that should be avoided for there are chances that they can bring bad omen and fortune to the house and the people living in it.
Given below are some plants that you need to refrain from growing at your house. These are:
It is believed that thorny trees and plants like Babool and Cactus should be avoided because they spread a lot of negativity and bad fortune upon the dwellers.
Even though people popularly set up dwarf potted Bamboo (Bonsai) plants, it is crucial to understand that this plant should not be grown because it is said to go against nature.
Make sure that the big trees are not planted in the East or North-East direction for they foster a pessimistic aura in its surroundings. Such plants should be grown in the South and West-side of the house.
Concerning, small plants and flowers, these should be nurtured East, North and North-East direction.
Do not grow creepers on the compound wall, rather they should be planted at the entrance of the house or in the garden to gain its positive effects.
One should not grow big plants/trees just outside the entrance of the house as they can block the flow of air as well as the energy.
Abstain from keeping dead or dried plants at home as they symbolize death and negativity. Also, if you do take up the responsibility to nurture plants, taking proper care of them becomes mandatory!
Being connected with nature always aids to attain peace and calm inside the mind. If one can grow and nurture them, it shall always have an optimistic influence in the life of the inhabitants and may shower them with sound health, wealth and happiness!
Read Articles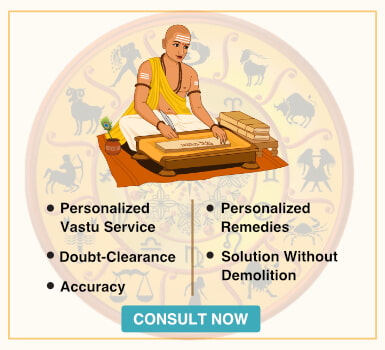 Day Guide
Comprises of events likely to happen, hourly guidance & precise timeframes

Life Meter
Know the percentages of different aspects of your physical and mental state

Compatibility
Check out how well will your wavelengths with others match