Special Vastu Tips for Shardiya Navratri 2019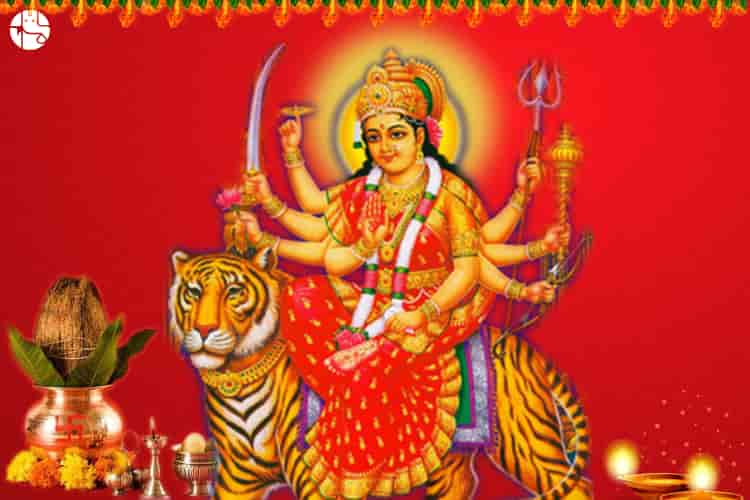 Are you ready to rejoice the nine nights of Navratri 2019 by welcoming Maa Durga and praying for universal strength, peace, and restraint?
If not, then what are you waiting for as Navratri is just a few days away?
This year Navratri celebrations are starting with something special. Wondering how?
We bring to you some of the awesome Vastu tips for Navratri so that you have a fun-filled and happy festival.
Following Navratri Vastu Tips can be a perfect way to start celebrating the festival and making the upcoming Navratri Special. Thus, commemorating Navratri 2019 according to Vastu will do you a lot of good!
Read on to know Navratri Special Tips:
Worship Goddess To Enhance Prospects
The best and the most effective way to enhance peace and prosperity during Navratri is to offer prayers to Goddess Durga. Moreover, to enhance your success prospects, you should decorate your puja space (puja room) in such a way that it produces abundant positive energy for you and your family.
The Direction Of The Idol
Placement (Sthapana) of Goddess Durga's idol should be done in the North-East corner of your house on the first day of Navratri. Doing this will make your worship more effective. Besides, sthapana should be done on the wooden floor and not any other material.
Devotee Should Face The East Or North Direction
While offering prayers to Mother Goddess in Navratri, the devotees should face the East or the Northside. That is because the Eastern direction is considered to bring about strength, bravery, and prosperity. During the nine days, all the Goddesses should be provided with red attires.
The Direction Of Akhand Jyoti
If you light an Akhand jyot for all the nine days of Navratri, it should be kept in the southeast direction vis-a-vis the place of worship (as per Micro Vastu principles). If you do this, your house will be filled with happiness and prosperity, and you will overcome your enemies.
Chandan: The Source Of Positive Energy
Chandan is considered to be a source of positive energy in Vastu Shastra. Thus, the devotees should make use of Chandan for puja. It can make the rituals more successful.
Colors Of Sthapna Place
If you want blessings from Goddess Durga, it is advisable to store the worship materials in the southeast direction. The room wherein the sthapna of the Goddess' idol is done should be in light yellow, green or pink.
Remove All Negativities From Home
Make garlands of mango and Ashok leaves and tie it on the main door. This will help remove all the negative energies from your house. This can be done for all the nine days of Navratri.
Place A Water Vessel
Fill water in a vessel by the main entrance of the house or shop during Navratri and place a flower over it. Place it in the East or North direction of the door. Doing this can bring you success. Is any problem in a career bothering you? Buy the Career Report and get the problem sorted.
Blowing Conch Can Purify The Environment
According to Vaastu Shastra, the Gods and Goddesses are appeased by blowing the conch and ringing the bells. This will lead to more purity in the environment. It is also stated scientifically that various bacteria get destroyed where a conch sound occurs. Also, read the significance of conch.
Keep Your Premises Clean, Welcome Goddess Durga To Your Home
Keep your home neat and clean during Navratri. It is believed that Goddess Durga visits the homes where Ghat Sthapna is undertaken.
Light Dhoop, Purify Your Surroundings
Light dhoop prepared by mixing dry cow dung and Guggul. It is said to purify the air and atmosphere of homes and offices.
Use Gau Mutra, Invite Wealth, Health And Happiness
You can also spray cow urine (Gau Mutra) outside your home as it is believed to attract wealth, health, and happiness. You can ward off all doshas of your home and office if you feed the cows each day. Get your life analyzed. Access the Birth Horoscope Free Report.
Draw Swastik to Invite Divine Blessings
You can draw a Swastik with Kumkum by your doorstep during the night. This attracts tremendous divine blessings. You can also buy yantra online to invite the divine blessings of Goddess Durga.
Don't Throw Puja Wastes Anywhere
When your puja and other rituals are done on the last day of Navratri, you should dispose of off the waste properly. It is written in the Vedas that Mother Nature (Mother Earth) is to be respected with utmost devotion.
Read Devi Bhagwat To Remove The Malefic Effects Of Planets
It is advisable to read "Devi Bhagwat" on all the days of Navratri. This is the best time to neutralize the malefic effects of different planets.
So now you are all set to say AE HALO! May the nine divine days illuminate your life forever and the energy of the universe bless you in all her nine forms.
Happy Navratri!
Still having some confusion about Navratri? Talk to our astrologer and get your questions solved.
To Get Your Personalised Solutions! Talk To Astrologer Now.
With Ganesha's Grace,
The GaneshaSpeaks.com Team