Get close to nature in the Garden with Vastu Shastra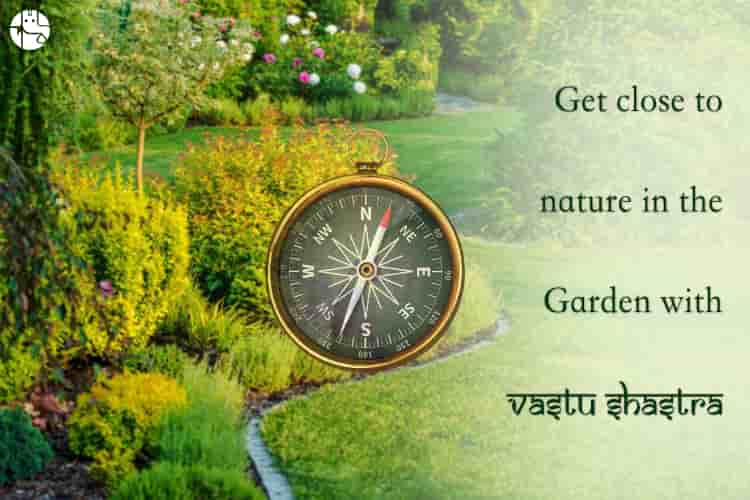 Every individual dreams to have a perfect house. A house is where one spends quality time with the loved ones. Garden is one place in the house, where children play, and parents relax together. This peaceful place should be planned and designed carefully, keeping in mind the Vastu Shastra for plants. Vastu Shastra provides Vastu tips to build a garden so that the house is full of serenity, prosperity, happiness, and positive energies. There are certain auspicious plants like Tulsi, neem, coconut, sandalwood, jasmine, and saffron that one should plant in the garden.
Vastu Shastra and blissful gardening
Tulsi is the most auspicious plant and should be planted within the limits of the house. One can also have jasmine on the pathway.
Gardens, lawns, and decorative plants should be planted in the east or north direction. The waterfall should be in the same direction. Read more about Vastu directions.
Decorative plants should not be more than three feet.
Violent items of decor should be avoided as it can lower the serenity of the place.
Creepers, dead leaves, flowers, overgrown shrubs, and weeds should be cleaned every day.
A pathway from the front gate towards the main entrance with jasmine planted on the sides is beneficial. Avoid having a huge tree on the main gate.
If you plan to have a swimming pool, it should be in the north or north-east direction.
Apart from plants and trees, keep water and food pots for the birds in the garden as it attracts good karma. Keep a bowl filled with water for the sun as it takes away health issues related to stomach and encourages good fortune for life.
Avoid thorny plants like cactus as they are harmful, weaken relationships and bring tensions.
Try to avoid bonsai plant as it is very short and promotes stunted growth.
Do not keep plants and trees that are milk bearing.
Apart from Vastu Shastra, you should also consider the Plant Astrology, where some plants are related to the planets. Sun is associated with Arka and Bael. Moon connects with Dhak and Khiri. Mars relates to Khaira and Anantmool, whereas Mercury relates with Apamarga and Vidhara Root and Jupiter links with Peepla and Banana root. Venus relates with Gular, Saturn with Shami, Rahu with Durva and sandalwood while Ketu relates with Kush.
Planting as per Zodiac Signs
Astrology has provided different plants for natives of all the twelve zodiac sun signs.
To have a beautiful garden, with flowers and sweet fragrance in the house seems to be a lovely idea. A garden is a place to make memories with family and friends. All one needs to know are the Vastu tips, choose plants as per the zodiac sign and also follow the Plant Astrology. Vastu Shastra will help you take a walk in the lap of nature, serenity, and divinity.
To Get Your Personalized Solutions, Talk To An Astrologer Now!
With Ganesha's Grace,
The GaneshaSpeaks.com Team